January 21 – A ranking of teams by the number of fouls committed per game see Liverpool leading the way as the team with the least fouls per match so far this season (8.1).
Compiled by the Football CIES Football Observatory using InStat data, the researchers caveat the data that sees eight Premier League teams in the top 18 positions saying: "This is partially related to the less strict refereeing style in the English Premier League: 20.4 fouls whistled per game compared to an average of 27.2 in the 35 competitions surveyed."
The ranking shows table topping sides Liverpool, Leicester, Chelsea, Tottenham and Manchester City as sides that commit fewer fouls. Two sides in the bottom three – Bournemouth and Norwich – also make the top 18.
"If we relate fouls committed to the average measured at league level, Hamburger SV heads the table (-32% of fouls with respect to rivals), ahead of Slovan Bratislava (-29%) and Shakhtar Donetsk (-27%). Vojvodina made the most fouls per match overall (22.9), while Zlaté Moravce committed the most compared to league rivals (+38%)," say the report authors.
"Per league, the lowest average number of fouls per game whistled by referees was recorded in the English Premier League (20.4), the Danish Superliga (21.0) and the Dutch Eredivisie (21.6). At the opposite end of the table are the top divisions of six Eastern European countries: Serbia (34.9), Bulgaria (31.6), Czech Republic (31.4), Romania (31.0), Poland (30.9) and Ukraine (30.5)."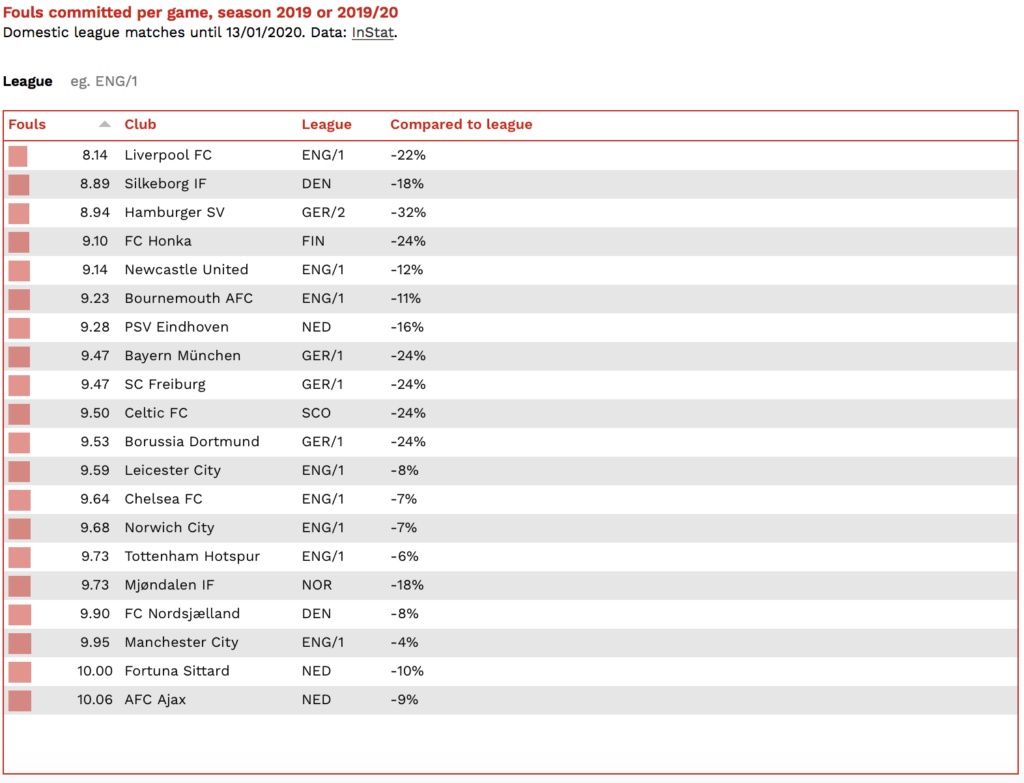 See the full report and stats at https://football-observatory.com/IMG/sites/b5wp/2019/wp280/en/
Contact the writer of this story at moc.l1632682530labto1632682530ofdlr1632682530owedi1632682530sni@n1632682530osloh1632682530cin.l1632682530uap1632682530