January 29 –  'Clinical' is a word often used by commentators about teams that make the most of their goal chances to win games. The CIES Football Observatory have translated that basic observation into a data model that measures team efficiency.
From that data the CIES has created an efficiency ranking based on "the points achieved by teams from 31 European leagues with points expected according to a statistical model taking into account ball possession, as well as the number and distance of both shots taken and conceded".
"The analysis highlights the great efficiency of clubs such as Benfica (+0.71 points per match), Liverpool (+0.66), Juventus (+0.64), Schalke 04 (+0.57) and Valencia (+0.55)," says the CIES report. Liverpool's efficiency is clearly what has driven them to the top of the Premier League in comparison to top four rivals  Manchester City (-0.36) and Chelsea (-0.33) who are at the bottom of the CIES's Premier League efficiency rankings.
"The pitch production of Benfica should have allowed them to achieve 2.11 points per match compared to 2.82 in reality. The greatest positive gap out of the 496 clubs from the 31 leagues surveyed was recorded for Astra Giurgiu (+0.85). The Romanian side obtained almost two points per match despite having conceded more shots than those taken and having had only about 45% of ball possession. The same holds true for Turkish league leader Sivaspor (+0.73)," says the report.
"The greatest negative gap overall was registered for Heart of Midlothian: 0.62 points achieved compared to 1.39 expected (-0.77). Champions League round of 16 participants Atalanta (-0.71) and Napoli (-0.61) were also particularly inefficient with respect to their pitch production."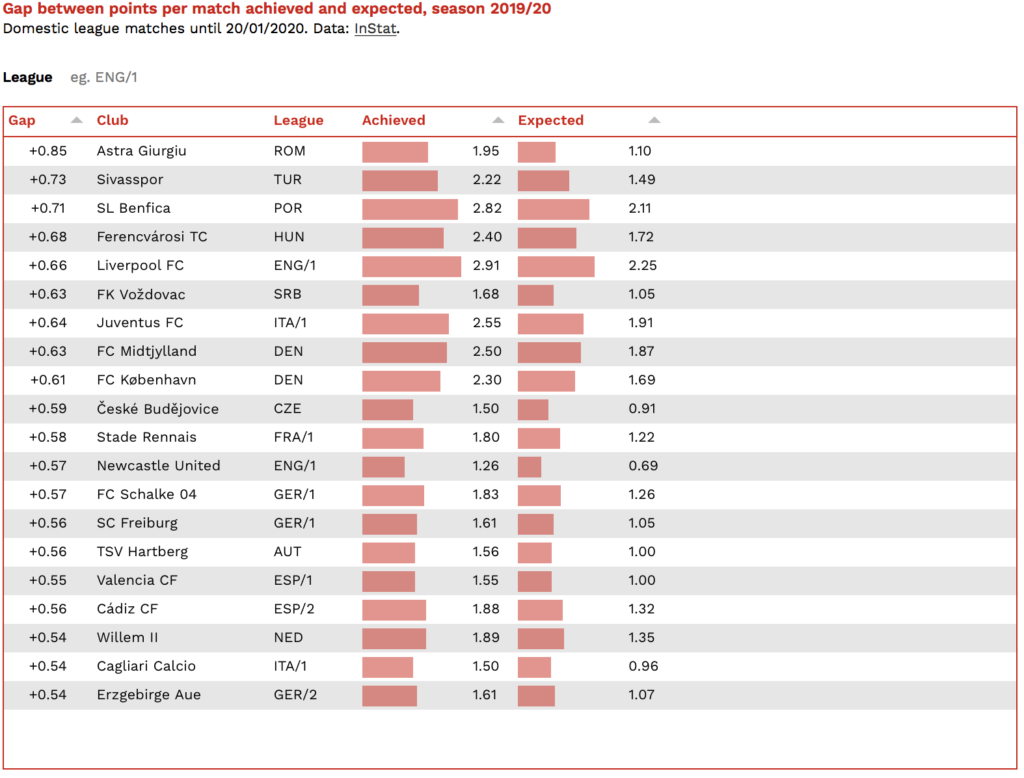 See the report at https://football-observatory.com/IMG/sites/b5wp/2019/wp281/en/
Contact the writer of this story at moc.l1632681346labto1632681346ofdlr1632681346owedi1632681346sni@n1632681346osloh1632681346cin.l1632681346uap1632681346
Manchester City (-0.36) and Chelsea (-0.33) are at the bottom of the Premier League efficiency rankings.