By Osasu Obayiuwana
February 10 – Suketu Patel, who was CAF's first Vice-President and the Chairman of the body's Finance Committee in 2015, says Price Waterhouse Coopers (PwC) did not contact him, concerning its recent forensic audit of the African football governing body's accounts and professional practices. 
In the PwC forensic report that was completed in November 2019 and submitted to the CAF Executive Committee on February 2, in Rabat, Morocco, its executive summary states "there were no proper accounts for 2015."
"I would be happy to speak on the financials [before March 2017] as I was primarily responsible for them," Patel, a chartered accountant himself, told Insideworldfootball from Mahe, in the Seychelles.
"It is normal for auditors to give an opportunity to those responsible [for the accounts] to comment on their findings."
"Why were we not asked for explanations? Instead, they made vague comments on the 2015 financials, instead of being specific."
"On the issue of some $36,000 being spent on the wives [of CAF executive committee members at tournaments and events], this equates to $50 per day for two meals, over almost a month. This, I believe, is half of what FIFA pays now."
"Also, there is a huge hullabaloo, regarding the mode of payment for expenses and allowances. What is wrong if cash was paid for expenses, if it was authentic – as opposed to a payment to Tactical Steel by CAF [for football equipment] – which was to a bank account – but improper," Patel asks.
"CAF's financials were audited by Baker Tilly, a top 10 accounting firm, and given a clean bill of health."
Mohamed El-Sherei who was the CAF Director in 2015 but sacked in July last year – subsequent to filing a complaint against CAF President Ahmad with the FIFA Ethics Committee – also told IWF that he was not contacted by PwC to explain this accounting period, which was during the period that he was in charge of CAF's daily financial operations.
He also told IWF that FIFA made a $24.5 million overpayment to CAF on July 12, 2018, after the world football's governing body had made a legitimate payment for nearly the same amount 24 hours earlier.
Below: Bank payment advice documents for CAF's account at the Societe Arab Internationale De Banque in Cairo.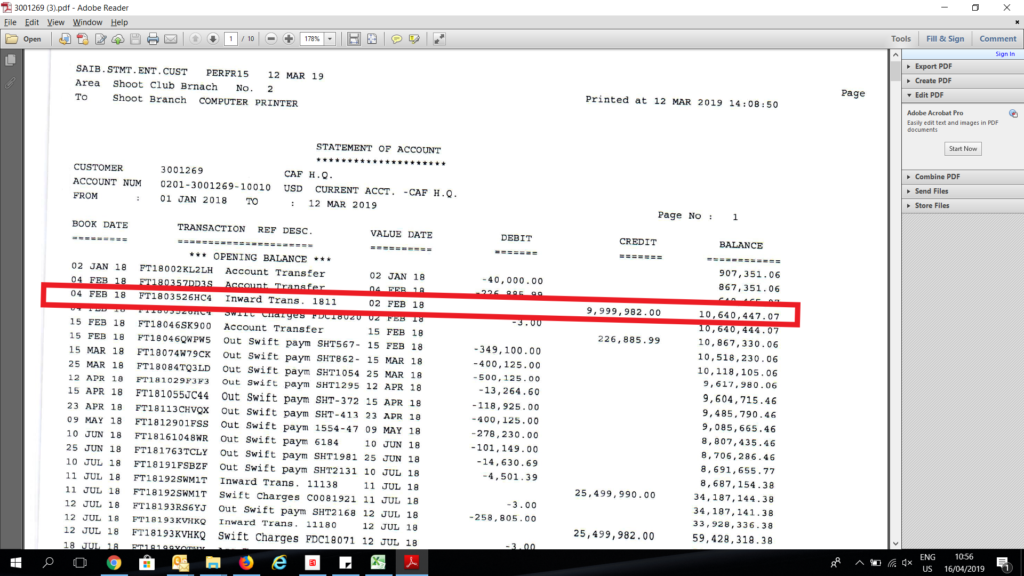 "I had to alert FIFA to this overpayment and organise its return to Zurich. I was very surprised by that," he said.
Contact the writer of this story at moc.l1582502330labto1582502330ofdlr1582502330owedi1582502330sni@a1582502330nawui1582502330yabo.1582502330usaso1582502330