April 14 – Ajax and Benfica top a ranking of clubs providing the most players to Europe's Big-5 leagues.
Ajax, with 22 of the club's alumni scattered across the Big-5, is one ahead of Benfica who are in turn one ahead of Austria's RB Salzburg, according to data from the CIES Football Observatory.
"In the top 15 positions also are three Belgian teams (KRC Genk, RSC Anderlecht and Club Brugge KV), two further Portuguese clubs (Sporting Clube de Portugal and FC Porto), an additional Dutch one (PSV Eindhoven), as well Swiss (FC Basel), Croatian (Dinamo Zagreb) and Danish (FC København) sides. The B-teams of Real Madrid (4th) and FC Barcelona (11th) also figure high in the rankings. The first non-European team is Boca Juniors (15th)," says CIES analysis of their findings.
Leeds United, with eight players, are the highest ranked English club in 17th place.
"Recruitment from a non-big-5 league team is the most common way of entering the five major European leagues (48%), followed by advancement from the youth academy or the B-team of a big-5 league club (39%, up to 50% for players who made their debut in the Spanish Liga) and the promotion from a second division of the club of belonging (13%)," says the CIES.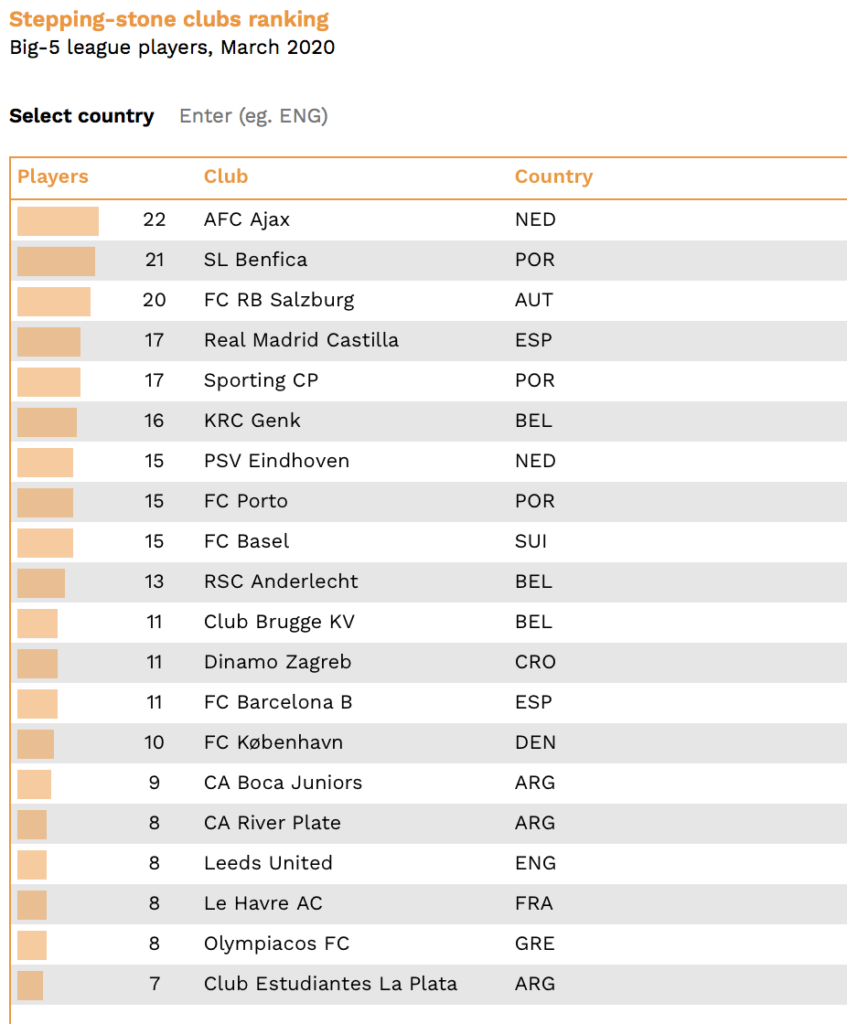 See the full data at https://football-observatory.com/IMG/sites/b5wp/2019/wp291/en/
Contact the writer of this story at moc.l1591091708labto1591091708ofdlr1591091708owedi1591091708sni@n1591091708osloh1591091708cin.l1591091708uap1591091708