By Andrew Warshaw
July 16 – Fans watching the first ever winter World Cup in Qatar will be treated to four games a day, organisers have confirmed as they announced the tournament in November and December 2022, will kick off at the Al Bayt Stadium in Al Khor.
FIFA released the schedule on Wednesday, confirming kick off times of 1 p.m. (1000 GMT), 4 pm (1300 GMT), 7pm (1600 GMT) and 10pm (1900 GMT).
Hosts Qatar will open the Middle East´s first World Cup in the 60,000-capacity Al Bayt Stadium at 1pm on November 21. The final on December 18 will start at 6pm at the 80,000-capacity Lusail Stadium.
Eight venues in close proximity to Doha will be used at the tournament, which is being squeezed into 28 days to minimise the disruption to the European season which will have to be curtailed in mid-stream to make way for the biggest sporting event on the planet.
Qatar's organisers have long trumpeted the fact that given the size of the country, all venues are in close proximity without the need for players and fans to fly for hours on end. In fact the stadiums will be well within a 30-mile radius of one another, meaning those who travel to the 32-team tournament can attend multiple games each day.
"The World Cup is always a festival of football, a real celebration for the fans who come on-site and watch. In Qatar, with the compact nature, this is going to be amplified even more with 32 teams and 32 sets of supporters all in and around Doha," said FIFA Chief Tournaments and Events Officer, Colin Smith.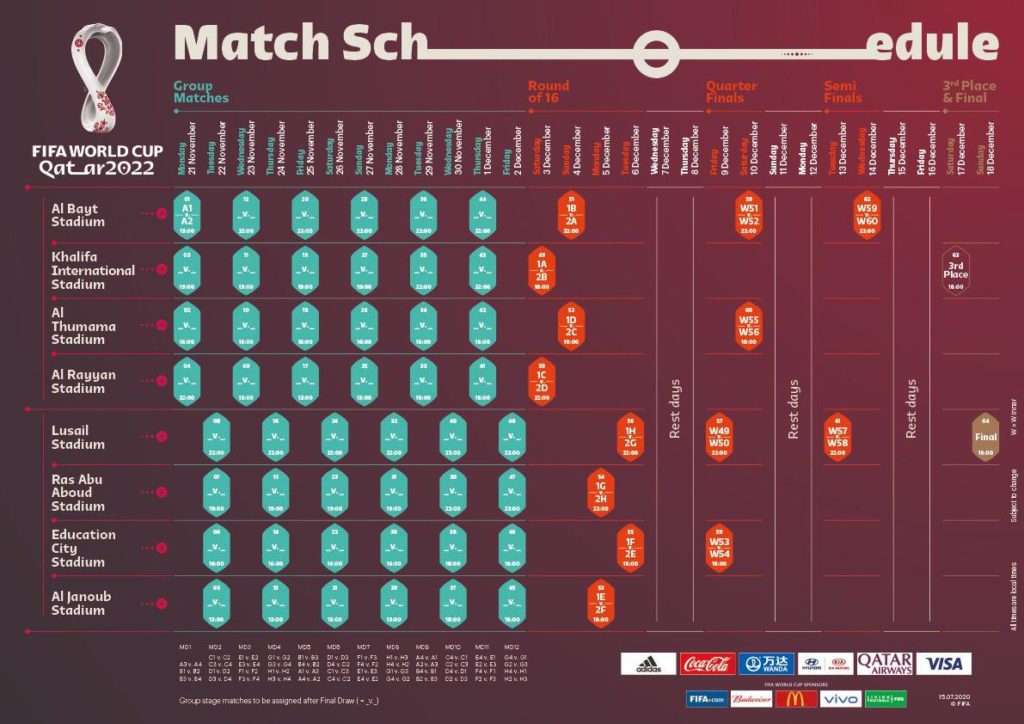 Only after the draw takes place in the spring of 2022 will specific games be assigned to specific venues and kick-off times, a strategy designed  to fit in with domestic television needs.
"Once the pairings are known, the possibility will be discussed of providing a more beneficial kick-off time for audiences at home, or indeed for fans in Qatar with regard to the stadium allocation," FIFA said.
Most teams will get three days of rest between games, which FIFA said was "optimum for sporting performance." But teams in two last-16 matches will only have two days to recover. Matches later in the tournament that start at 10pm and go into extra time will inevitably extend past midnight local time.
Nasser Al Khater, CEO of the local organisers, said plans were well on schedule with 90% of the work finished on roads and infrastructure.
"When we talk about the stadiums, more than 85% of the work has been completed and really now, the last two years, we're focusing on our operation readiness and making sure we get the fan experience plans in place," he said.
Contact the writer of this story at moc.l1603530257labto1603530257ofdlr1603530257owedi1603530257sni@n1603530257osloh1603530257cin.l1603530257uap1603530257