By Paul Nicholson
September 18 – FIFA president Gianni Infantino, hosting the 70th FIFA Congress and the first virtually, today gave an unconvincing defence and partial explanation of the Swiss investigation into his own conduct and his secret meetings with disgraced Swiss Attorney General Michael Lauber.
In a sweeping and long address that at times was more Fidel Castro than football official, he took in themes including fighting Covid-19's affect on football, FIFA's "unprecedented" $1.5 billion Covid-cash fund, the fact that football has turned female, that there is no place for racists in the game, that match-fixing must be ended (his new found buddies at the UNODC are stepping in to help sort this out), and that 2022 World Cup hosts Qatar must be congratulated for changing their labour laws.
He also wants to start an initiative that will directly address the systemic evils of child abuse in sport and is advocating the creation of a new independent entity to review and investigate abuse cases.
All noble stuff.
As is his often repeated mantra of "never again corruption in football".
And this is where his words either strike a chord with the PR side of the business and the Infantino faithful, or hit a nerve with those who are less accepting of an organisation that has removed the independence of its own ethics function as a part of its own reform process. A removal that opened up the Pandora's box of the new FIFA culture.
Turning to the subject of his own criminal investigation by a special prosecutor appointed by the Swiss justice authorities, he said: "We are a credible, trustworthy, modern, professional and accountable organisation. We are that for you, our member associations, stakeholders, sponsors, broadcast partners. Also for UNODC, WHO (World Health Organisaton), UNESCO…" you get the picture.
"We are a completely different organisation than five years ago. Everyone is convinced of the new FIFA – or shall I say almost everyone. But don't worry. We will be able to convince the sceptics eventually." (I hope so – ed).
"In Switzerland an investigation has been opened in regards of a few meetings between myself and the attorney general a few years ago. The meetings were meant to define and make clear we are miles away from the old FIFA. In 2015 FIFA was toxic, pronounced dead.
"So why was I meeting the Swiss AG. Because it was my duty as FIFA president. I had to do my due diligence because I wanted to liberate FIFA from its old toxic values.
"No organisation can be led into the future if you don't resolve the past. It is why two days ago, I was meeting the US Attorney General to prove that we don't want to go back to our past and prove FIFA has been reformed and to express our gratitude to the DoJ which saved FIFA from itself while others were standing on the sidelines watching."
But what Infantino still failed to explain is why he had three secret meetings with the now-resigned Lauber, what was the substance of those meetings (does it really take three meetings just to say FIFA has changed) and why he took those meetings when surely he should have handed them to a legal department stuffed full of some of the best sports and Swiss law brains in the business.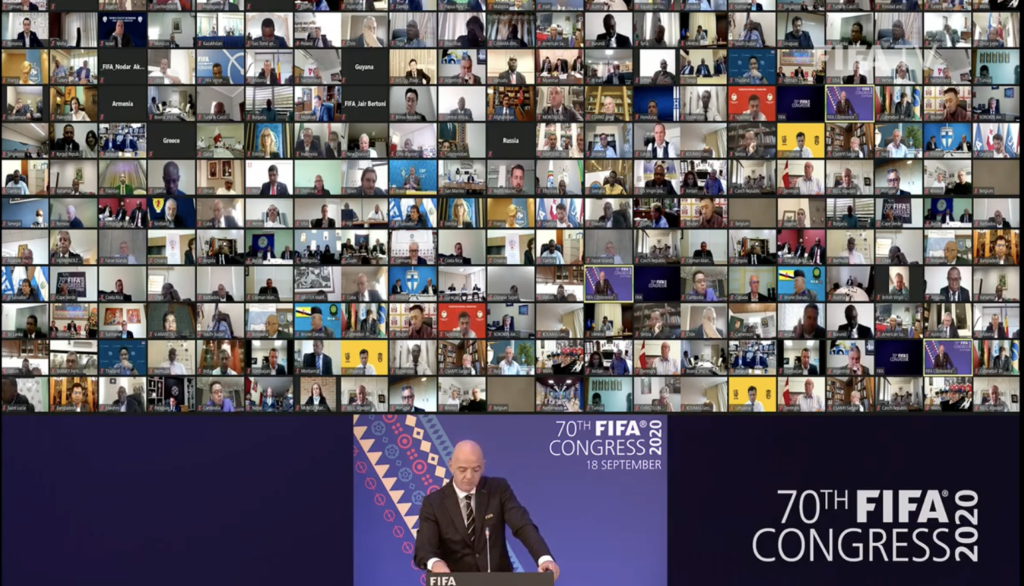 It was an unconvincing justification but well delivered nevertheless, even if it left you with a slimy feeling. It was impossible to gauge the reaction of his audience, safely locked away as they were in a virtual world of non-responsive anonymity.
One area where Infantino will have struck a pretty much universally positive chord was his message that the "vision for our future is to make football truly global and make sure the level playing field is a bit more even".
"We know the gap is getting bigger… but we need to get to 50 national teams with realistic chances of winning the world cup – 50 not 10. And 50 clubs who could be the best in the world, not only 10."
First he has to overcome the hurdle of a Swiss criminal investigator – though his own organisation doesn't seem too bothered by that. Is this the new FIFA?
Contact the writer of this story at moc.l1603325509labto1603325509ofdlr1603325509owedi1603325509sni@n1603325509osloh1603325509cin.l1603325509uap1603325509