By Samindra Kunti
November 18 – La Liga has acted to keep club spending under control by reduced salary caps across its two leagues by more than €600 million because of the coronavirus pandemic. Clubs are currently on track to overspend their income by €500 million.
FC Barcelona will be the most affected club, having almost €300 million knocked off their spending power. The Catalan giants will see their wage cap down from €671.4 million last term, when they had the highest limit in La Liga, to €382.7 million for the 2020-21 season.
Real Madrid will have a cap of €468.5 million down from €641 million. Atletico Madrid have seen a decrease of €131.8 million to €252.7 million, leaving Atletico with nearly half as much to spend as their city rivals Real.
Valencia will have to account for 40% less spending on salaries as well. Promoted Elche will have the smallest salary cap at €34 million, emphasising the massive gaps between the spending power between the top and bottom of LaLiga's top tier.
La Liga's 20 clubs will be able to spend a total of €2.33 billion on wages this season, which represents a drop of €610 million. Before the coronavirus pandemic, the collective salary cap stood at over €2.9 billion.
"It's important we all understand that it will be difficult for new players to be joining the clubs," said LaLiga president Tebas. "They are now looking to reduce costs. Some clubs will have to sell players or reduce their salaries. There's no other choice."
Spanish media have reported that both Barcelona and Real Madrid have entered another round of negotiations with players to cut salaries.
"Clubs are doing what they have to do, this is an unusual year," said Tebas. "This is going to affect a few more seasons, but hopefully we will be in a better situation compared to other European competitions."
The La Liga chairman however also struck a positive note, expressing the hope that the return of fans to stadiums will be key to help clubs start generating more revenue.
LaLiga calculated the reductions on the loss of ticketing and commercial revenue on matchday, pointing out that the bigger the club, the worse they are affected due to their larger commercial operations that are less reliant on broadcast incomes.
The league also emphasised that it recognised the problems it will cause clubs and that it would work with its clubs to ease the transition.
"Measures that block clubs who go more than 30% above their squad cost limit from signing more players have been removed for this season," said LaLiga.
There is also the possibility for advanced parachute payments to relegated clubs as well as advance payment of broadcast income. LaLiga also said that it will relax its repayment term requirements on clubs that are carrying debt.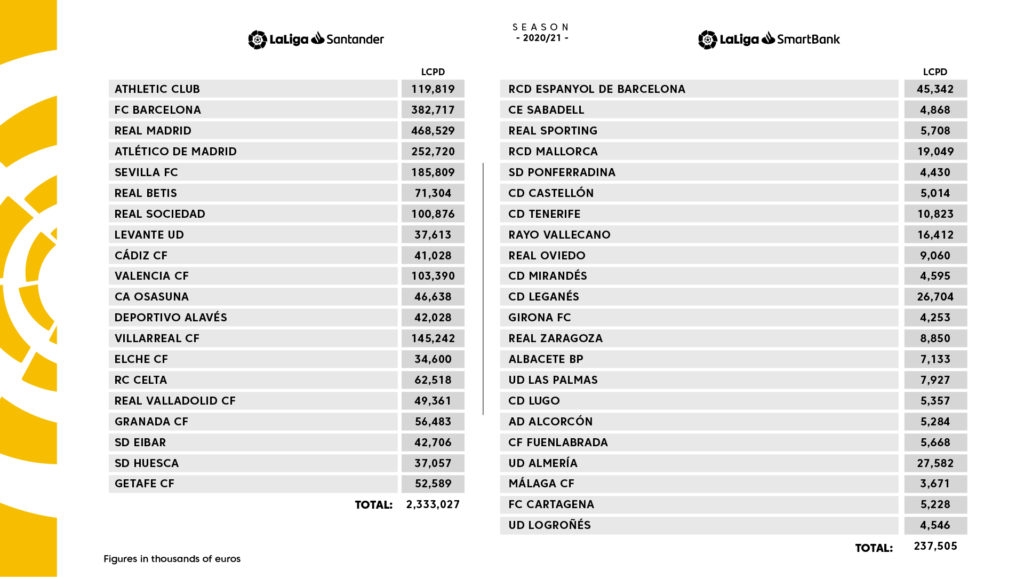 Contact the writer of this story, Samindra Kunti, at moc.l1606272818labto1606272818ofdlr1606272818owedi1606272818sni@o1606272818fni1606272818