By Paul Nicholson
December 4 – Real Madrid have been the latest of Europe's big clubs to outline the financial impact of the global pandemic on their finances – in Real's case a €16 million hit on 2019/20 expected revenue and a drop in profit from €38 million last year to €330,000 this.
Proposing their new budget for 2020/21, the club is predicting revenue of €616.8 million, a fall of -14% compared to the 2019/20 financial year and about €300 million less that they would have expected if they had continue with the same growth experienced pre-pandemic.
Real Madrid's results incorporate not just the football operations but also its basketball club.
The club said that "to mitigate the impact of the lost income, the club has implemented cost saving measures." These include 10% wage costs for the playing department and the main executives of the different club divisions, as well as an 8% cut in budgeted expenses.
"In financial terms, the impact caused by COVID-19 on the treasury as of 30 June, 2020 (-€154 million), is almost 50% higher than the impact of lower income, as the club has to take on, in addition to the loss of income indicated above, postponement of collection of certain sponsorship contracts and membership fees," said a club financial statement.
To offset this the club has taken on new bank loans of €205 million.
"As of 30 June, 2020, the club has a net worth of €533 million, a treasury of €125 million (excluding the treasury of the stadium remodelling project) and has funds available in long-term credit policies in enough amount to meet its payment obligations in the difficult economic environment that will extend throughout the 2020/21 financial year," said the club statement.
Real said that it would have expected revenue of €900 million without Covid-19.
La Liga has acted to keep club spending under control by reduced salary caps across its two leagues by more than €600 million because of the coronavirus pandemic. Real Madrid will have a cap of €468.5 million, down from €641 million.
The financial report and new budget will now go forward for approval at the clubs annual general meeting on December 20.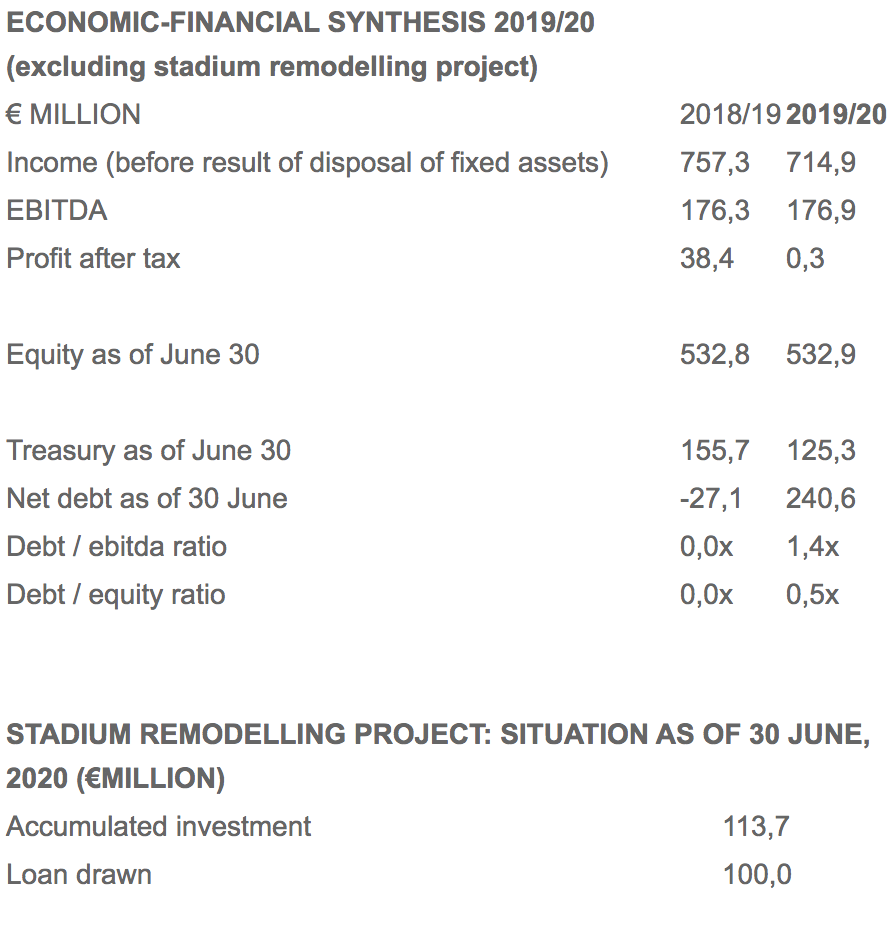 Contact the writer of this story at moc.l1610877333labto1610877333ofdlr1610877333owedi1610877333sni@n1610877333osloh1610877333cin.l1610877333uap1610877333