January 7 – Manchester United's Marcus Rashford has topped a ranking of the player transfer values at €165 million, knocking PSG's  Kylian Mbappé (€149.4 million) off the top.
The valuations, from the CIES Football Observatory are produced twice yearly around the opening of the transfer window and cover players in Europe's Big 5 leagues. The values are calculated using the CIES's own algorithm that take account of multiple criteria including performance, age and length of contract.
The CIES says that the Mbappé's transfer value is reduced with only 18 months of his current contract remaining.
Second place in the ranking is Dortmund's 20-year-old Norwegian striker Erling Haaland ranks with an estimated transfer value of €152 million. Liverpool's Trent Alexander-Arnold ranks third at €151.6 million.
The CIES point out he "is the most expensive defender ahead of Bayern Munich's Alphonso Davies (€139 million) and Manchester City's Rúben Dias (€127 million). The top estimated values for midfielders and goalkeepers were recorded for Bruno Fernandes (€151 million) and Ederson Moraes (€80 million).
A total of 25 players were valued at more than €150 million.
It is unusual to look at a valuation ranking that doesn't include old-stagers Lionel Messi and Cristiano Ronaldo in the top 20. "With only six months of contract remaining, Lionel Messi just makes the top 100 list: 97th with an estimated value of €54 million," says the CIES. "Despite his excellent performances, 35-year-old Cristiano Ronaldo (€47 million) is only 131st. This is mainly due to his age and the relatively short duration of his contract with Juventus (until June 2022)."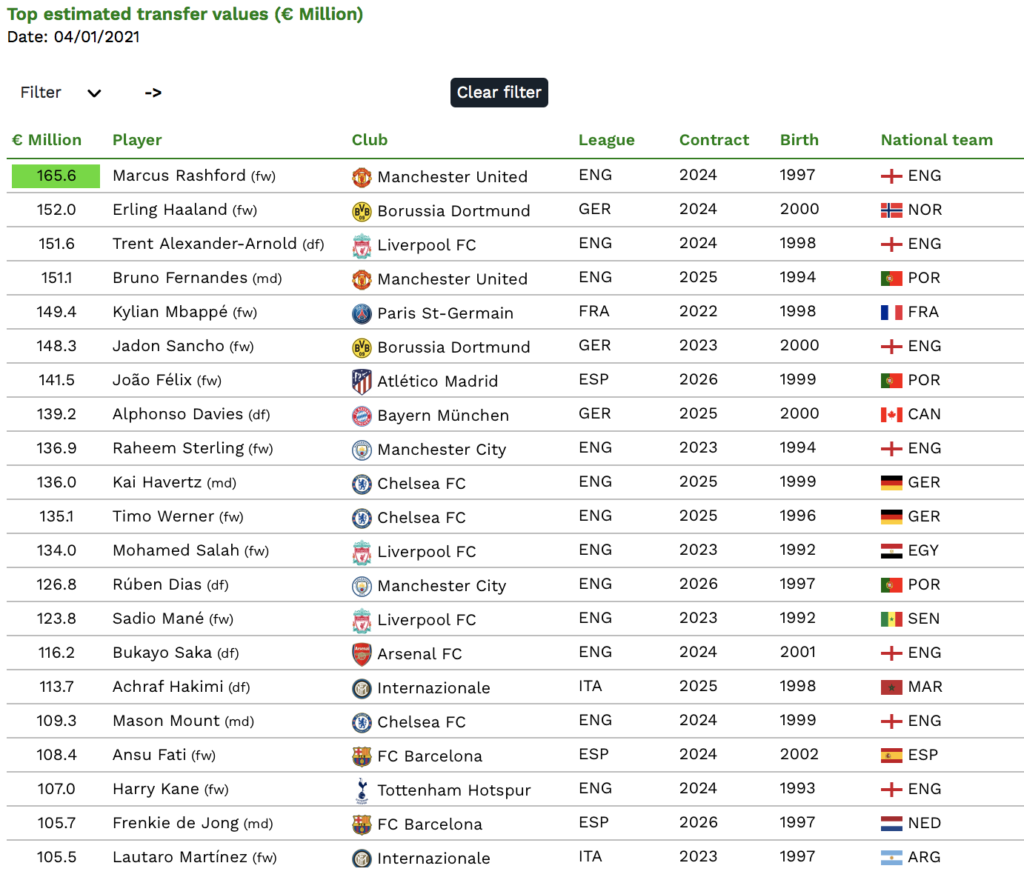 See the full ranking at https://football-observatory.com/IMG/sites/b5wp/2020/wp319/en/
Contact the writer of this story at moc.l1610876234labto1610876234ofdlr1610876234owedi1610876234sni@n1610876234osloh1610876234cin.l1610876234uap1610876234