By Paul Nicholson
January 11 – The scale of Covid's decimation of the football industry's revenue infrastructure is highlighted again in KPMG Football Benchmark's annual review of  Europe's champion clubs.
The review of the 2019/20 football season shows an expected decrease in revenue with Juventus FC, Paris Saint-Germain FC and FC Porto "registering a double-digit year-on-year drop, while FC Bayern München, Liverpool FC and Real Madrid CF reported more modest decreases in operating revenues," said Andrea Sartori, KPMG Global Head of Sports.
What is more notable is that even though revenues dropped, Real Madrid and Bayern still managed net profits for the financial year which ended in May/June 2020, while the other clubs showed significant losses (Liverpool figures are estimates). The profits aren't expected to continue into the current 2020/21 year unless crowds return to stadia, and that looks increasingly unlikely as the new mutant virus exerts a stranglehold across the continent.
The impact of Covid also meant the report was two clubs short of last year with the Dutch not having crowned a champion and no figures being available for Turkish champions Istanbul Başakşehir FK.
Of those that did report financial information: "FC Porto registered the biggest year-on-year decline in percentage terms (-50%), mainly a consequence of their early exit in the Champions League qualifying rounds, while Paris Saint-Germain FC suffered the largest blow in absolute terms (-€95.4 million). FC Bayern München can boast the least severe drop (-€18.3 million, a 3% decline), whereas Real Madrid CF registered the highest operating income (€681.2 million) among the champions, despite an 8% decrease," said Sartori.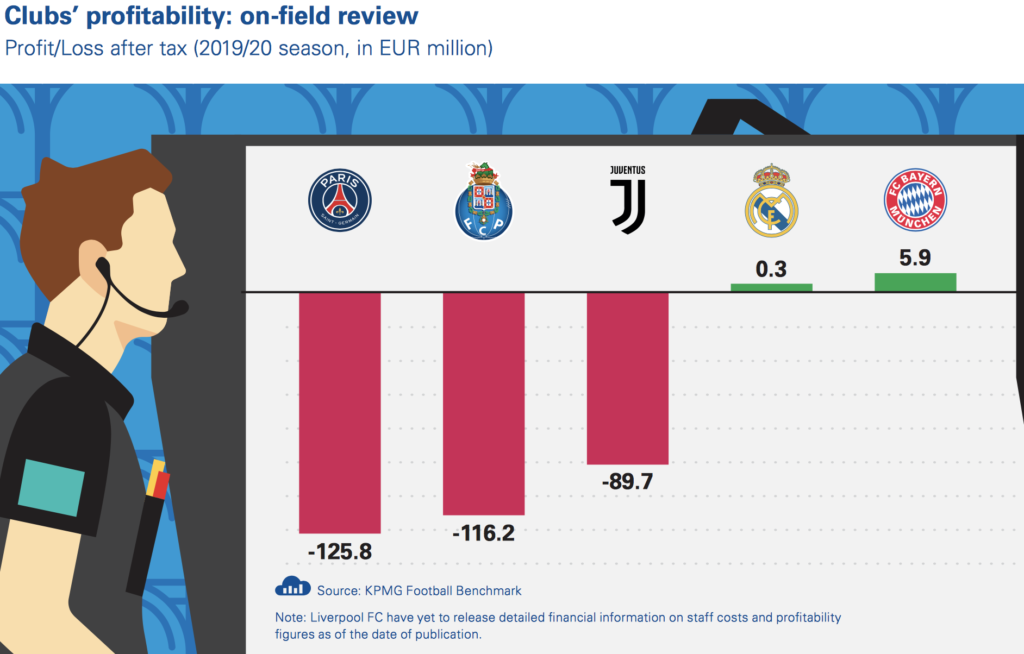 Unsurprisingly matchday income suffered the biggest blow at almost every club though Liverpool and FC Porto saw a bigger drop in broadcast revenue diminished, "primarily due to their poorer UEFA Champions League performance compared to the previous season. Real Madrid CF lost the most in matchday income in absolute terms (-€34.9 million, a 22% year-on-year drop), while FC Porto's €4.2 million decrease constituted the greatest annual decline in percentages (-34%)," said Sartori.
Champions League performance was crucial to broadcast revenues with Bayern München and Paris Saint-Germain  registering only 4% decreases in their TV income. In comparison Porto's TV revenues dropped 63%.
The report does highlight an increasing importance of commercial partners to the club financial model with Liverpool, Bayern and Real Madrid even managing to increase their income from commercial activities by 14%, 4% and 2%, respectively.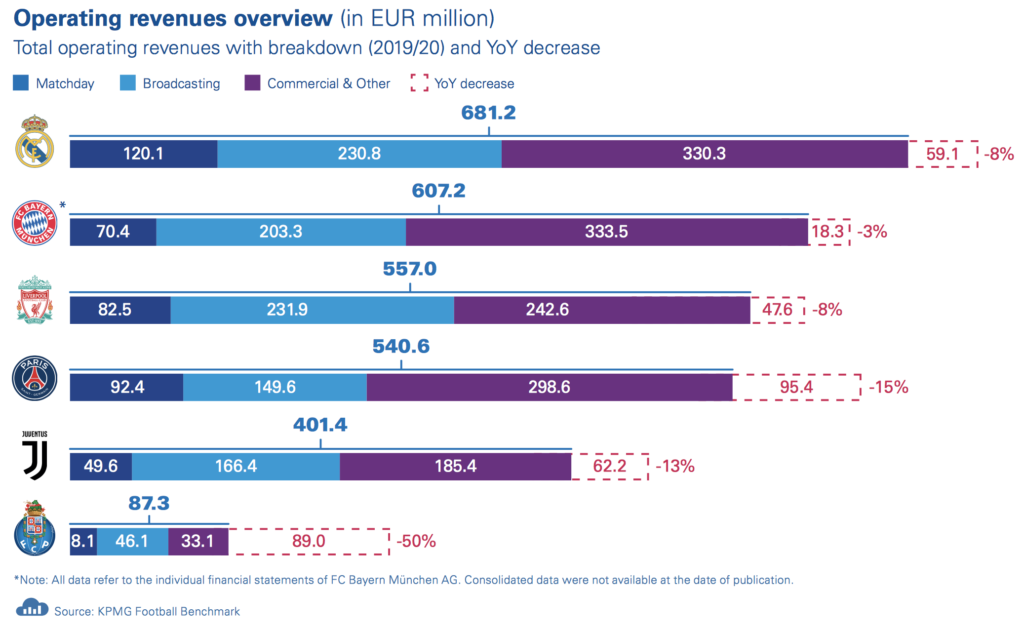 "The coronavirus crisis has tested the financial sustainability of the football ecosystem as a whole and further exposed its fragility. Even prior to the pandemic, inflated players' salary, coupled with growing transfer and agent fees, placed a significant strain on clubs' finances. The crisis has magnifed these flaws in the current business model," said Sartori.
Cutting or curtailing costs are the crucial battlefront for financial administrators, with players' wages and transfer market valuations ultimately being the battleground where the war will be won or lost.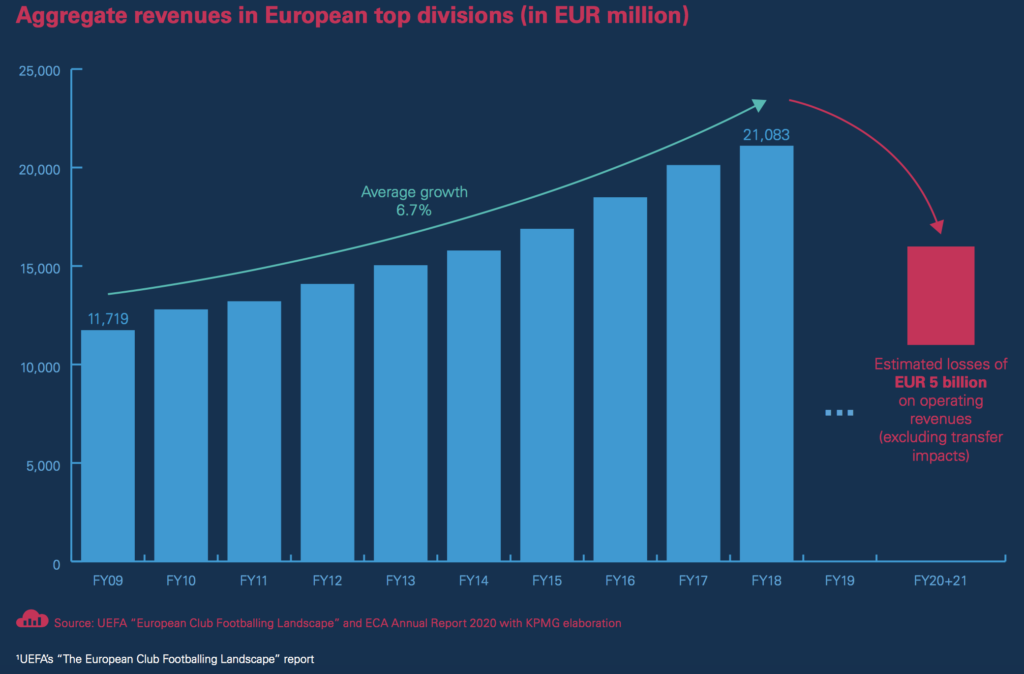 See the full report at https://footballbenchmark.com/documents/files/public/The_European_Champions_Report_2021.pdf
Contact the writer of this story at moc.l1610877360labto1610877360ofdlr1610877360owedi1610877360sni@n1610877360osloh1610877360cin.l1610877360uap1610877360