January 15 – Paris St-Germain top a table of big 5 league clubs with a dribble attempted every 3'58''. In contrast Burnley reinforce the longer-ball perception of the English game, coming at the bottom of the rankings with a dribble attempt every 8'46''.
The research ranks teams according to the frequency of dribbles attempted by their players.
"Many teams with very talented players figure in the top 10 positions, such as Olympique Lyonnais (2nd), Barcelona (4th), Manchester City (6th) and Borussia Dortmund (9th). Fulham is the most dribble-oriented team in the English Premier League (3rd overall), while Cagliari (15th) top the rankings for the Italian Serie A," say report authors from the CIES Football Observatory.
Eight teams from France's Ligue1 are in the top 20, while there are five from the Premier League and four from Serie A. Only Barcelona feature from LaLiga.
"The least dribble-oriented teams for each of the big-5 leagues are Burnley FC in the Premier League, Osasuna in the Liga, Union Berlin in Germany, Benevento in Italy and RC Strasbourg in Ligue 1. The frequency of dribble attempts per league vary between 2'33'' in the French Ligue 1 and 2'59'' in the Spanish Liga. The success rate at club level ranges between 70.6% for Wolfsburg (just ahead Aston Villa, 69.4%) and 48.4% for Werder Bremen," says the report.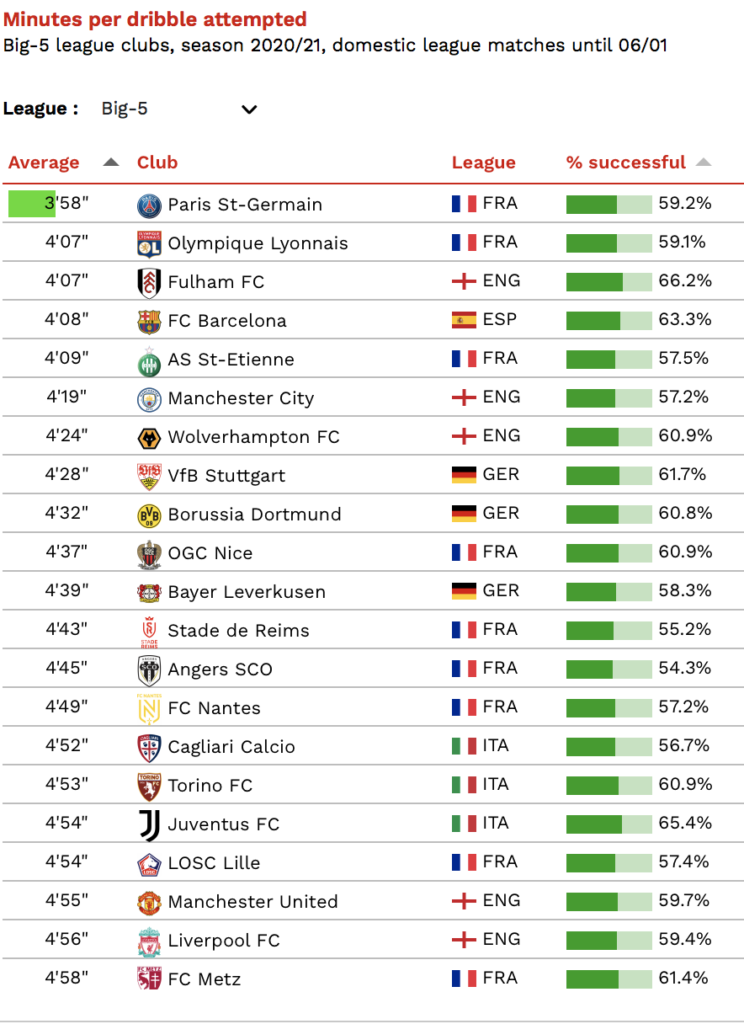 See the full ranking at https://football-observatory.com/IMG/sites/b5wp/2020/wp320/en/
Contact the writer of this story at moc.l1614756776labto1614756776ofdlr1614756776owedi1614756776sni@n1614756776osloh1614756776cin.l1614756776uap1614756776