By Paul Nicholson
January 25 – The AFC has cancelled its cancelled the U-16 Championship Bahrain 2020 and U-19 Championship Uzbekistan 2020 that it had initially hoped to be able to rearrange for 2021.
The move follows a similar move by Concacaf following FIFA's decision to cancel the U-17 and U-20 World Cups in 2021. Those cancellations took away the need for confederations to run championships to qualify member nations.
Instead Uzbekistan will now host the U20 Asian Cup in 2023 and Bahrain will host the U17 Asian Cup.
The AFC said in a statement that the decision was made "taking into consideration the uncertainty and risks in view of the current pandemic, has decided to cancel a number of competitions to safeguard the interests of all stakeholders."
The AFC has also cancelled its Futsal Championship Kuwait 2020, moved forward to Kuwait in 2022, as well as its Beach Soccer Asian Cup Thailand 2021, that will now be played in 2023 in Thailand.
Both the Kuwait Football Association and the Football Association of Thailand will host the next editions. Kuwait will stage the AFC Futsal Asian Cup 2022 and Thailand, the AFC Beach Soccer Asian Cup 2023.
The AFC has also said it was rescheduling the qualifying rounds for the AFC U20 Women's Asian Cup 2022 and AFC U17 Women's Asian Cup 2022.
Dato' Windsor John, AFC general secretary, said: "We are grateful for the support of the hosts for these competitions who agreed with the AFC the need to safeguard the interests of all stakeholders during this time of uncertainty and taking into consideration the risks of the current pandemic."
While the AFC has been forced to push back its age group, futsal and beach soccer championships, it is still very focussed on its Champions League and AFC Qualifiers for Qatar 2022 and its flagship Asian Cup in 2023.
The draw for the expanded AFC Champions League will take place later this week, deciding clubs for the group stages, though venues and the likelihood of centralised play will likely be announced in the future.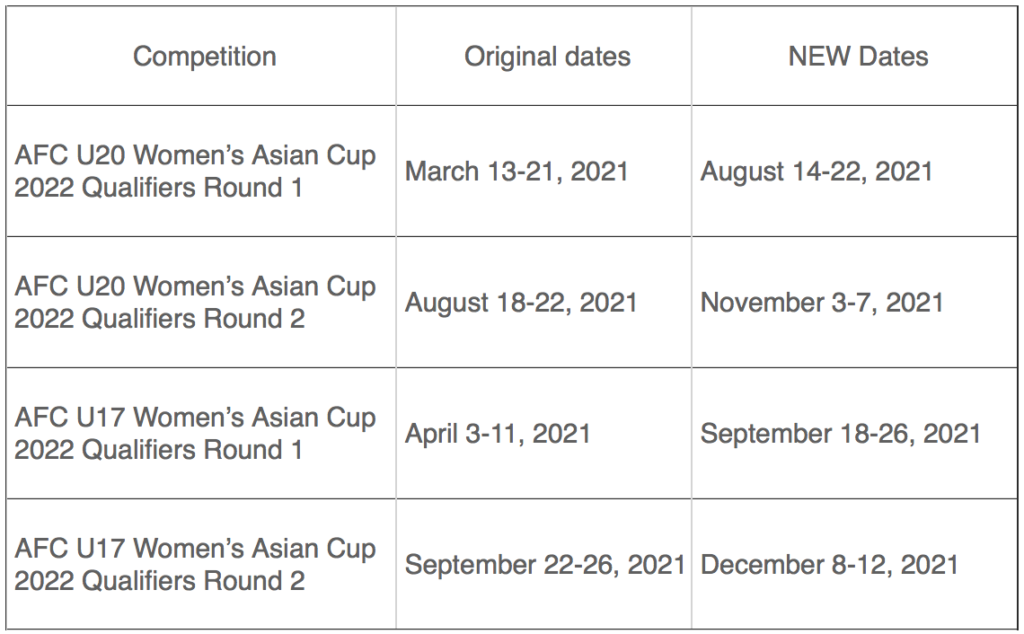 Contact the writer of this story at moc.l1614344846labto1614344846ofdlr1614344846owedi1614344846sni@n1614344846osloh1614344846cin.l1614344846uap1614344846