March 4 – Sometimes it takes a few steps backwards to make significant progress forward. Football appears to be no different with data showing that Europe's leading teams are also the leaders in the number of backward passes they make.
Top of the ranking of 500 teams from 31 European leagues is Manchester City, 41.6% of whose passes are backward.
The data, from the CIES Football Observatory, ranks six other teams from the five major European leagues in the top 10 positions of the table: Chelsea (4th), Arsenal (5th), Sassuolo (7th), Barcelona (8th), Paris St-Germain (9th) and Real Madrid (10th).
"The only exceptions are Shakhtar Donetsk (2nd), Lokomotiv Moscow (3rd) and Ferencvaros (6th). Conversely, with only 24.0% of passes backwards, the bottom-ranked Championship team Wycombe Wanderers are at the bottom of this table too," says the CIES report.
The CIES, using InStat data, draw a correlation between the competitiveness and the number of backwards passes made by its teams.
"The more competitive the leagues, the higher the percentage of backward passes. The greatest proportion of passes backwards was recorded for the English Premier League(36.5%). The time for kick and rush is definitely over. This is not that much the case for less performing championships. The lowest percentage of backward passes was observed in the Austrian Bundesliga (29.6%)," concludes the CIES.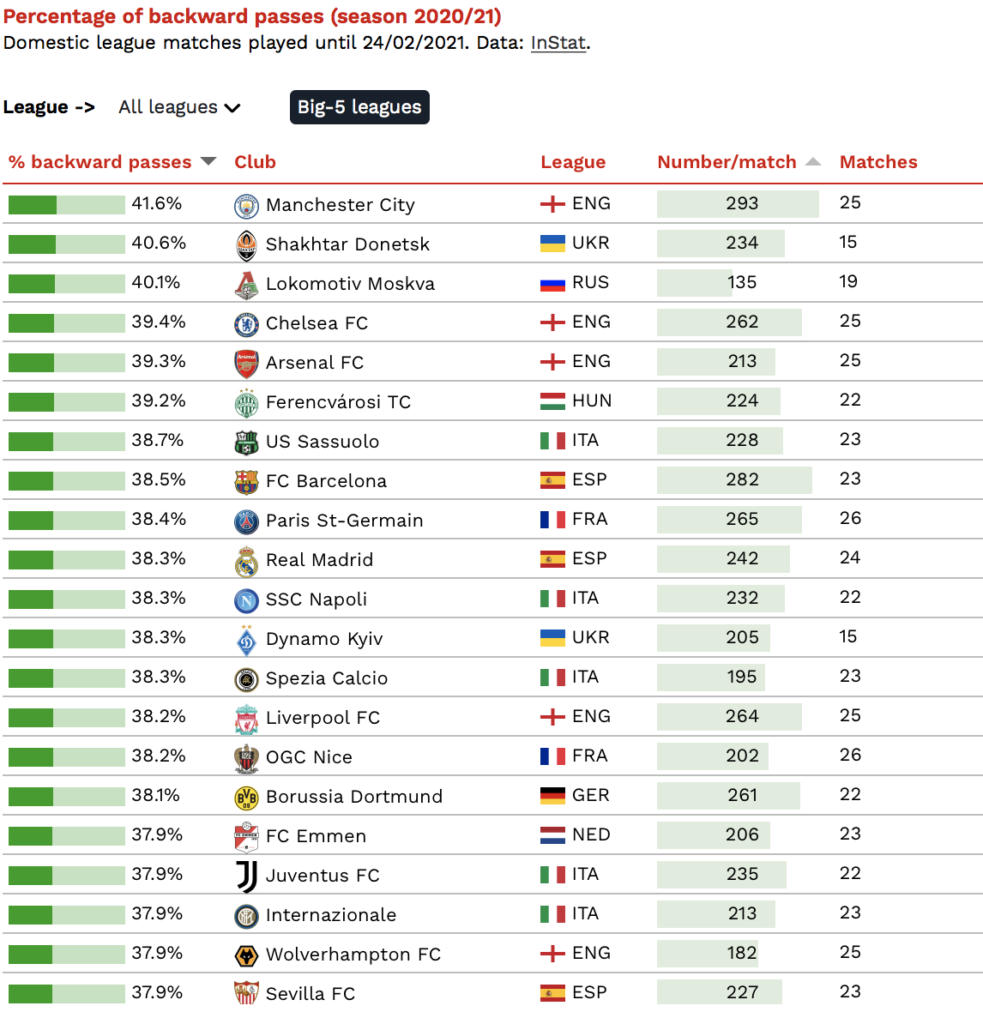 Click here to see the full report.
Contact the writer of this story at moc.l1618619655labto1618619655ofdlr1618619655owedi1618619655sni@n1618619655osloh1618619655cin.l1618619655uap1618619655