May 13 – A re-evaluation of player market values (an indicator of potential transfer fees) by the KPMG Football Benchmark has found that "player values have been stagnant over the past six months, and most players have still not regained their 'pre-pandemic' market value."
The KPMG report doesn't see that situation significantly changing, saying that "since the last valuation in February 2021, when aggregate market values for both the top 100 and top 500 players by market value slightly decreased, we can now see limited growth."
The impact on the transfer market will inevitably be fewer big transfer deals or overblown fees for untried players, and a likely reduction in transfer fees at the lower end of the market that has already witnessed significant reductions in the last winter transfer window.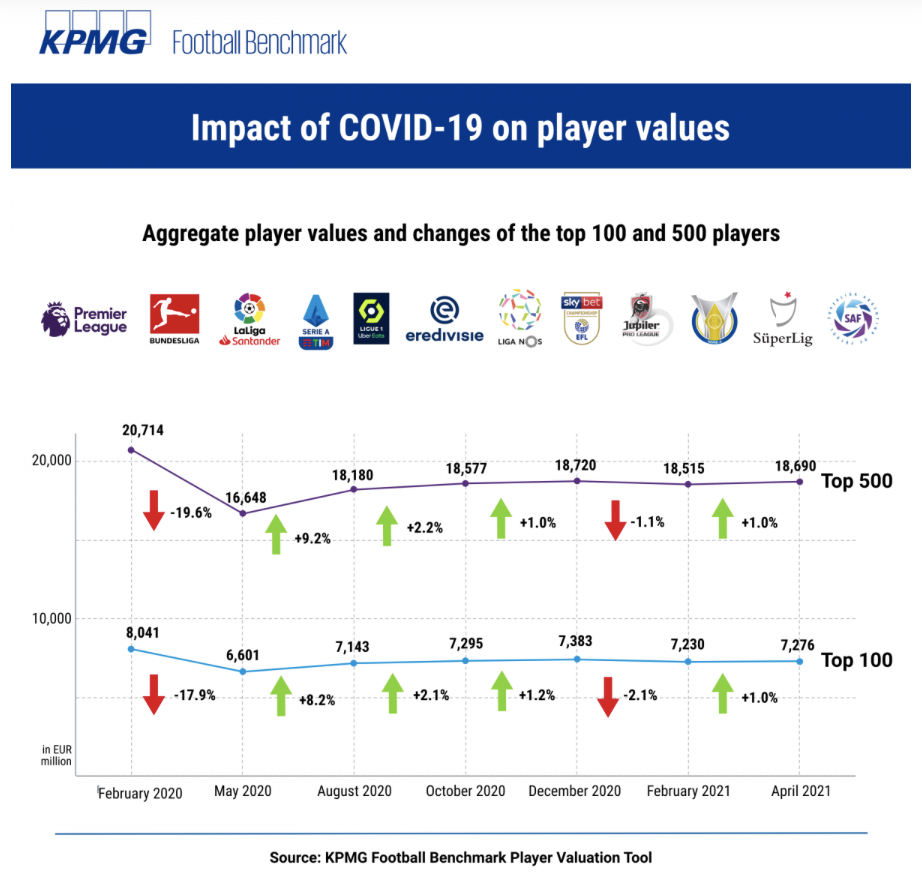 For clubs that balance their books through the development of young talent to first team level and then selling on for significant fees to bigger higher playing clubs, in particular in Europe's big 5 leagues, a key component of their economic eco-system looks to be under threat.
Of course there are individual players that are exceptions to the prevailing environment. Borussia Dortmund striker Erling Haaland sits at the top of KPMG's list of the five individuals who have increased their market value the most since February, gaining more than €20 million (to €131 million) in value in just over three months.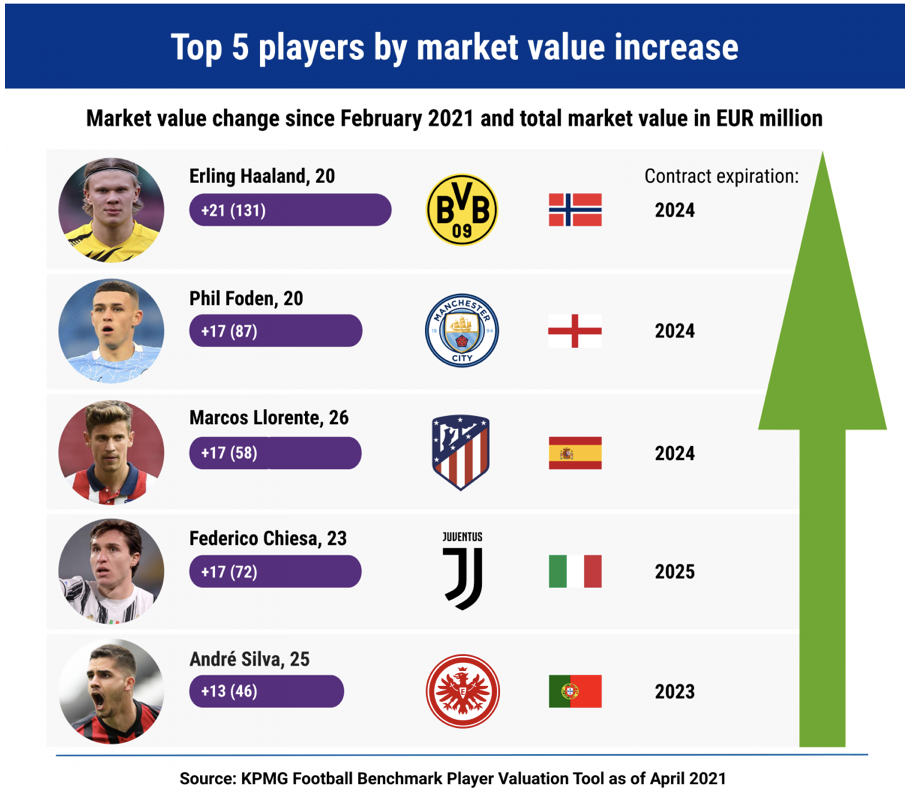 Haaland is followed by Manchester City's Phil Foden, Atlético de Madrid's Marcos Llorente, and Juventus' Federico Chiesa, who all have increased their market values by at least €17 million. "The list is completed by Eintracht Frankfurt's Portuguese striker André Silva, who has already scored 25 goals in Germany's top tier – as many as Erling Haaland," says KPMG.
While proven young talents are the fastest risers in terms of values, the top 10 ranking in terms of absolute market value has also seen some changes, the most notable of which is that it "is dominated by forwards, with Manchester City midfielder De Bruyne and Liverpool right-back Trent Alexander-Arnold being the only representatives of other positions," says KPMG.
Kylian Mbappé remains the world's most valuable football player with a market value of €189m.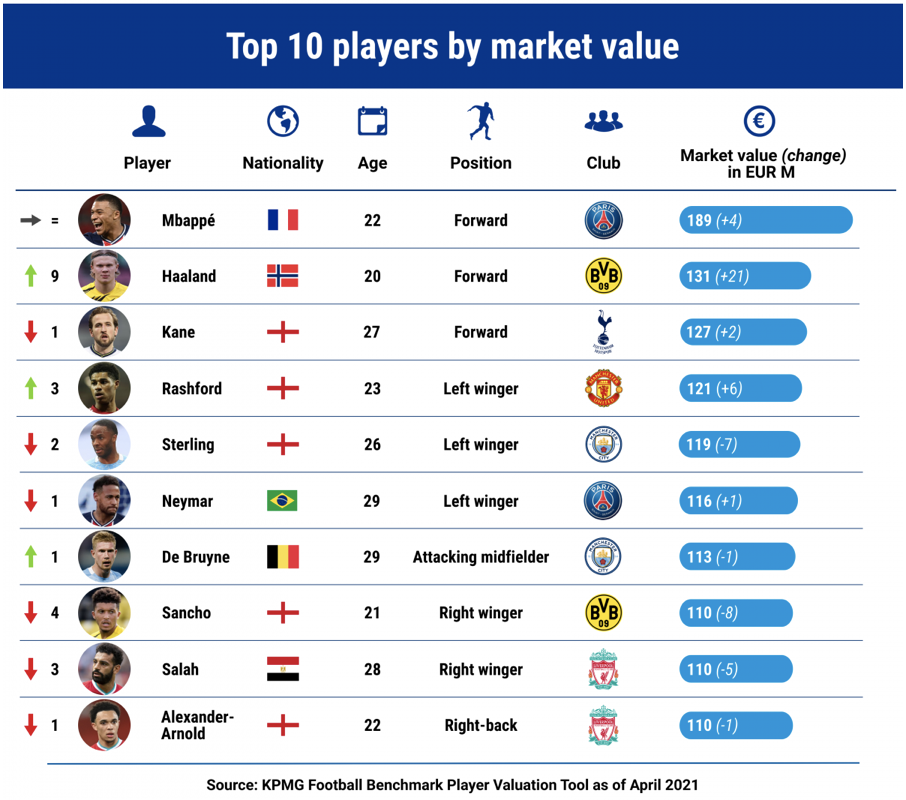 KPMG's data also compares domestic leagues, with the English Premier League once again ahead of the other leagues in terms of players' values. The average market value of a player in England's top tier currently stands at €20.1miliion – almost twice as much as the average value of a player in the German Bundesliga (€11.6 million). Compare that to the high-functioning Dutch Eredivisie which has an average player market value of €2.8m.
"Interestingly, England's second-tier Championship has a higher player value average than the top divisions in Belgium, Brazil, Turkey and Argentina," says KPMG.
Looking at club squad values, inevitably the Premier League dominates again.Manchester City (€1.1 billion) and Liverpool (€1 billion) are the only clubs over the €1 billion threshold. They are followed by Manchester United (€907 million) and Chelsea (€891 million). Chelsea, Man City and Man Utd make up three of the four participants in the finals of UEFA's Champions League and Europa League.
For the full report click here.
Contact the writer of this story at moc.l1634566480labto1634566480ofdlr1634566480owedi1634566480sni@n1634566480osloh1634566480cin.l1634566480uap1634566480