By David Owen
May 24 – For years, cost control has proved elusive in football. While revenue growth was the envy of most other industries, the issue was manageable. But with the covid crisis coinciding with pressure on the broadcasting rights valuations that have been football's gold-mine for so long, the reckoning has arrived.
If anybody still doubted this, UEFA's latest club licensing benchmarking report, published at the end of last week, should have ensured that the penny has at last dropped.
Andrea Traverso's introduction summarises the bad news. Wages, UEFA's director of financial sustainability and research reveals, have reached "unsustainable levels close to 75%" of club revenues. At the same time, the depressed transfer market – with cash-rich buyers ever scarcer even if the lust for sporting success remains strong – is estimated to produce a further €2 billion shortfall in anticipated transfer profits.
In such circumstances, Traverso writes, "it has become very challenging for many clubs to operate, and in particular for them to continue to pay wages and transfer fees that were committed to when revenue streams were stable and the transfer market buoyant".
A surprisingly – not to say worryingly – large number have already succumbed: according to the 112-page document, 15 top-tier and 37 second-tier European clubs entered insolvency proceedings between the start of 2020 and the report's publication.
The main body of the publication offers a wealth of further detail and contextualisation.
While a wage:turnover ratio of 75% is regarded as unsustainable, more than 200 top-division clubs across the continent have ratios of 80%+. Not far off half of these – 96 – have ratios of 100%+, in other words, revenues do not even cover the payroll, let alone all the other costs incurred in running a club.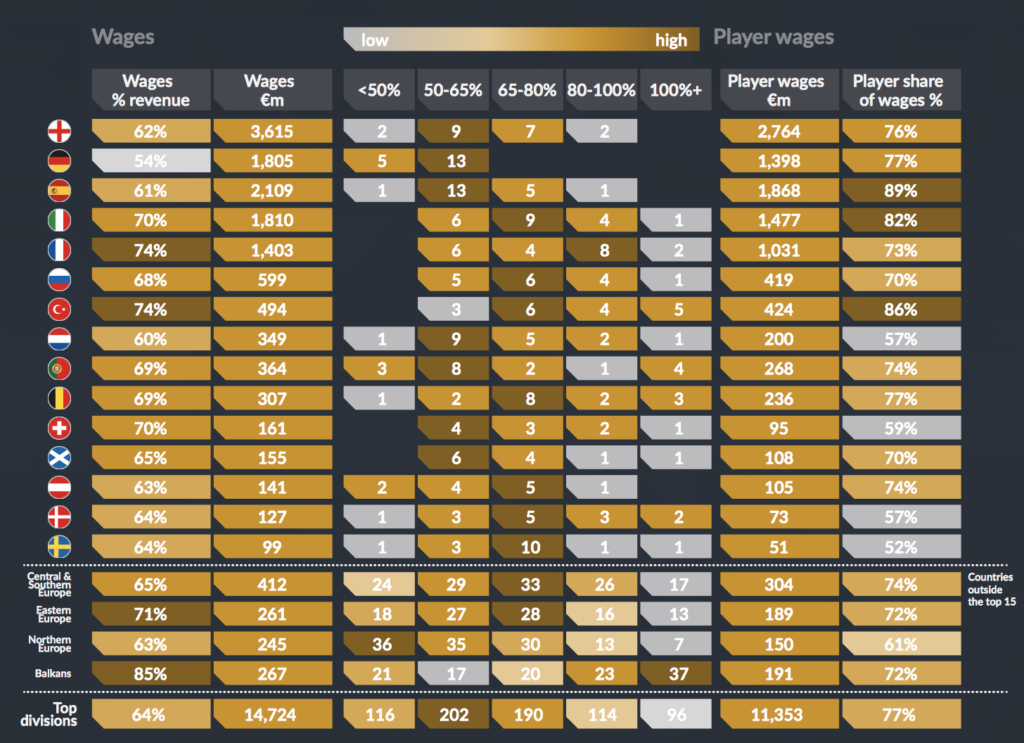 According to the report, baseball is "possibly the only other sport where players' wages have accounted for such a large share of revenue". This was before "salary restrictions and revenue-sharing guidelines were established in 2002".
Imposing controls on a strongly-unionised workforce in an unforgiving environment in which owners covet glory and fans success, and where on-field failure tends to be heavily penalised, is not going to be quick or easy, however.
I have passed comment before on how lengthy contracts enable clubs to amortise expensive transfer fees over a relatively long period, helping them to appear more affordable. My suspicion was that contract terms were getting longer partly for this reason.
Now the new report discloses that top-division players have an average of more than two years – 25 months – left on their contracts, but that this rises to nearly three years – 34 months – for players in the so-called Big Five leagues in England, Germany, Spain, Italy and France.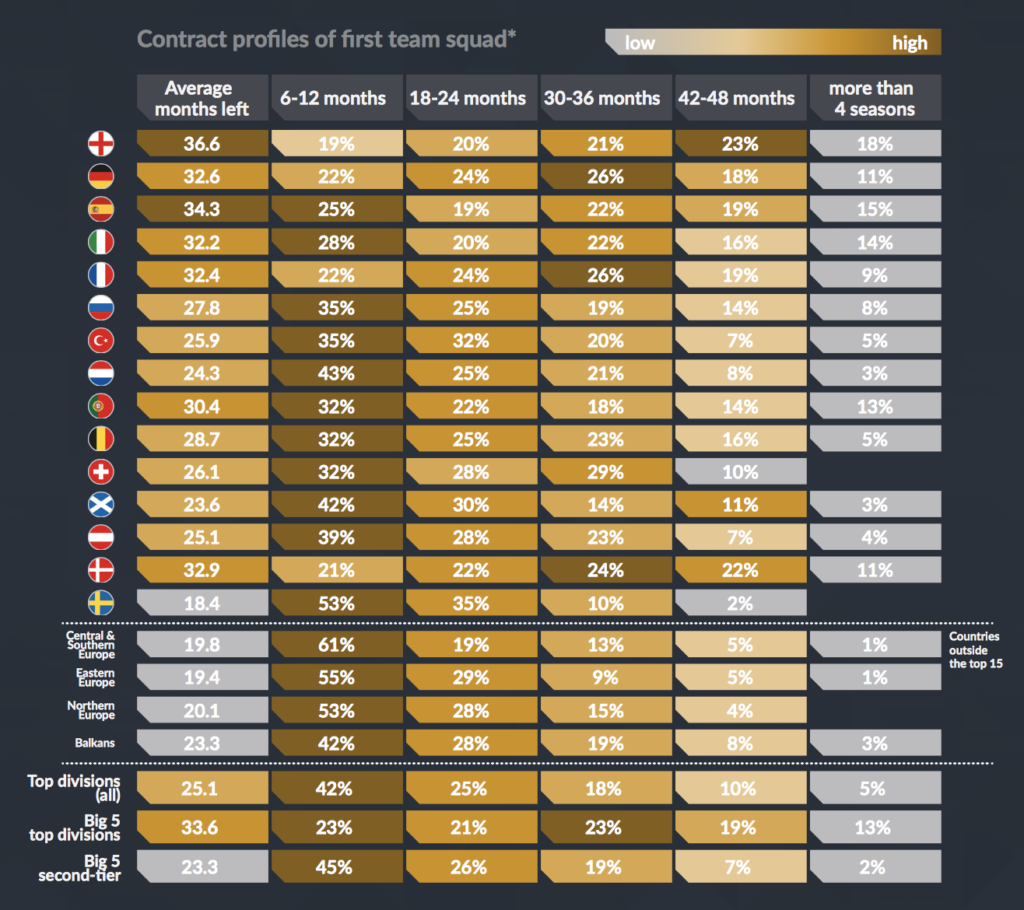 Sure enough, the Premier League appears to have the longest average residual contract-length of all at 36.6 months. This may make it complicated for clubs to move on now unwanted players whose contracts have substantial periods still to run and who may fear having to take a hefty pay cut if they consent to a transfer. All told, UEFA estimates, top-tier clubs had "outstanding wage commitments totalling €34.2 billion at the end of the last financial year".
The report estimates the overall impact of the pandemic on club revenues over the 2019-20 and 2020-21 seasons at between €7.2 billion and €8.1 billion. An analysis of the expected impact on revenues of the top 15 leagues over the same period indicates that Scotland and France may be proportionately the worst affected, with a revenue impact of 25-35%. Sweden is also high at 25-30%.
The hit to England's top tier is assessed at a comparatively modest 10-15%, however, suggesting that for all the problems, the Premier League could emerge from covid with its position as Europe's biggest national league in revenue terms reinforced.
UEFA also projects a 35% increase in clubs' average debt-load by the end of the current financial year.
All in all then the document adds up to a sobering read for the continent that houses all the world's most valuable football clubs. More turbulence is almost certainly to be expected, notwithstanding the spectacular demise of the recent Super League project.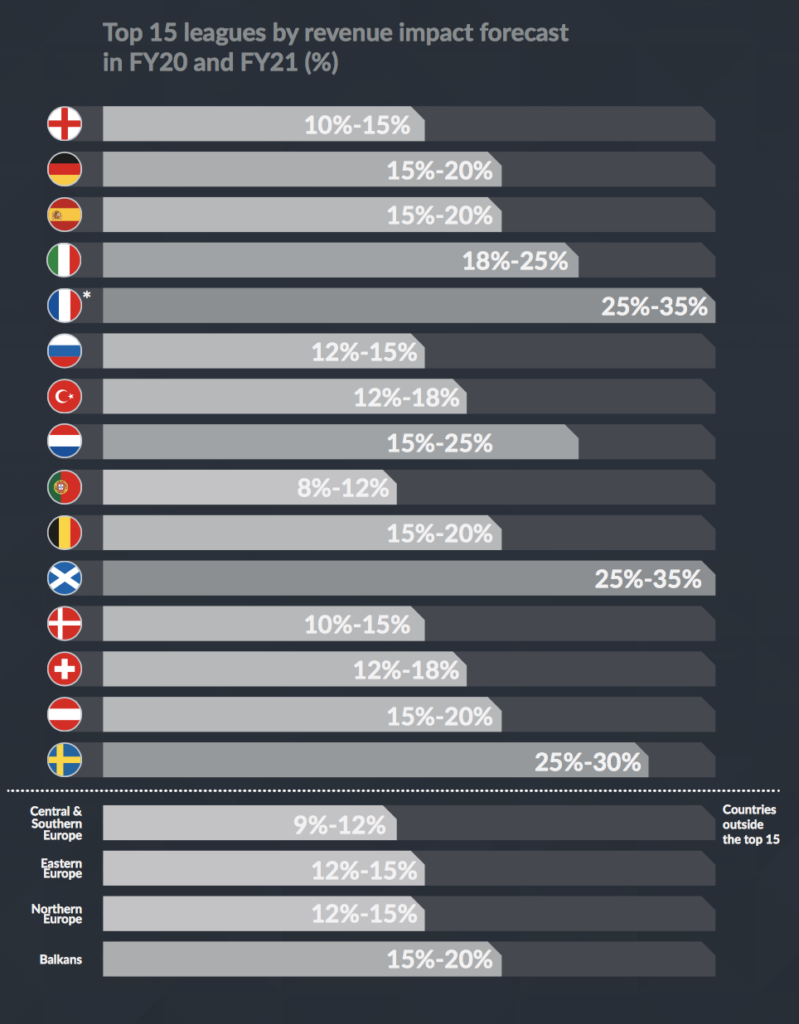 Contact the writer of this story at moc.l1635172481labto1635172481ofdlr1635172481owedi1635172481sni@n1635172481ewo.d1635172481ivad1635172481