June 25 – FIFA's latest ranking of Women's national teams sees the US still top and extending their lead, but France have moved into the top three ranking positions, jumping ahead of the Netherlands. Germany are second.
FIFA point out that in the two months since the last ranking was published, only about a third of its teams (56 of 167) have been in action, and only in friendlies.
However it was enough to see change at the top and while five of the top 10 ranked teams are European, Japan – who will be playing at home in August at the Olympic tournament – did move back into the top 10.
Japan had wins over Ukraine (31st), and Mexico (28th) twice, and moved ahead of Korea DPR.
Looking ahead to the Olympic tournament, the ranking points make the US overwhelming favourites for the gold medal. FIFA points out the gap between the first and second placed teams is now 124.20 points, the largest such gap ever seen.
"Further down the standings, Tunisia (77th) jumped two places courtesy of a pair of victories over Jordan (63rd), who fall four places. Georgia (123rd) went one better by ascending three places after a win (3-2) and a draw (0-0) against Azerbaijan (78th), who were 49 rungs above them before their meetings," pointed out FIFA.
An indication of the women's game becoming increasingly global is that there are currently no teams that are no longer ranked. Previously there were a number of teams that had become unranked due to inactivity.
There are 167 nations in the women's ranking. There are 210 in the men's ranking.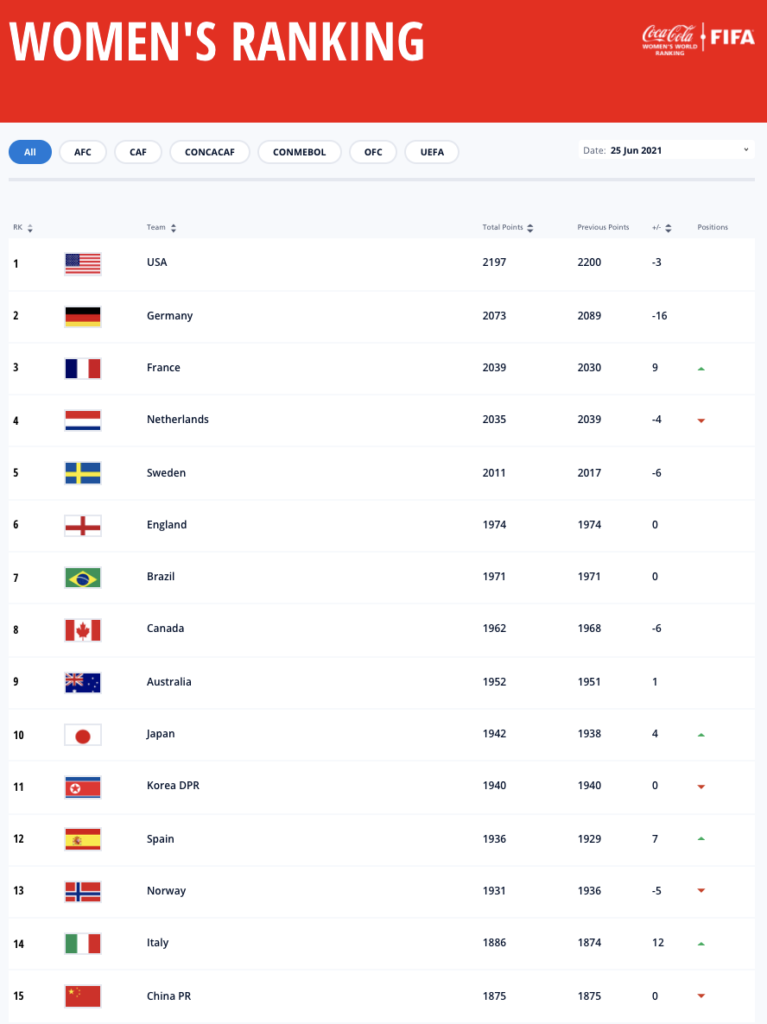 To see the full ranking click here.
Contact the writer of this story at moc.l1635089086labto1635089086ofdlr1635089086owedi1635089086sni@n1635089086osloh1635089086cin.l1635089086uap1635089086