By David Owen
July 8 – Irish playwright Samuel Beckett might have called it Waiting for Newcastle.
With Watford's figures – a pre-tax loss of £35.6 million – in, the matter of whether or not the 20 English Premier League clubs have avoided the ignominy of losing an aggregate £1 BILLION over the pandemic-hit 2019-20 season now hinges on Mike Ashley's Magpies.
By my reckoning, the cumulative pre-tax loss racked up by the other 19 clubs stands at around £966 million (see table).
That is equivalent to £50.8 million each on average. Since the Tynesiders would have to post a loss of less than £34 million not to push the total beyond the landmark £1 billion, ie to finish sixth or better in the 2019-20 Premier League of Profits table, you might be forgiven for thinking that a 10-digit final tally of losses is very much on the cards.
And you may be right. However, in strictly financial terms, Newcastle have been a fairly tight-run ship in the Ashley era. This was never better demonstrated than in 2018-19, when the club reported a thumping pre-tax profit of £41.2 million, not far off double the prior season's total, to rise to third in that year's profits table, behind only Liverpool and Tottenham.
This time around, the club has joined a number of peers in extending its 2019-20 reporting period to 13 months. And while covid will have subjected it to the same business and financial pressures as everyone else in the English top tier, it should also have a juicy gain on the transfer of striker Ayoze Pérez to Leicester City to feed into the mix.
It is hard to believe this tide of red ink has come only two years after both Liverpool and Spurs set world records for football club profitability, with the overall profit total reaching close to £470 million. Even in 2018-19, over half of Premier League clubs remained in profit, even if a couple of £100 million-plus losses pushed the aggregate into negative territory.
These now look like Happy Days, as Beckett might have put it.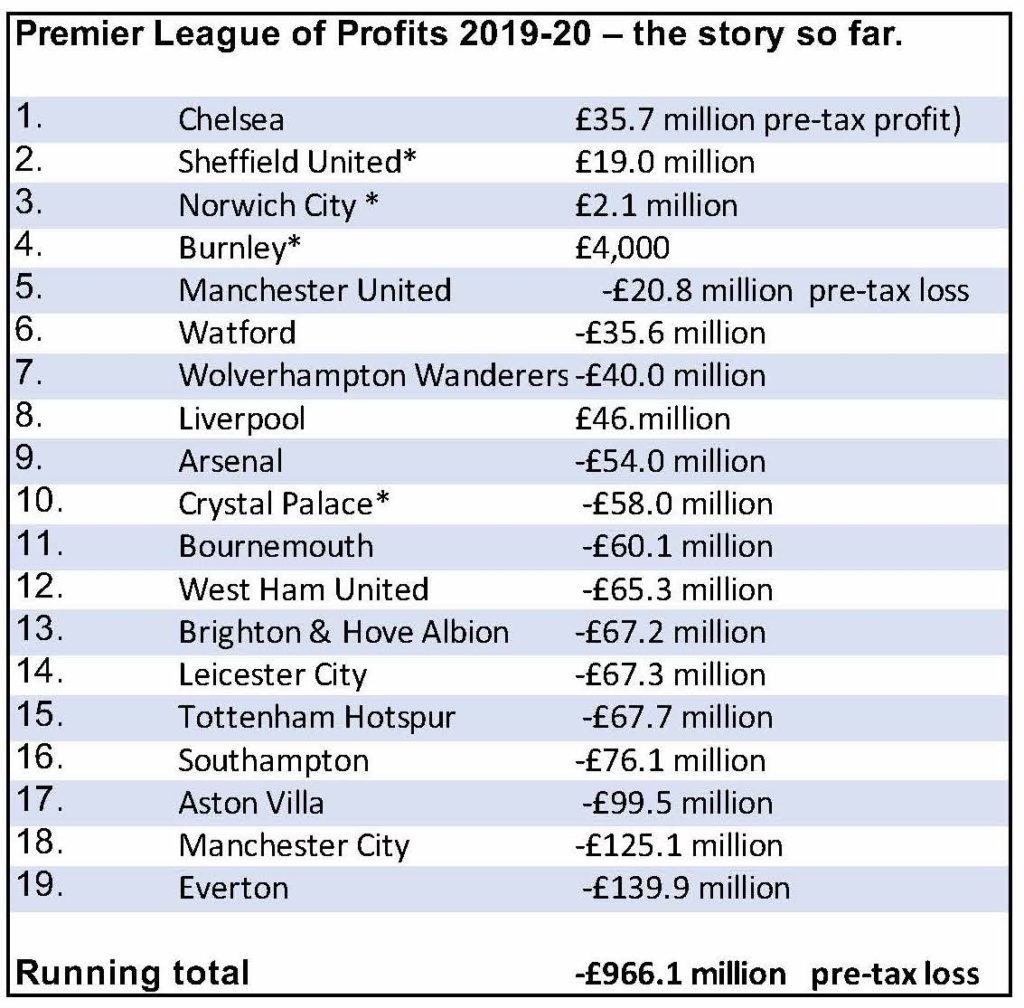 Contact the writer of this story at moc.l1634800715labto1634800715ofdlr1634800715owedi1634800715sni@w1634800715ahsra1634800715w.wer1634800715dna1634800715