July 14 – The Euro 2020 tournament will become a moment in history, not just because it took place against the backdrop of a global pandemic, but because it set a number of records both on and off the pitch.
KPMG Football Benchmark have highlighted some of those records in a new report.
Firstly KPMG point out that from an entertainment perspective the were 142 goals scored at the finals were the most of any Euro – an average of 2.79 goals per game. There were 11 own goals, more than the combined total scored in the 15 previous editions of the European Championship.
He might not have made the Euro 2020 team of the tournament but Cristiano Ronaldo was awarded the top scorer trophy, scoring five goals and assisting one – he also became the highest-ever goal scorer at the European Championship with a total of 14 goals in his five tournaments.
On a competitive balance level, KPMG notes that the ties in the knockout stage were "big fights: with eight out of the 15 knockout games being decided in extra time".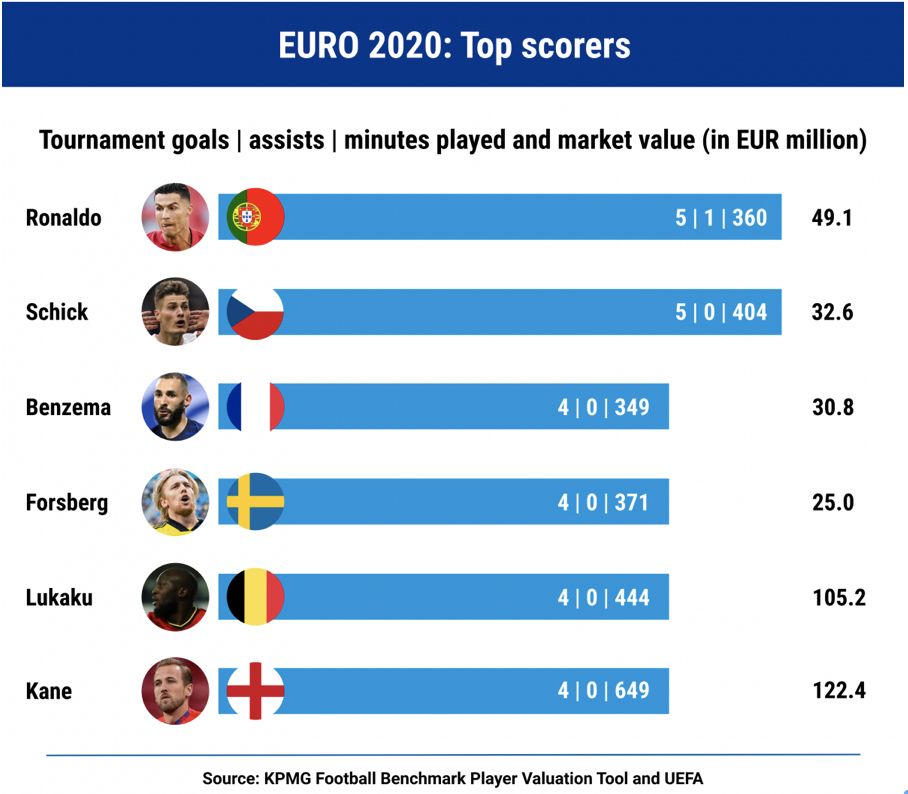 Switched on
Viewer data has yet to be confirmed but it is estimated that live matches were watched by more than 2 billion spectators globally, with individual games attracting audiences of about 140-150 million viewers.
The final between England and Italy broke records in the UK with 31 million viewers, 4 million more than the London 2012 Olympic Opening Ceremony. The highest ratings for a football match (25.2 million) was the West Germany v England semi-final at the 1990 World Cup, which also concluded in a painful penalty shootout exit for England.
US broadcasters ESPN reported an average audience of more than 2 million viewers for the four quarter final matches, a 16% increase compared to the same phase matches seen in 2016.
What pandemic?
"Surprisingly, the pandemic exerted fewer effects on the tournament than feared," says the KPMG report. The most significant impacts were for fans whose attendance was generally restricted to capacities of between 22% and 50%.
The number of covid cases reported within teams was also remarkably low. Spain was the only nation to have their preparations curtailed after two players tested positive forcing all group training to be suspended ahead of the tournament start. England's Mason Mount and Ben Chilwell had to self-isolate after being in close contact with their Chelsea teammate Billy Gilmour, who tested positive after the England vs Scotland game.
Even so "the World Health Organization (WHO) blamed Euro 2020 for a rise in Covid-19 cases across Europe. The mixing of crowds at the football competition in host cities, as well as travelling and the easing of social restrictions, had driven up the number of new cases by 10%, according to the WHO."
Travel issues
With the tournament venues spread across the continent, travel was at time impossible for times and often "a big burden for a number of national teams," says KPMG who point out that "all four semi-finalists – Italy, Denmark, England, and Spain – played at home for the entire group stage and therefore stayed at home in the first two weeks. It can only be speculated whether travel really had impacts on the performance of teams, in light of the knowledge that Germany or Netherlands, for example, also played all of their group matches on home soil, but were eliminated in the last 16.
Switzerland were the tournament's most frequent flyer, compared to host nation England who left home only once. "Despite playing two fewer games, Switzerland travelled more than three times as many kilometres compared to the Three Lions," says KPMG.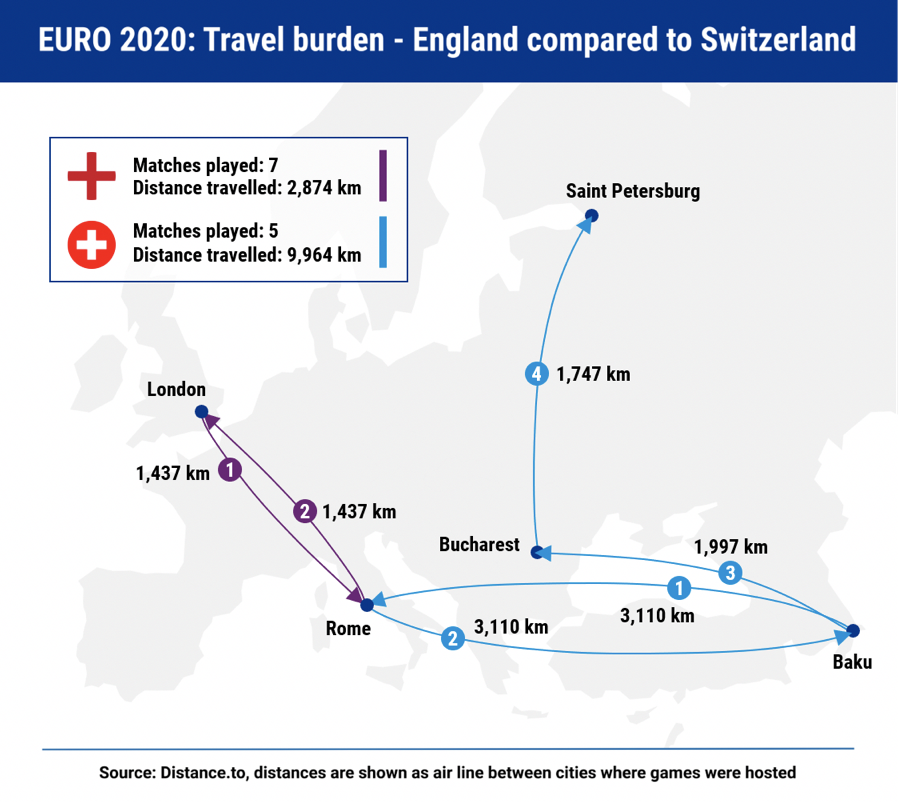 Social bonanza
Big events have increasingly become about big social media numbers and Euro 2020 was no different. Denmark's Mikkel Damsgaard, whose stunning free kick against England caught the world's attention, increased his social media followers by 605%.
"In total figures, Cristiano Ronaldo underlined his dominance on social channels, having welcomed almost 21 million new followers to his Facebook, Instagram and Twitter accounts," said KPMG.
The pan-European set-up delivered a further, unexpected challenge as well – UEFA also had to deal with various cultural and political reactions, involving some host countries and sponsors alike.
One incident included one of the main sponsors: a Greenpeace paraglider, protesting against car manufacturer Volkswagen's climate impact, hurt several spectators, when his vehicle got tangled up in a rope and debris fell during the Germany vs France tie in Munich.
UEFA was also forced to remind participating teams of their contractual regulations regarding tournament sponsors, after Portugal star Cristiano Ronaldo and Italy's Manuel Locatelli removed bottles of Coca-Cola, while France's Paul Pogba, in respect of his Muslim faith, removed a non-alcoholic Heineken bottle from the table at a post-match press conference.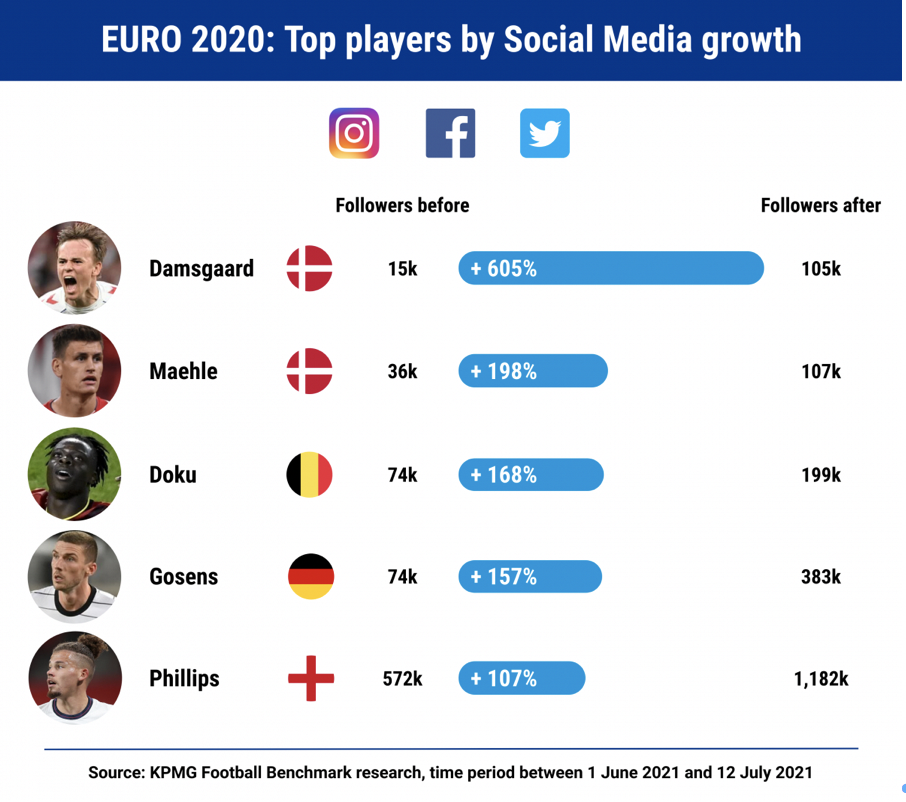 To see the full KPMG Football Benchmark report click here.
Contact the writer of this story at moc.l1634808189labto1634808189ofdlr1634808189owedi1634808189sni@n1634808189osloh1634808189cin.l1634808189uap1634808189