By Paul Nicholson
August 1 – Barely two weeks after the celebration of a full Mogadishu Stadium for a top of the table league clash, Somali football was struck by tragedy on Friday after a terrorist attack on a team bus killed two players, the bus driver and wounded five others.
The bomb blast happened on the JCCI football club bus in the southern city of Kismayo. The JCCI players were on their way to the Waamo Stadium which was being relaunched after being redeveloped under the FIFA Forward project.
Player Abdi Fitah Hassan Abdulllahi, and the team's bus driver died on the spot, while Hanad Hassan Yusuf, later died of his wounds sustained in a blast
Local police said the explosive device had been planted inside the team's bus.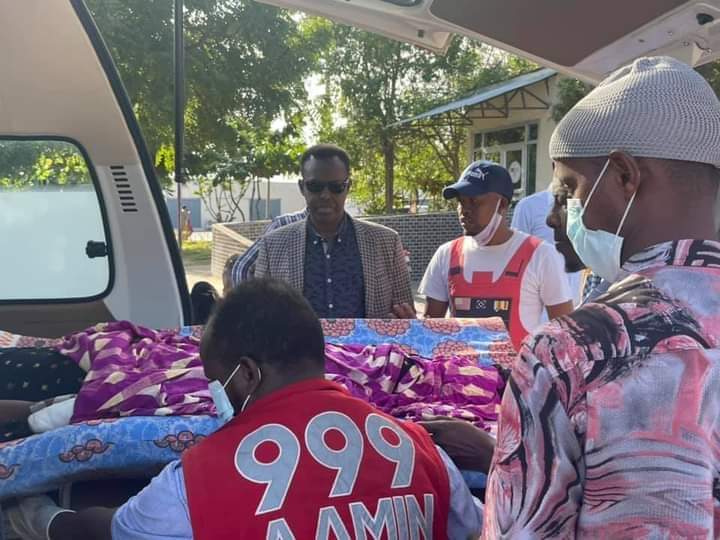 The JCCI club founder Shafi Raabi Kaahin, was killed in a suicide attack in September last year. Al Shabaab claimed responsibility for his killing. No terrorist group has as yet claimed responsibility for Friday's atrocity.
Two players, Mohamed Amin Abdi Mohamed and Osman Hassan Osman, who were seriously wounded in the blast, have been flown to Mogadishu where they were admitted to Erdogan hospital in the capital on Saturday.
Somali football federation president, Abdiqani Said Arab, who was in Kismaayo on Friday at the time of the attack escorted the players to Mogadishu.
"We have brought the two wounded players here to the Erdogan hospital today. The SFF is responsible for all the care and the treatment they need. I wish them a speedy recovery" Said Arab.
"I am very sorry that such atrocities happened to our players. My thoughts are with the family and relatives of the slain players. This is unacceptable."
On Friday the Somali Football Federation said in a statement: "We call on the federal government of Somalia and the Jubaland regional authorities to investigate this unacceptable and barbaric attack against footballers and suddenly bring the perpetrators to justice."
Contact the writer of this story at moc.l1634528925labto1634528925ofdlr1634528925owedi1634528925sni@n1634528925osloh1634528925cin.l1634528925uap1634528925