By David Owen
August 9 – Newcastle United, the Tyneside club still for now under the control of Mike Ashley, has finally published its accounts for the 2019-20 season, showing a pre-tax loss of £26 million.
The Magpies' operating loss for the heavily covid-impacted season was more than double that, at £54 million. But a £26.3 million profit on player transfers, arising for the most part, or so it is thought, on the sale of striker Ayoze Pérez to Leicester City, helped to limit the overall deficit.
The club said the results, which cover the 13 months to end-July 2020, did not "reflect a 'normal' year for the company". It assessed the net impact of covid-19 at £14.4 million, while warning that the impact on 2020-21 finances would be "even greater".
Turnover tumbled by £23.8 million in all to £152.6 million. Staff costs for the 13 months rose sharply to £121.1 million from £96.8 million the previous year. While not one of the highest-paid administrators in English football by a long chalk, sole director Lee Charnley appears to have benefited from a substantial pay rise. The accounts note that remuneration of the highest-paid director amounted to £675,000, against £267,000 in 2018-19.
The result means that the 20 Premier League clubs have narrowly avoided the ignominy of clocking up pre-tax losses of a billion pounds in aggregate for their first covid-affected season. Our calculations put the final total at a stunning £992.1 million (see table below).
Only four clubs, one of them relegated Norwich City, managed to post a pre-tax profit for 2019-20. Newcastle's financial performance, characteristically, compared well with most of its divisional rivals, with the club placing sixth in our table, down from third last year.
The pandemic has played a part in knocking Spurs off its financial pedestal, with the North Londoners tumbling to 16th-place in our table, down from first. Liverpool, the league's other financial pace-setters of recent times, were affected less severely, falling from second to ninth.
Everton remain rooted at the foot of the table, just behind Jack Grealish's new employers Manchester City. The financial gain that Grealish's former club, Aston Villa, can be expected to book on that deal would have been just about enough to wipe out their heavy 2019-20 pre-tax losses.
I am not expecting Chelsea's reign at the top of this profits table to be a long one.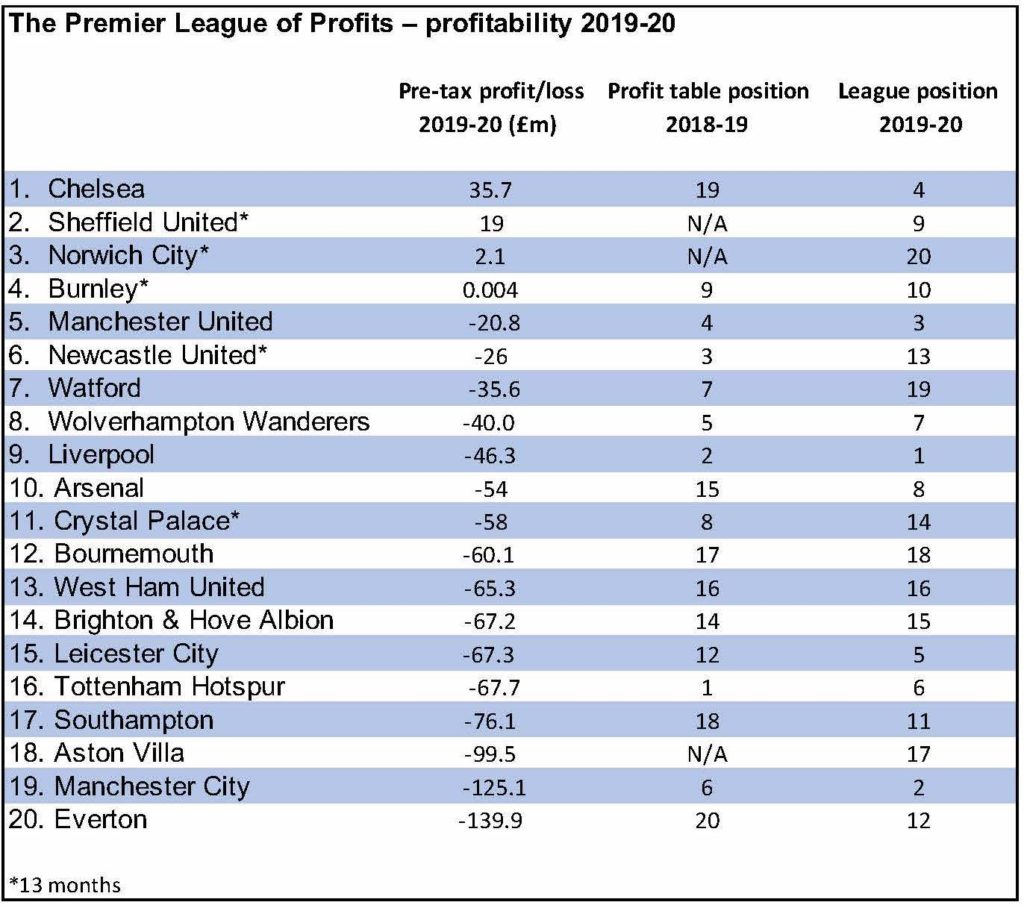 Contact the writer of this story at moc.l1635166938labto1635166938ofdlr1635166938owedi1635166938sni@n1635166938ewo.d1635166938ivad1635166938