By Samindra Kunti
August 13 – On the eve of the new Spanish season, the value of La Liga's deal with private equity firm CVC dropped from €2.7 billion to €2.1 billion after four clubs voted against and opted out. 
At the league's extraordinary general assembly, 38 clubs voted in favor – which La Liga president Javier Tebas (pictured centre) called "massive approval" – but FC Barcelona, Real Madrid,  Athletic Bilbao and an unnamed Segunda Division club voted against, rejecting a last-minute clause for individual clubs to opt out of the agreement and retain their share of revenues.
Even a simple majority of 32 votes would have sufficed for the deal to pass, but the voting result showed that an overwhelming majority of Spanish clubs backed a crucial cash injection into the domestic game.
"It's clearly because they (Barcelona and Real Madrid) are in favour of a European Super League," explained Tebas the duo's vote at a news conference on Thursday. "They are not interested in a league that is powerful and strong."
In a statement, Bilbao explained that the club didn't see the CVC arrival as a good deal. The Basques also expressed surprise at the speed of the decision-making process, saying that "a 50-year strategic project should not be a prisoner of emergencies".
The rebellion of the big two however didn't come as a surprise.  The Spanish giants had shot down the proposed deal in the days leading up to the La Liga meeting and Real Madrid even announced that it will launch civil and criminal lawsuits against the La Liga boss and the chief of CVC Capital Partners Javier de Jaime Guijarro.
Tebas said: "Obviously, I would have liked them to be part of it, but we are not going to cry about it. There are even accusations that this could be considered a criminal offense, but let's see what happens. The objective of that communique was to make us feel scared. It was threatening so that the resolution would not be approved in a general meeting."
Madrid also accused Tebas and La Liga of leaving the club in the dark about the deal. Again, the La Liga supremo was quick to defend himself.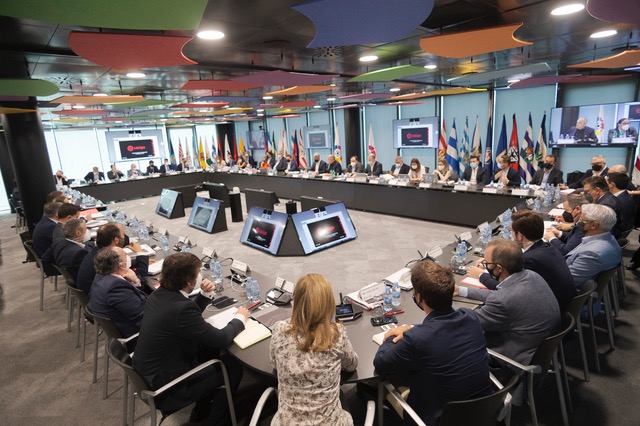 "Am I going to talk to Real Madrid about (CVC) when they set up the Super League in April?" asked Tebas. "That is why I didn't talk to Madrid. I am not going to tell these things to people who want to destroy La Liga."
He added: "Everything that La Liga do, Real and Barcelona try to block it. Real Madrid have a cultural problem. They think big clubs have to organise things."
Last week, La Liga announced the CVC deal that would have seen the private equity firm invest €2.7 billion in Spanish football in exchange for a 10% stake in its commercial rights. Even with the drop in value, Tebas described the partnership as both "historic and exceptional", but he denied that the fresh cash served as a lifeline for an industry ravaged by the Covid-19 pandemic.
"CVC have not come here to bail us out – they are not here because of the pandemic," said Tebas.  "Only 15% of the money can be used to pay off debts, 70% is for investment in infrastructure. We have lost about €1 billion, but the clubs have managed to refinance with their own equity. CVC has come along to build a bigger league."
Contact the writer of this story at moc.l1632257902labto1632257902ofdlr1632257902owedi1632257902sni@i1632257902tnuk.1632257902ardni1632257902mas1632257902