August 31 – An eye-watering $48.5 billion (€41.1 billion) was splashed out on international transfer fees over the past decade, almost half of which was spent by the top 30 clubs with English clubs leading the way, according to a new FIFA report.
The number of clubs conducting international transfers increased by more than 30%, from 3,167 in 2011 to a high of 4,139 in 2019.
The 30 top-spending clubs all came from Europe, led by England with 12. Spain and Italy had five each with Germany (three), France and Portugal (both two) and Russia (one) completing the list. This group of clubs alone forked out $22.8 billion representing 47% of the global total over the decade.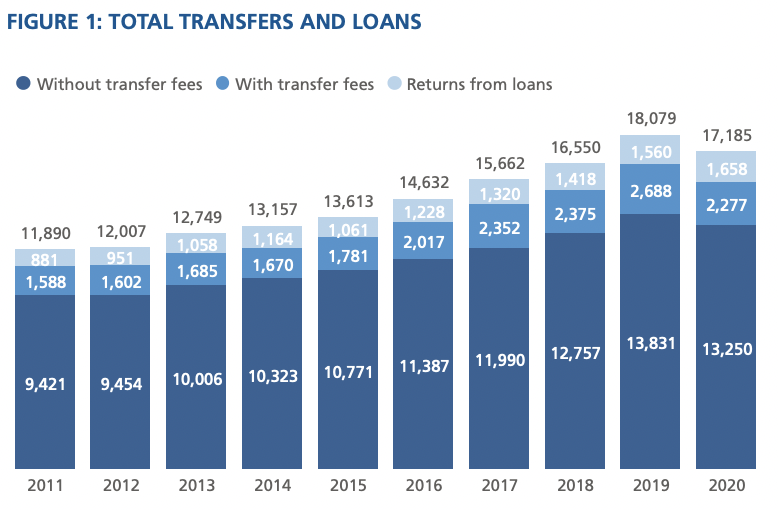 Source: FIFA 10 years of international transfers report
The report charted the number of international transfers and loans concluded between FIFA's 200 member associations, totalling 133,225 such moves over the period from 2011 to 2020.
The most spent on a player was Paris St Germain's €222 million deal to buy Brazil's Neymar from Barcelona in 2017. In fact Brazilian players were the most on the move, topping the list with over 15,000 moving between clubs in different countries.
English clubs spent the most in the last decade at $12.4 billion followed by Spain ($6.7 billion), Italy ($5.6 billion), Germany ($4.4 billion) and France ($4 billion). The only non-European country in the top 10 was China, where clubs spent $1.7 billion in transfers as they tried to attract high-profile players to the Chinese Super League.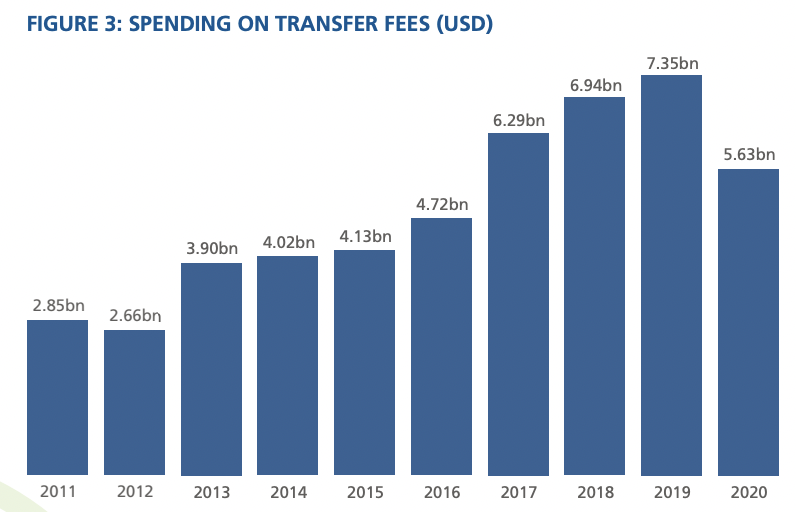 Source: FIFA 10 years of international transfers report
Manchester City and Chelsea topped the spending charts and each had more than 200 players go out on loan – more than any other club – fuelling the ongoing debate about hoarding players.
"From 11,890 transfers conducted in 2011 to a peak of 18,079 in 2019, a total of 133,225 international transfers and loans of professional players took place," FIFA said in the 98-page report brought out to coincide with the 10th anniversary of its transfer matching system.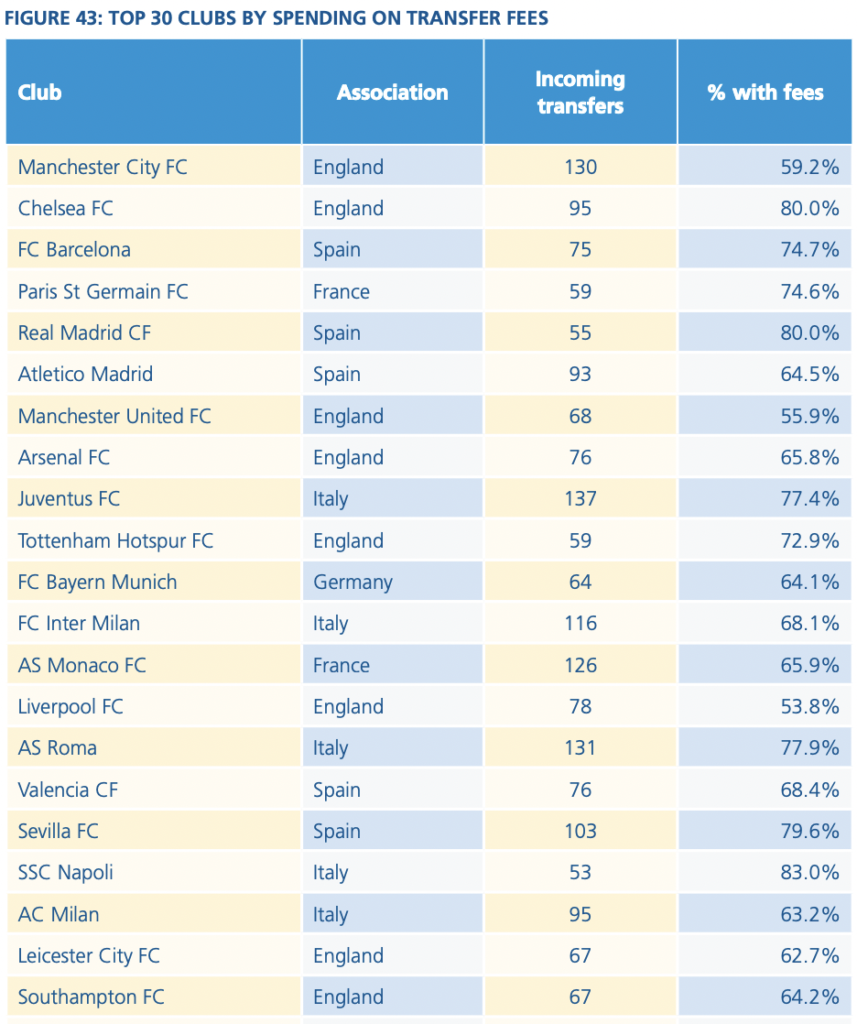 Source: FIFA 10 years of international transfers report
"The transfers involved 66,789 players and 8,264 clubs across 200 FIFA member associations, thus underlining football's role in the global economy."
FIFA also highlighted the staggering amount of commissions paid to agents, which soared from $131.1 million in 2011 to 640.5 million two years ago, almost a five-fold increase.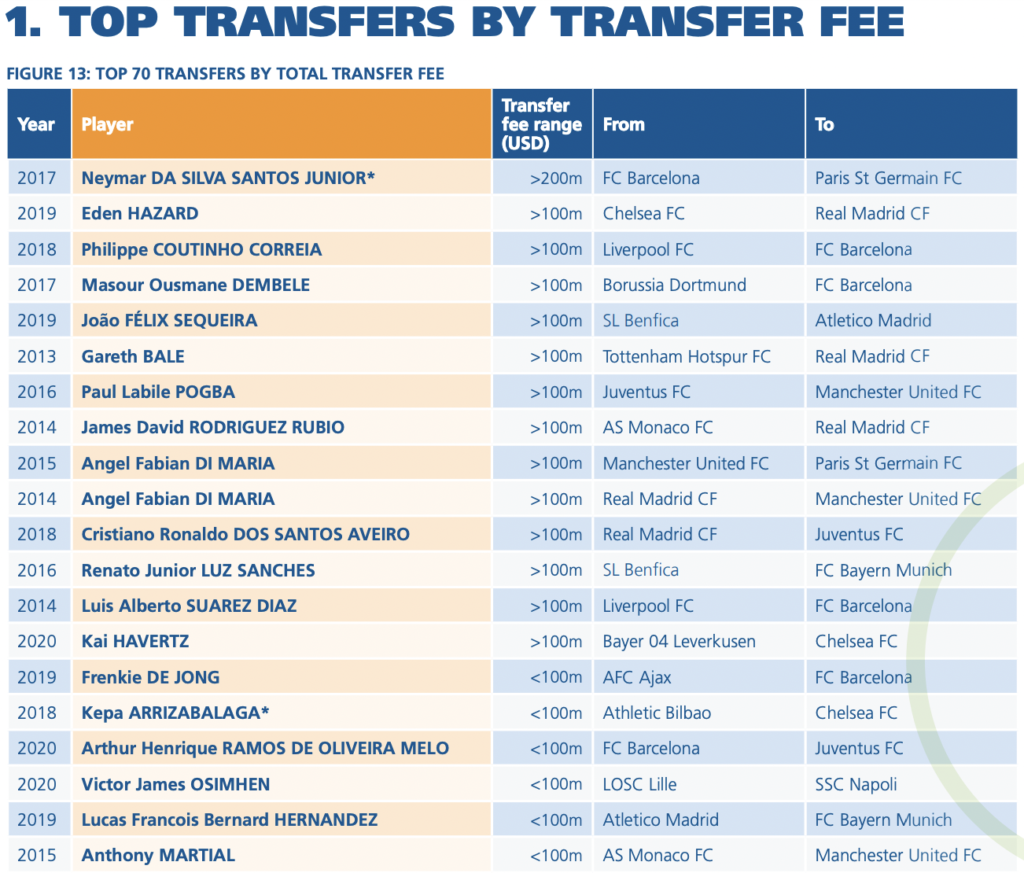 Source: FIFA 10 years of international transfers report
Contact the writer of this story at moc.l1632255141labto1632255141ofdlr1632255141owedi1632255141sni@w1632255141hsraw1632255141.werd1632255141na1632255141