December 12 – Premier League fixtures are coming thick and fast in the run-up to and through Christmas. Last week's round 16 fixtures are followed by another round of mid-week fixtures starting tonight. December will see seven rounds of Premier League fixtures completed.
Last weekend the Premier League broke through the 6 million attendance mark.
Newcastle topped the week's attendance capacity chart with just 288 seats unfilled at St James Park. West Ham were not far beyond at the London Stadium for their surprise win over Chelsea, the first time the stadium had felt like a real home for football, according to a number of commentators.
Man Utd had the highest attendance of the week, with Spurs second highest despite having the full capacity of Wembley at their disposal. Spurs are regularly filling 60-65,000 at Wembley against teams in the middle of the table, only really hitting the highest numbers and capacity for visits of the top six teams.
Spurs were bottom of the table in terms of capacity filled at 69.11%, but second in terms of total attendance. Burnley were second bottom and the only other team to dip below 90% of their stadium's capacity.
The Insideworldfootball attendance stats are taken from the official stadium capacities and the official reported match day attendances. No allowance is made for seat kills or restrictions due to safety or media reasons.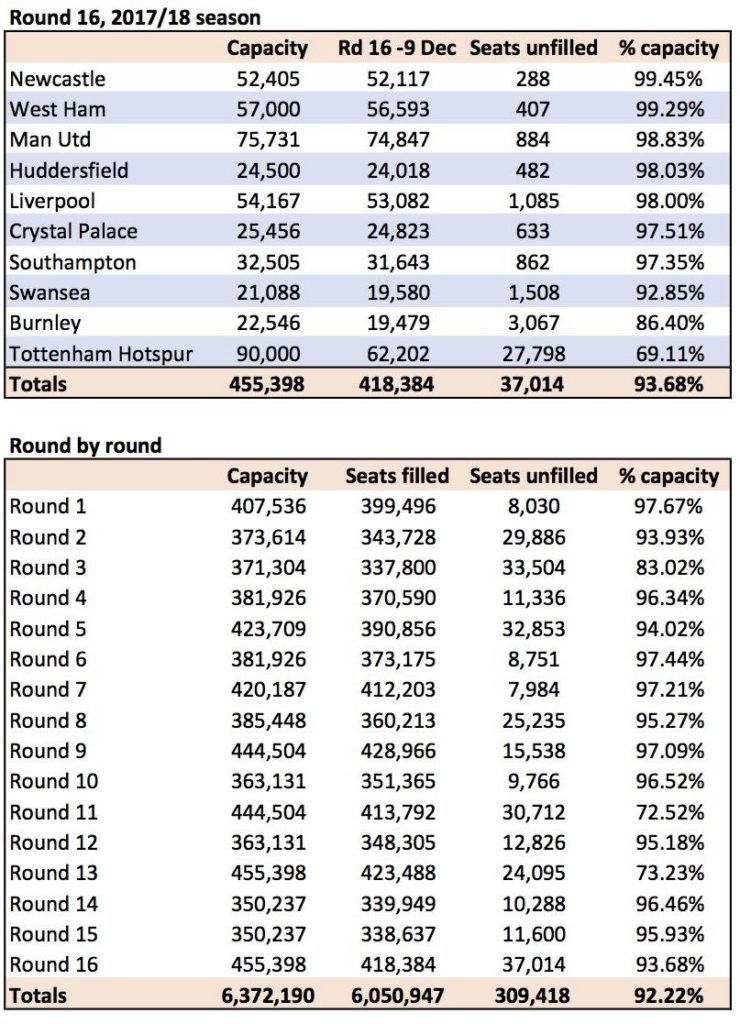 Contact the writer of this story at moc.l1548140202labto1548140202ofdlr1548140202owedi1548140202sni@n1548140202osloh1548140202cin.l1548140202uap1548140202