Jabulani means "celebrate" in Zulu. But you would have to go a long way to find anyone, anywhere - player, coach or fan - remotely happy when it comes to the controversial ball being used in the World Cup.
After the vuvuzela, nothing has generated greater debate. Watch any game and watch freekicks flying over the bar, outfield players struggling with their control, passes being overhit and goalies fumbling.
Go to any press conference and listen to the moans of disapproval. Somebody, somewhere is responsible.
Not us, say FIFA. "The ball was tested and approved long before the tournament," said spokesman Nicolas Maingot. "It was shown to participating nations at a workshop in February and I am not aware of any adverse comments at the time."
Not us, say Adidas who produced the ball and insist that altitude - as distinct from design - is the main factor affecting its movement.
None of which is solving a problem which, say critics, is contributing to such a dearth of goals that Africa's first ever World Cup is in danger of being remembered for its blandness - on the field at least - rather than the excitement it promised.
Ironically, Slovenia's Robert Koren admitted that his winning goal against Algeria was actually helped by the Jabulani ball, which he said was "really difficult to control". Nigeria's Dickson Etuhu thought it was "the worst ball ever" whilst poor Robert Green believes his massive blunder was partly caused by the ball's movement.
All of which Adidas are not prepared to take on the chin. "What is strange is that people are saying the ball is lighter and that is just not true," said Thomas Schaikvan, the firm's head of global public relations. "Playing at altitude is not the same as playing at sea level – that is just plain science."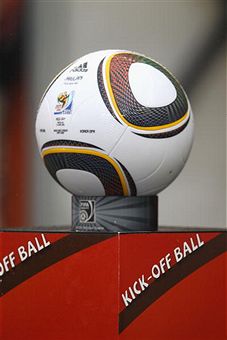 Interestingly, the Jabulani ball has been extensively used in Germany's Bundesliga as well as in France and Argentina – all national sides sponsored by adidas. Was it, therefore, a co-incidence that Germany romped to a 4-0 win over Australia?
But here's a fact. Way before the tournament, the Jubulani ball came in for heavy criticism from several goalkeepers, with England's David James, Australia's Mark Schwarzer, Italy's Gianluigi Buffon and Iker Casillas of Spain all castigating it.
"There will undoubtedly be goals scored in this tournament which in previous tournaments with different balls wouldn't have been scored," said James. "It will allow extra goals, but leave some goalkeepers looking daft."  How prophetic.
"The World Cup brings together the best players in the world and to those players you must provide something decent," added Buffon. "The new ball is not decent."
So why wasn't more research done? Or was it just a case of all these goalies getting their excuses in first? You pays your money…
"It is customary when there is a new ball that players need to get used to it," said Schaikvan. B
But that hasn't satisfied some. Sven-Goran Eriksson, not one who can be accused of speaking out of turn,  has called for a summit of players and coaches to discuss the ball and urged FIFA to listen to their concerns. Nice try Sven but fat chance. The bare truth is that we will have to live with the Jubulani for the next three weeks.
Andrew Warshaw is a former sports editor of The European, the newspaper that broke the Bosman story in the 1990s, the most significant issue to shape professional football as we know it today. Before that, he worked for the Associated Press for 13 years in Geneva and London. He is now the chief football reporter for insideworldfootball