November 15 – With the international fixture window coming to a close, clubs will be counting the cost of returning injured players. New research, titled Sick Notes, from Bigfreebet.com, finds that Manchester United spent £52,514,709 on wages to injured players over the past three seasons.
While Man Utd spent the most, Newcastle United top the list with most player days lost,  missing 5,172 days through injury.
Everton, with 132 individual injuries to 31 different players resulting in 4,283 days being missed, come second in the list. Bryan Oviedo spent the most time in the physio room: a staggering 454 days that cost his employers £1,556,312 in wages.
The report authors highlight: "Focusing on the Big Six and surprisingly it's Liverpool, not Arsenal, that have the worst injury record. 162 individual injuries over the past three Premier League seasons has led to Liverpool players missing 4,153 days through injury and has cost the Merseyside club £40,057,806 in lost wages…Daniel Sturridge and Jon Flanagan were the two most injury prone players within Liverpool's squad, missing 468 and 492 days respectively, and costing the club £8,022,456 and £1,756,32 in lost wages."
The player who missed most days through injury is former Southampton striker Jay Rodriguez (549). He is now fit, well and – probably to Saints' chagrin – scoring regularly for West Brom.
Overall player absences caused by injury are on the decline suggesting that clubs are getting better at managing their players and/or medical teams are getting better.
Days missed through injuries have consistently fallen year on year, from 31,228 days in the 2014/15 season, to 12,907 in the 2016/17 season – a decrease of 59%.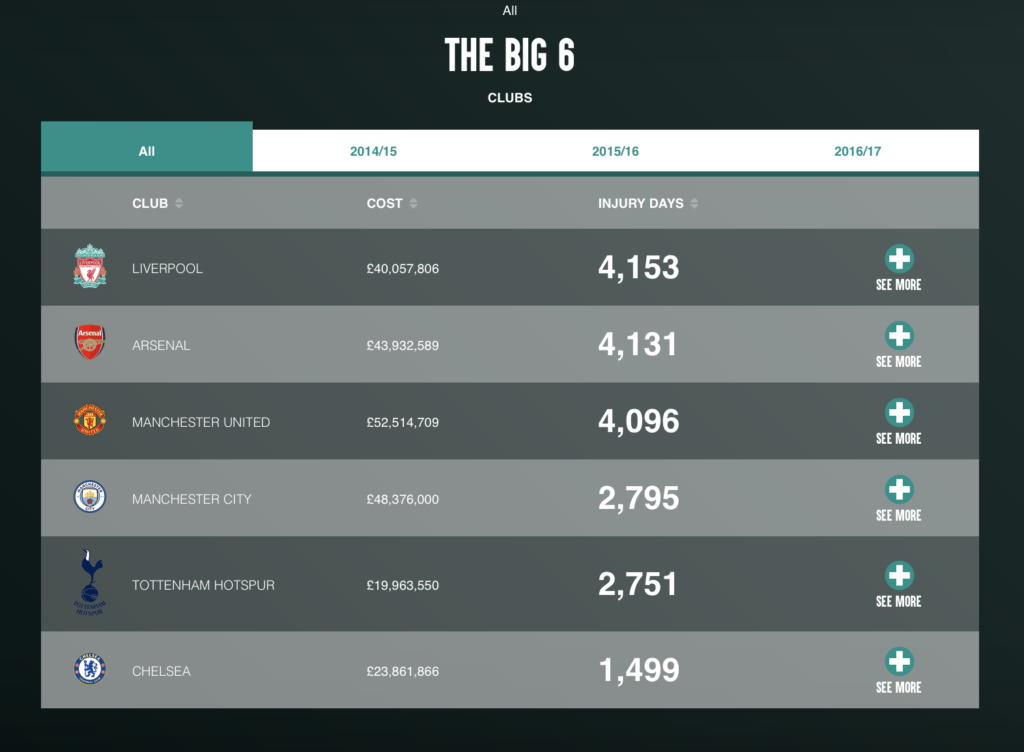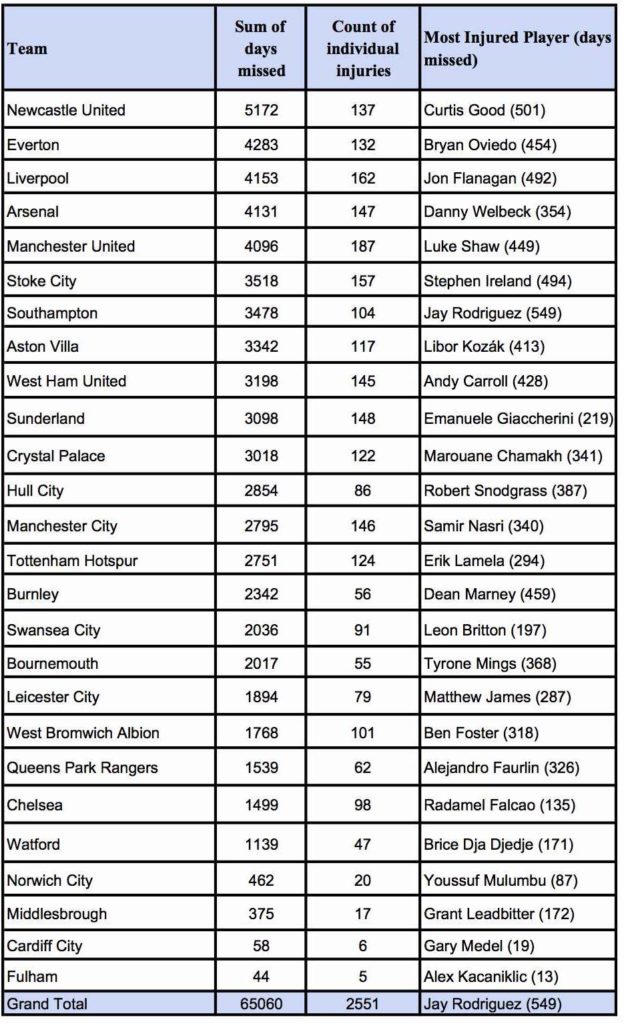 See the full report at https://www.bigfreebet.com/sick-notes/
Contact the writer of this story at moc.l1702265107labto1702265107ofdlr1702265107owedi1702265107sni@n1702265107osloh1702265107cin.l1702265107uap1702265107