"In politics, what begins in fear usually ends in folly."
― Samuel Taylor Coleridge
While the decision of the Confederation of African Football (CAF) to unilaterally terminate its 12-year $1 billion contract with Lagardere Sports (LS) continues to reverberate around the continent – and outside of it – informed Insideworldfootball readers  will not be surprised about the development.
As I had reported, on 30 September, the bells had started tolling loudly for LS – See Lagardere's CAF contract under threat as FIFA-led admin makes new commercial play  – when a series of conversations began, asking them to accept a variance of terms or accept a severance package.
But for me, the penny first dropped when I had an off-the-record chat with an extremely influential CAF official at the Cairo Marriott on July 21, two days after the AFCON final.
"Idriss [Akki, the Moroccan head of the African football division at Lagardere] is a good friend. And I like him. But friendship is one thing and business is another. Look at the deals that the Asian Football Confederation have signed and compare it to what we have. We cannot continue like this. We don't earn enough. We have to get more money," he said.
The 8-year $4 billion deal that the Asian Football Confederation (AFC) recently signed in June 2019 – but runs from 2021 to 2028 – with Chinese company DDMC and the Fortis Sports Company, put CAF's 2015-2028 deal under a bright spotlight for many.
Right from the moment, in March 2017, that Cameroonian Issa Hayatou lost the CAF presidency to Ahmad in Addis Ababa, LS had always been on the proverbial sticky wicket.
Akki, a ruthless operator who takes no prisoners, always prided himself in being able to ingratiate himself with Hayatou and his close circle, which had given LS free reign to operate in African football.
It did not win them friends and allies in many other places, as the French company was seen to be acting with the brazen arrogance reminiscent of that country's unsavoury colonial past in the continent.
"Try to get in touch with Idriss. He doesn't have a lot of support these days," a leading CAF official, deeply involved in the contract termination, mischievously said to me, a few days ago.
As an LS insider confessed, Akki refused to build bridges throughout the African football community, which is costing them dearly now.
"Idriss always felt that all LS needed to survive was to be close to Hayatou and those close to him. He forgot to realise that he had to build bridges and relationships with everyone in the African football community.
"It is a very big mistake he made, because he forgot to realise that who is unimportant today can be very important tomorrow and that he needed to cultivate good relations with everyone in African football, no matter their status."
Akki's panic, at what he saw as the unexpected victory of Ahmad in Addis, threw a huge spanner in the works.
In his campaign to become CAF president, Ahmad had made a campaign promise to closely scrutinise the $1billion contract and possibly abrogate it, which was clearly against Lagardere's interests.
It was in that context that Lagardere covertly threw its weight behind Hayatou's re-election, which, unfortunately for them, came a cropper. It is highly unlikely that LS would have had their deal terminated had Hayatou remained in office.
In the 30 months that followed Ahmad's election, Akki has been on a never-ending charm offensive with the Malagasy, even going on the Umrah – the Moslem pilgrimage to Mecca with him and Egypt's Hany Abou Rida (the CAF exco and FIFA Council member currently under investigation by the FIFA Ethics Committee), in the hope of forging unbreakable bonds that would protect his interests and that of LS.
But even within LS, their key staff were jumping ship to rivals Infront  – now owned by Chinese conglomerate Dalian Wanda, and the company expected to become CAF's new commercial partner.
Christophe Van Rothem, who was a key member of Akki's team at LS, is now at Infront, where he is expected to lead the team's new Africa business, when it is finally secured.
In the words of an LS staffer, "he certainly knows all our trade secrets. And I think that his ambition is to 'kill' Idriss professionally."
It is no mistake that FIFA, involved with the day-to-day running of the African game, through its Secretary-General Fatma Samoura, who doubles as its General Delegate to Africa, played a central role in CAF's decision to terminate the LS contract.
With FIFA's desperate need to pull Chinese money into their own coffers, which informed their decision to stage the revamped 2021 Club World Cup there, their involvement in getting Infront to become CAF's new marketing partner is evident, as it fits into the relationship they plan to forge with the Orient.
CAF's determination to see the end of this LS contract, regardless of the damage it is causing to fans – with a good number unable to watch the current AFCON qualifiers – not to mention, of course, the institutional reputational damage, to itself, makes certain that in the absence of a satisfactory financial exit package for LS, an ugly overt battle in court and covert one, in the media, beckons.
Revelations of the wages and allowances paid to the majority of CAF exco members, some up to $200,000 for some members, like DR Congo's Omari Constant – see document attached – confirmed to this columnist as authentic by Mohamed El Sherei, the organisation's former director of Finance, sacked in July – is clearly a part of this proxy war.
But what is most shocking, even if not surprising, is the fact that CAF does not realise it is at grave risk of igniting a  potential exodus of sponsors, who do not like to associate with an organisation or product that is tainted in continuous controversy or scandal.
With the organisation's cash balance standing at $103 million in May 2019, a 27% drop from its $136 million balance when Hayatou left the CAF presidency in March 2017, it is very realistic to assume that CAF's current bank balance could be dipping well below the $100 million mark, after having to make significant prize payments after the 2019 AFCON in Egypt.
This would mean that CAF lacks the financial muscle to offer LS a significant payoff, should one be needed to resolve the current dispute.
CAF can only pay LS with the backing of a marketing partner willing to underwrite a settlement, which Wanda, (with the huge cash pile available to the Chinese government – often a silent but extremely powerful player in commercial transactions seen as being in the country's interests) will have available.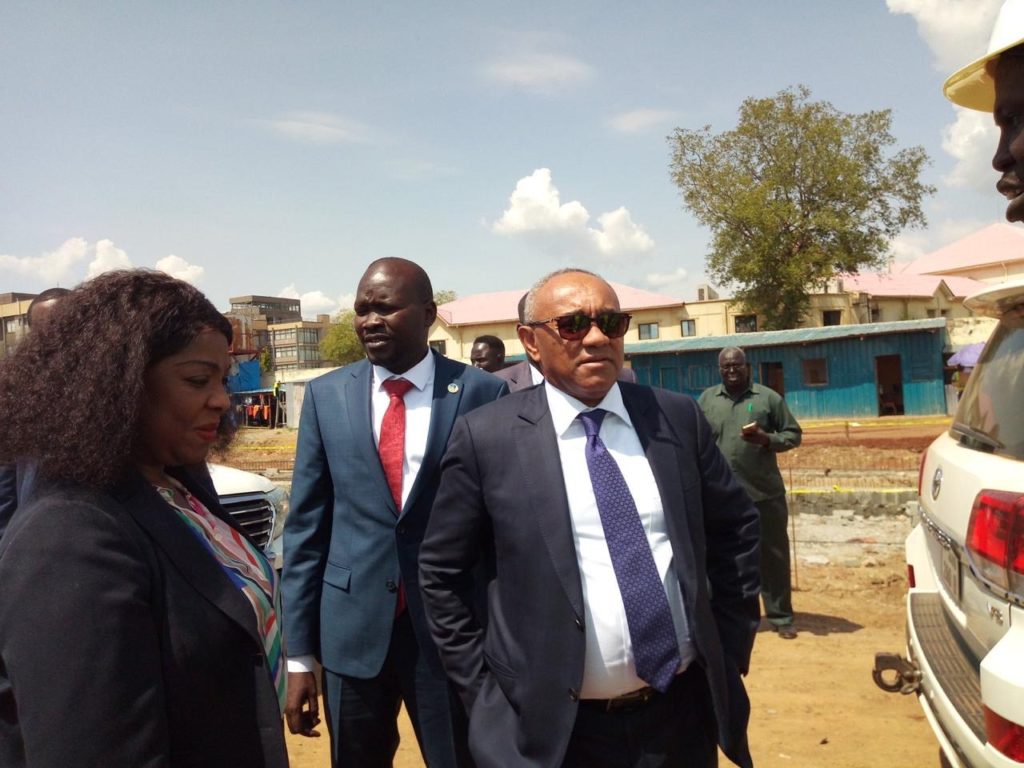 Mario Gallavotti, a FIFA lawyer known to be very close to Gianni Infantino, has been a key player in the Milan and Zurich discussions between CAF and LS, which subsequently led to the unilateral termination. This clearly begs the question – 'Who exactly dictates the tune in African football today? Ahmad? Samoura? Or Infantino, through Samoura?'

The fact that Infantino and Samoura, as well as Ahmad, are yet to subject themselves to public scrutiny, on FIFA's involvement in Africa's affairs, since Samoura took over as General Delegate in August, does little for the credibility of the exercise, which is unprecedented in FIFA's 115-year history.
With LS determined to stand and fight against the unilateral termination of their contract, an overt battle beckons – in the form of arbitral proceedings, at the International Chamber of Commerce, based in Geneva and a potential court slugfest after that, as well as an inevitable covert fist-fight – courtesy of a series of leaks to the media, tarnishing the reputation of the other, will be the talk of the sports business community for months to come.
As the old Nigerian saying goes, "When two elephants fight, it is the grass that suffers."
The grass, an appropriate point of reference in this case, will be the actual game. And the fans, who are realising, quite rudely, that the governance of the game actually affects them, as the partial TV blackout shows.
As the bells toll for SuperSport's relationship with CAF, it will not be surprising to see other sponsors, clearly miffed by being the proverbial piggies-in-the-middle, as the war with LS continues, considering their positions and seeking to exit from their commercial sponsorship of the African game.
That is an exodus, considering the precarious financial position of CAF  – See Unravelling the CAF and Lagardere money myths  – that I shudder to contemplate.
Osasu Obayiuwana, a lawyer and BBC broadcaster, is one of the world's leading journalists on African football. Follow Osasu on Twitter @osasuo