By Paul Nicholson
April 18 – The pressure on CAF president Ahmad Ahmad is not relenting as social media networks in Africa and increasingly worldwide are sharing a document that purports to be part of the complaint sent to FIFA Ethics on Ahmad's conduct.
It has not been verified if this is a true copy of part of the complaint sent to FIFA Ethics, but it does outline a number of the allegations already made against Ahmad including some of the allegations of sexual harassment as well as various charges of financial misuse of CAF funds.
The document, circulating on WhatsApp and seen by Insideworldfootball, is said to be a section of the complaint filed by former Confederation of African Football (CAF) general secretary Amr Fahmy who was fired last week by Ahmad, reportedly for disloyalty and filing that complaint to FIFA Ethics.
The WhatsApp document highlights the Umra journey made by muslim African FA presidents costing more than $100,000, Ahmed acquisition of cars in Egypt and Madagascar costing more than $400,000, and the allegations of sexual harassment made formally by four CAF female members of staff. See links below to Insideworldfootball coverage.
Concerning the sexual harassment charges the document states that one of the women had saved text messages from Ahmad, and also that "his current assistant just got moved from her position in his bureaus for consistent refusal to sleep with him".
The extract circulating on social media is below: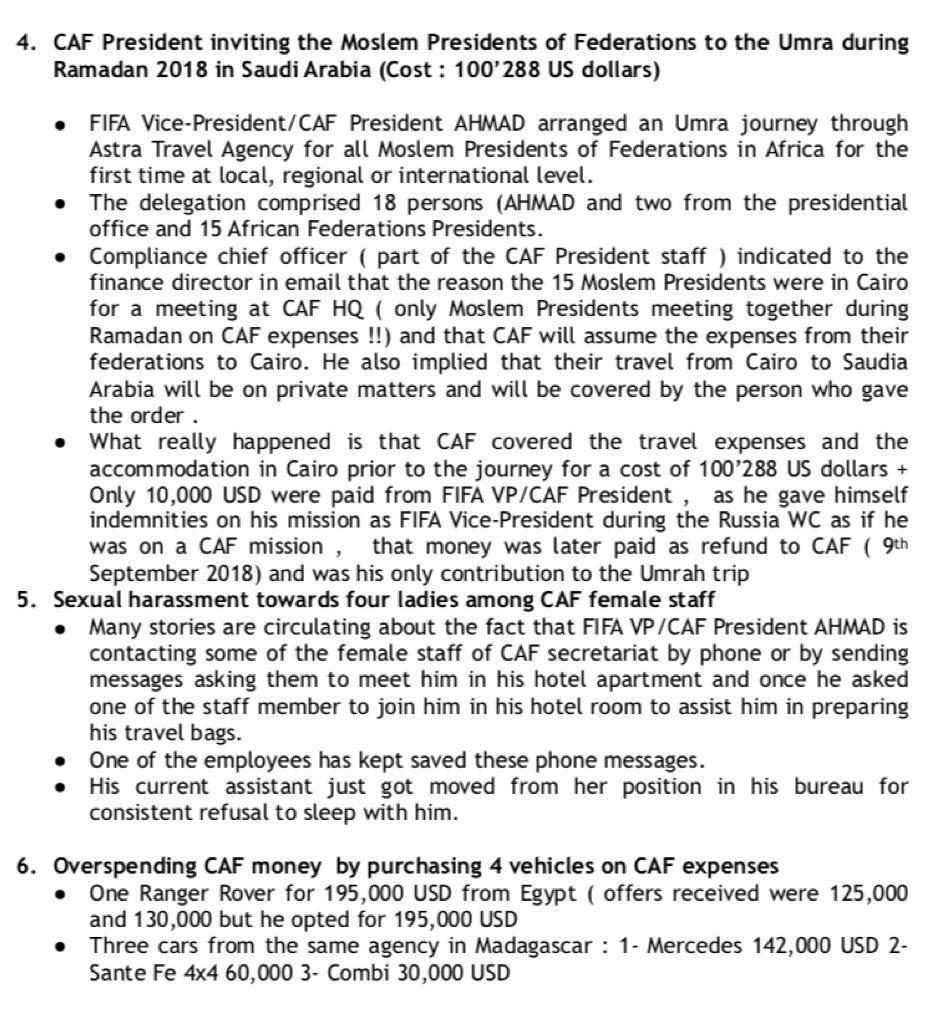 FIFA has refused to confirm any investigation into Ahmad saying: "Any information forwarded to the Ethics Committee is examined and processed according to the applicable procedural rules.   
"The Ethics Committee does not comment on potential ongoing proceedings nor on whether or not investigations are underway into alleged ethics cases."
However Ahmad is understood to have told his executive committee that he is under investigation. That executive committee did not use any of its statutory powers to suspend Ahmad pending
investigation though it is believed that an internal audit regarding the corruption allegations was agreed. Whether the results of that audit can be trusted are questionable as the head of audit function within CAF is an Ahmad appointee from his Moroccan support base.
Last weekend FIFA issued a statement denouncing the racism that is within the game and "standing together" with its racially abused players. "We will continue to be at the forefront of the fight against racism and we guarantee to all our member associations that they have our full support in taking up this challenge. We will not hesitate to do everything in our power to eradicate racism, and any other form of discrimination, from football, at any level and anywhere in the world," said the statement.
Noticeable by its absence was that there has been no mention by FIFA of protecting women working in football from sexual harassment in light of the multiple sexual harassment allegations coming out of Africa.
Such has been the groundswell of public opinion in Africa that it will be hard for FIFA to protect Ahmad from a full – and hopefully independent – investigation, despite his connections to the top of FIFA's hierarchy. While Ahmad is busy trying to sweep the allegations under the carpet in Africa and has yet to make any public announcement, FIFA has made a lot of press about its new transparent regime and its support of women's football.
FIFA now needs to show it is prepared to support and protect women working within the game, no matter how high the political connections of the accused go.
Read more:
Exclusive: CAF chief Ahmad hit with multiple sexual harassment allegations
Exclusive: Africa's shame. Ahmad's corrupt CAF regime exposed as now sex pest allegations surface
Exclusive: Ahmad purges CAF executive firing Fahmy as Moroccans take more control
Contact the writer of this story at moc.l1601518099labto1601518099ofdlr1601518099owedi1601518099sni@w1601518099ahsra1601518099w.wer1601518099dna1601518099