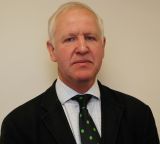 Now that I've seen the pictures, I am ready to believe it: Cardiff City are playing this season in red shirts (Heiðar Helguson, pictured below left, in the new shirt).
It feels wrong – like archery at Lord's or Usain Bolt doing the polevault.
My personal image of Cardiff will always be caught up with Jimmy Scoular's team that so nearly made it into the top tier of "English" football in 1970-71.