Priorities, priorities. Is Arsene Wenger beginning to trust his own judgement to the point of becoming self-delusional? And more alarmingly, are Arsenal fans beginning to lose faith in their beloved manager?
 
Not for the first time, Wenger's decision to send out a weakened team to play Stoke City in the FA Cup at the weekend came back to bite him on the backside.
 
Wenger took a gamble but judging by the frustration - and at times fury - of Arsenal fans bombarding radio phone-ins, it was a gamble too many.
A high-risk strategy based on capturing one of the two most important trophies to the detriment of the other two.
 
It's not a new a strategy of course. All the big teams do it and, in one sense, it was perfectly understandable. In another, however, it was downright dangerous - especially for Arsenal.
 
Let me explain. The last time I looked, there were only four trophies that could be won by English teams - three domestic and one European.
 
Arsenal haven't won any of them since 2004-2005, four long trophy-less seasons and now halfway through a fifth. Victims of their own success the Gunners might be but these are unpalatable statistics.
 
And here's another one. Two of those four trophies have now passed Arsenal by yet again. Two possible visits to a domestic final, two more potential pieces of silverware needlessly cast aside.
 
Arsenal will doubtless qualify for the Champions League again this season. They deserve to, they play such eye-catching football. Yet I know a lot of Arsenal fans and most of them crave getting back to where they used to belong: the centre of attention at a high-profile cup final.
 
The FA Cup was a case in point. After all, isn't it still the oldest domestic knockout competition in the world, the final shown across the globe to an audience of millions?
 
The fans aren't the only ones. However many times the Arsenal players  finish in the top four, where will the medals be to show to their children and grandchildren?
 
Wenger insists that he had no choice at Stoke, that four vital league games in a short space of time gave him little room to manoeuvre, especially with so many injuries.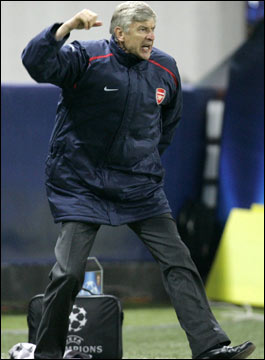 Fair point but look at the Arsenal bench. I have never understood why managers keep their best players back just in case something goes wrong. Wenger (pictured) argued that Arsenal lost the game AFTER the likes of Andrei Arshavin entered the fray, not before.
 
That misses the point. Start with your best team, get your noses in front, THEN make your changes. What's wrong with that as an alternative?
 
If Arsenal end up winning the Premier League or capture the ultimate prize and the one Wenger craves the most - the Champions League - I will be happy to stand corrected.
 
In the meantime, allow me to paraphrase Oscar Wilde, albeit poorly. For Wenger to make one bizarre misjudgement by re-signing the ageing Sol Campbell – a one-time Rolls Royce that has now been superseded by more reliable models - may be considered unfortunate.
 
To make two by trying to go the distance only in the most prestigious competitions - contested, crucially, by all of Arsenal's most powerful rivals - smacks of foolhardiness.
Andrew Warshaw is a former sports editor of The European, the newspaper that broke the Bosman story in the 1990s, the most significant issue to shape professional football as we know it today. Before that, he worked for the Associated Press for 13 years in Geneva and London. He is now the chief football reporter for insideworldfootball.