Hanover 1968 was where it all went wrong, as far as I was concerned.
To my mind, at that time, England were better than West Germany because they were the world champions. Which meant Charlton was better than Beckenbauer. Hurst was better than Seeler. Banks was better than Tilkowski. Moore was better than Schulz. It was all very simple.
So when England suffered their first ever defeat by the Germans two years after they had beaten them in the 1966 World Cup final, with a single goal by Beckenbauer deciding the friendly match, my little world of certainty disappeared. It could never be the same again.
I can still remember the bewilderment and outrage I felt in witnessing that match on television - my grandparents' television, as it happened. I can still remember too the frozen look on the face of my grandpa when I reacted to the German victory by trying out that rude word I'd heard at school, beginning with the letter "f". It didn't make things any better. I just felt bewildered, outraged, and - rude.
Two years later, Leon. 2-0 up. 3-2 down.
For BBC TV's Likely Lad, Terry Collier, that World Cup defeat in June 1970 was enough to split up his marriage with the German girl he had met during his time in the Army - Jutta Baumgarten. Extreme. But you knew where our Terry was coming from…
For some - especially the some who lived in Germany – England's excruciating quarter-final defeat was merely down to the fates evening up the scores after the World Cup final decision by the Azerbaijan linesman, Mr Bakhramov, that Geoff Hurst's extra-time shot had crossed the line after hitting the underside of the crossbar, thus confirming the home side went 3-2 up, even though doubts remained over the veracity, or - given the position of Alan Ball between him and the goal - the possibility of such a judgement.
In a foreword to David Miller's book England's Last Glory (Pavilion, £7.99), Franz Beckenbauer - detailed to mark Charlton in that final, and later to become the only man to captain and then manage a World Cup-winning team - considers the vexed question anew.
"Was it or wasn't it, the third goal for England?" Beckenbauer writes. "People still argue. I think that's a shame, because it reduces some of England's glory. To be truthful, England were the better team, over 90 minutes and then in
extra time. There's no argument. They deserved the trophy…
"Whereas England had a slice of luck in 1966, I think we did in the quarter-final in 1970. After an hour, with England leading 2-0, we were completely dead. We had not had a single chance.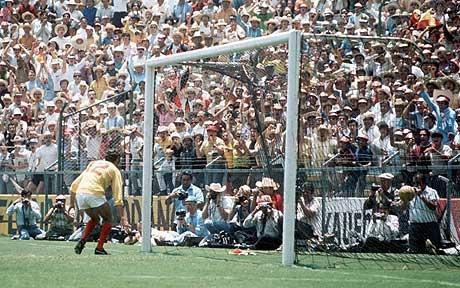 "It was unfortunate that England had lost Gordon Banks in goal, through illness. After I had scored what I thought was rather a soft goal, to make it 2-1, Alf Ramsey decided to substitute Bobby Charlton, who we felt was the heart of the game.
"We started to play better and eventually Gerd Muller won us the match.
"Yet I thought that this England team was even stronger than in 1966, especially with attacking full backs in Cooper and Newton. If England had beaten us then, they would have been in the final against Brazil. And then, who knows?"
Conciliatory words indeed for the gentleman who now finds himself being beasted in The Sun for calling the current England team "stupid" and "tired". Hardly the most enormous insults, especially considering what most English supporters were calling them in the wake of their brain-dead draw against Algeria…
I had already vented my feelings about England's earlier defeat by Brazil in the 1970 group stages by marching to the end of the garden with all my pictures of Brazilian players and burning them. Rather chilling now I recall.
Three years later I struck a small blow back for England after their chance of qualifying for the 1974 World Cup finals had disappeared with a 1-1 home draw against Poland by wandering up to the posh houses in Chalfont Lane and heaving one half-brick into an unfortunate householder's - thankfully very large - garden. Well done that boy.
But after the 1970 defeat I was simply drained of any such lively initiative. England simply couldn't have, shouldn't have, lost.
Two years down the line, when Gunther Netzer destroyed England at Wembley in the quarter-finals of the European Championship, there was no such feeling of frustration. Nobody could dispute the right of this swift and powerful German side to progress. No one could resist the midfield mastery of the man who personified all the visitors' virtues.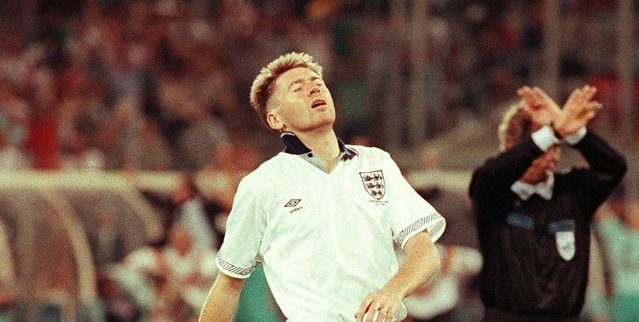 The next match against Germany in a major competition was that 1990 World Cup heartbreaker, with the penalty shoot-out misses of Stuart Pearce and Chris Waddle (pictured) - who might so easily have won the game outright with his languid cross-shot that rebounded off the inside of a post - effectively cost England a World Cup final place.
On the brighter side, it did ensure their future involvement in a pizza advertisement including the player who found himself in their failing shoes six years later, Gareth Southgate, whose penalty miss again saw England fall one game before the final of a major event - the 1996 European Championships.
Four years later, finally, there was another meaningful victory for England against their own rivals as Alan Shearer's goal earned them a 1-0 result in the 2000 European Championships - but subsequent defeats kept both sides out of the qualifying group. And the stab of triumph hardly told at all. England were not a good side, but the Germans were even worse. It was hard to get excited.
Not so now. I'll make a prediction. England to win 1-0. Do I believe that? I'll have to let you know…
Mike Rowbottom, one of Britain's most talented sportswriters, has covered the last five Summer and four Winter Olympics for The Independent. Previously he has worked for the Daily Mail, The Times, The Observer, the Sunday Correspondent and The Guardian. He is now chief feature writer for our sister publication, insidethegames