Now the vuvuzelas have been put away and South Africa is returning to some semblance of normality, attention will inevitably turn to if and when the African continent will stage the World Cup again.
Whilst the event matched or exceeded expectations both in terms of infrastructure and organisation, the reality is that  Africa will almost certainly have to wait at least a generation before it can again embrace the infectious colour and collective enthusiasm that have been hallmarks of the past month.
Image makeover is the expression Danny Jordaan, head of the World Cup organising committee, repeatedly used when discussing the global perception of South Africa's ability to stage major sports events. In that respect, Jordaan has succeeded in his mission and should take enormous credit for what was a highly atmospheric and emotional tournament.
And so in a sense has FIFA President Sepp Blatter who, even a few hours before the ultimately atrocious final kicked off, was wallowing in self-promotion and making a passionate defence about the decision to take the World Cup to South Africa. He will know, however, that South Africa is a special case.
FIFA deliberately scrapped its World Cup rotation system in order to ensure Africa got its turn but when you look around the continent there are few other countries who have the organisational ability and economic stability to put on the same show. Egypt and Morocco are two, Algeria possibly, Nigeria unlikely, given the continual allegations of corruption and the state of the current national team.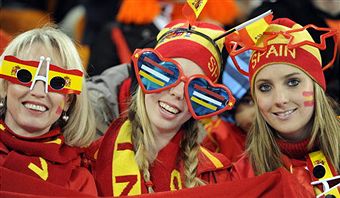 Issa Hayatou, head of the African Football Confederation, is proud that Africa managed to convince the doubters it could organise the tournament but isn't sure when it will have another turn. "I think South Africa, and Africa in general terms, has fulfilled its mission by organising the World Cup in this way," Hayatou said. "It has certainly allowed many people to do away with their prejudices. This is something that makes us proud."
A major sticking point for Africa, however, is that joint hosting is virtually a non-starter, unlike in Europe where cross-border travel is part of everyday life. While 2026 is the absolute earliest the World Cup could return to Africa, even that must be questionable.
Hayatou himself has already cast doubts on the prospect of co-hosting, with so few African nations sharing a common currency. "It will be difficult to do," he was quoted as saying in a local newspaper early on in the current tournament.
Then there are those performances on the pitch. Ghana may have been cheated out of a history-making semi-final spot but, with a record six entrants in the tournament, "should have done better" is the kindest school report that could be applied to Africa's collective displays.
Far from re-hosting, Hayatou and his colleagues will now be anxious not to lose one of Africa's regular five places when FIFA meets to decide the format for Brazil. Asian countries are likely to ramp up the pressure for more spots based on the displays of Japan and South Korea. So, with Brazil as hosts, are the South Americans, while CONCACAF which comprises North and Central America, will point to the efforts of the United States and Mexico.
In a way, what happens in South Africa from now on could define the continent's future prospects just as much as the last month. Billions have been spent on six brand new World Cup stadiums, but will they end up wrecking South Africa's economy or finding a new lease of life, even if mainly as rugby venues?
For all the razzmatazz over the past four weeks, the fact is that football in unemployment-wracked South Africa is not a high-paying spectator sport or one that attracts much sponsorship. Unless rugby ends up preventing a spate of white elephants, critics will be quick to question the true legacy of the World Cup on a sporting level.
And on a social and economic level whether, for all the admirable upgrading of facilities, the tournament really will have a lasting impact to go with so many warm memories or simply be seen in years to come as merely an expedient way of massaging FIFA's ego.
Andrew Warshaw is a former sports editor of The European, the newspaper that broke the Bosman story in the 1990s, the most significant issue to shape professional football as we know it today. Before that, he worked for the Associated Press for 13 years in Geneva and London. He is now the chief football reporter for insideworldfootball