Just as the summer transfer window slammed shut across Europe, so a far more significant development took place in the English Premier League which has split experts down the middle.
The new eligibility rule, restricting top-flight squads to 25 players throughout the season – of whom at least eight have to be home-grown – is regarded as a long-overdue revolution by those in favour and a dangerously backward step by those against.
The reality is probably somewhere in between.
The 25-player ceiling is nothing new. It has been implemented by UEFA in their European club competitions for several years with little or no objection from those involved.
But never before has the same rule been imposed domestically and the question is, will home-grown quotas actually have the desired effect?
The Premier League are convinced they will, that they will encourage youth development and the promotion of young players, and give clubs an extra incentive to bring through their own.
Premier League chief executive Richard Scudamore, often accused of being self-serving, believes home-grown quotas are the best way forward to stop the hoarding of players and create a more level playing field.
Many grass-roots fans would agree. The problem is, home-grown doesn't actually mean what is says. Due to strict European freedom of movement laws, home-grown players do not have to be English; they are defined as those who "irrespective of nationality or age, have been affiliated to the (English) FA or Welsh FA for a period of three seasons or 36 months prior to 21st birthday."
In other words, clubs can still scour the European market, place the best teenagers under contract, bring them through their own academies and, hey presto, they become home-grown. Not exactly ideal, is it?
Arsene Wenger, for one, is furious at the new rule. Arsenal have long had to abide by the 25-player ceiling in the Champions League but Wenger believes it is entirely unfair at domestic level. 
What if one club has to play 60 games a season and the other only 40, his argument goes. Is it fair they both have to have the same maximum limit?
He argues that when you already have 25 players and you buy another one, the fact you then have to get rid of one at the same time is unfair.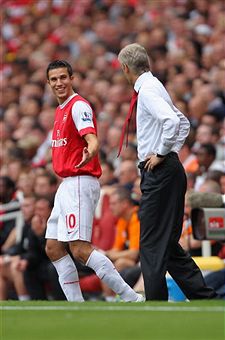 Wenger (pictured with Dutchman Robin van Persie), of course, has a reputation for packing his squads with foreign players and rarely buying British so it is understandable he is one of the chief opponents of the new system.
He has a point certainly but there is a strong counter-argument. This says that you surely have to start somewhere, if only to stop the obscene squad-hoarding that many top European clubs have been guilty of.
And let's not forget, before we all get too sanctimonious, that Premier League clubs voted to introduce the system last September, meaning managers have had a year to prepare for implementation. 
Ironically, Arsenal may not suffer that much. Wenger is one of the best talent spotters in the business and, crucially, under the new eligibility  rules, clubs can supplement their 25-man squads with unlimited number of players under the age of 21.
That has to be a positive move, with managers forced to turn to youth, giving academy players more opportunity to play rather than loan them out to lower league clubs.
One worrying aspect of the new restrictions, which do not apply to cup football, is the prospect of highly paid stars being left out of the 25, only to collect their monthly salaries to do little else but sit in the stands.
Hence the reason why most of the deals done during the recent transfer window were short-term loans. Clubs have been desperate to get players out, if only for a season or so, in order to get the balance right.
Under the new regime, the most unfortunate players are those with long-term injuries, unable to feature in the 25 (at least until the next window in January) yet likely to regain fitness at some point.
The prices of English players could also be driven up as they become a more valued commodity. But perhaps that is a good thing. Anything that can reduce the mercenary aspect of football and give fans a better opportunity to identify with players has to be applauded.
So let's give the new system a chance instead of whingeing about how unfair it is and how it will adversely affect the quality of the most popular league in the world.
It is bound to suffer teething troubles but in principle it is a sound development, designed to protect the future of the game and stop it spiralling out of financial control.
Andrew Warshaw is a former sports editor of The European, the newspaper that broke the Bosman story in the 1990s, the most significant issue to shape professional football as we know it today. Before that, he worked for the Associated Press for 13 years in Geneva and London. He is now the chief football reporter for insideworldfootball