Gerard Houllier's return to the Premier League was, perhaps, one of the most predictable of events of the season. What is more, he will bring to Aston Villa the conviction that his departure from Liverpool in 2004, after six years in charge, left him with unfinished business in England.
Houllier has a mission to accomplish and he sees the Midlands club as his last great chance to leave his mark on the English game.
I was struck by this when, during the World Cup, we met in the FIFA lounge in Johannesburg and the technical director of French football spoke at length of his continued love for the Premiership. "I'd love to manage the right club," he said.
At that stage neither of us knew that it would be Aston Villa but Villa Park is only one of a long line of clubs Houllier has looked at from across the Channel since leaving Liverpool and hoped for a call to return. In that sense he has been the French dauphin waiting for an English throne to prove he can still be the king of football.
A few years ago he thought the club might be Newcastle. The Tynesiders were going through their usual managerial merry-ground but, as Houllier ruefully admitted, "They took Kevin Keegan."
There have been other occasions when the 63-year-old felt that a journey across the Channel was only a phone call away. He had very nearly gone to Blackburn in 2004 and the Frenchman certainly expected a call from Tottenham Hotspur. Even before he went to Liverpool, White Hart Lane had been on the horizon. "There was talk of me going to Tottenham. But they chose Christian Gross."
Then in 2007 Tottenham took on Juande Ramos. Houllier told me, "I speak the language, I know the English game."
His tone could not conceal his bewilderment at being passed over by the North London club for a Spaniard who did not know England and could not speak the language.
Houllier, of course, could speak the language long before there was any question of managing an English team. This was because he took the unusual step of becoming a French teacher at Liverpool's Alsop Comprehensive School in the days when Bill Shankly was making the modern Liverpool.
"That's very funny! I had to do one year abroad and everybody was choosing London. I chose Liverpool because they had two football clubs. So I thought maybe I could see many games. When I came to Liverpool it helped that I could speak in English with the players. That's an important factor. So I could hear when some of the players said, 'We'll do the Frenchie in.'"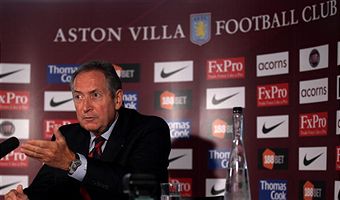 And if this means that the Aston Villa players will not be able to deceive this "Frenchie" by talking in English, they will also soon realise that Houllier sees his Anfield stewardship as a triumph both on the field and off it.
I know that many Liverpool fans will scoff at this. They just do not see it that way.
They tend to dwell, not on the six trophies he won, but on how, after his heart attack in the middle of a match with Leeds in October 2001, he made some duff signings. The result was that he left Liverpool with players not quite in the great traditions of the club.
Houllier will readily admit regret that some of these signings like El Hadji Diouf and Salif Diao "were not up to the standard in terms of attitude for the club". But he is keener to talk about how, after Rafa Benitez left at the end of last season, "one of the players sent me a message. He said, 'Boss, he hasn't beaten you.'"
And he relishes retelling the story of the aftermath of Benitez's greatest moment of glory in winning the Champions League in 2005, coming back from 3-0 down at halftime to win on penalties.
"When I came into the changing room in Istanbul some of the players said, 'Boss it's your team.' Twelve out of 14 in Istanbul were players that I had signed or developed. I left Liverpool with a team and in the Champions League."
Benitez, needless to say, left Liverpool in seventh place and with the Europa League to look forward to.
Interestingly, Houllier's arrival at Villa Park has echoes of his arrival at Anfield after the 1998 World Cup. At Villa Park there is much debate about the future role of Kevin McDonald, the caretaker who took charge after Martin O'Neill. At Anfield question was where did Roy Evans fit in with Gerard Houllier?
Evans was the last to emerge from the great Liverpool boot room tradition which had seen Bill Shankly's managerial role being passed on to his assistant Bob Paisley. He, in turn, passed it on to his assistant Joe Fagan. Fagan was followed by the Liverpool icons Kenny Dalglish and then Graeme Souness.
Liverpool had to beat off Celtic, with whom Houllier had a draft contract, to get the Frenchman and also settle the composition and nature of the management team. Houllier was not keen to take sole charge. He insisted he should share the management job with Roy Evans. Houllier's reasoning was that as an outsider, particularly a foreigner, this would help smooth his task. But it did not work as Evans was more of a number two not a number one and, in the end in football as in any other walk of life, you have to have someone to take hard decisions and accept responsibility. Evans, Houllier feels, was just a little too nice.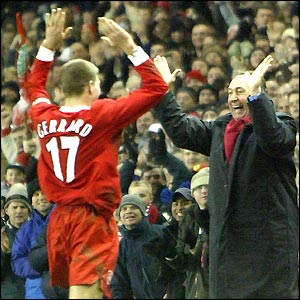 Houllier eventually built his own team at Liverpool with Phil Thompson and Sammy Lee prominent in that set up. He is very proud of the fact that his six years at the Merseyside club so transformed it that when he left the chairman, David Moores, told him, "You put the club into the 21st century."
But to do that at Villa Park he first needs to get a management team together and make sure that McDonald and the team he inherits do not feel too alienated. He will ultimately be able to wipe away the pain he feels about the way he was removed at Anfield only if he rediscovers the man-management skills which he displayed in his early years at Liverpool and made him such a formidable manager.
Talk to anybody in European football and they will tell you his knowledge of the game and reading of it is unrivalled. But, in the end, success in football is luck and the ability to manage unanticipated situations. Houllier will need both of these that if he is to really take Aston Villa to greatness.
Mihir Bose is one of the world's most astute observers on politics in sport and, particularly, football. He formerly wrote for The Sunday Times and The Daily Telegraph and until recently was the BBC's head sports editor.