If ever there was a lie to the old adage that sport and politics don't mix, the festering row over a united British football team at next year's London Olympics must rank as the ultimate example.
Ever since London won the right to stage the Games, the three non-English Home Associations have steadfastly insisted they do not want to know anything about a united team because of a perceived threat to their independence. The key word here is perceived.
What on earth are the Scots, Welsh and Northern Irish actually making such a fuss about? Every time the issue is raised, the same old argument gets trotted out: take us out of our comfort zone as an individual member of FIFA and it's a slippery slope to wrecking our national identity. Show me the evidence. It's a bit like saying the introduction of goalline technology will automatically lead to video evidence all over the pitch. In other words, choose an argument that suits your side of the debate without looking at the bigger picture.
Sepp Blatter may not be known for his consistency but he is not alone in insisting that any Team GB at next year's Games will be treated as a one-off. For once we should believe him. Why? Because the right of the four British Home Associations to exist as individual federations is ingrained in the FIFA statutes. To change them would be hellish difficult if not impossible. As would forcing them to metamorphise into one member called Great Britain. Some FIFA members privately want that to·happen. But they are in a minority and would face huge obstacles bringing it about.
Not only that. The four British Associations have long been responsible, both individually and collectively, for drafting the laws of football as we know it. England, Scotland, Wales and Northern Ireland, along with FIFA, make up the International FA Board (IFAB). For decades they have been the lawmakers, or custodians, of world football. Are the three non-England federations seriously suggesting that the IFAB will instead become FIFA and one all-British affliliate just because·a united Olympics team is given the green light? It's a somewhat fanciful notion.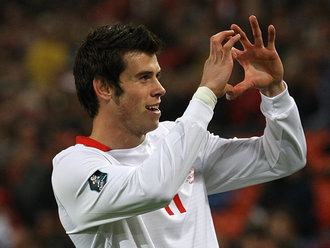 And what about the sporting criteria? It's one thing if the Scots, Welsh and Northern Irish do not actually have enough talented players to make the squad. It's quite another if the likes of Gareth Bale (pictured) are not at least given the opportunity to perform. No-one would suggest for one moment that an Olympic medal ranks as highly as that of the World Cup or European Championship. Not when it comes to football anyway. But for Bale and others like him, it could – as Britain's new FIFA vice-president Jim Boyce said in Paris last week – be the pinnacle their international careers.
Boyce, to his credit, seems intent on trying to mediate in the dispute and is supported by, among others, Bale's boss at Tottenham Hotspur, Harry Redknapp. "I don't think any player would turn down the opportunity to play, it's so special and you've got to grab it with both hands," said Redknapp.
While the recent appeal of Culture Secretary Jeremy Hunt to Wales, Scotland and Northern Ireland not to boycott a Great Britain football team may smack of a panic move, there is surely a legal case for having to release players instead of hiding behind the national identity issue. Show me the rule that says national federations can lawfully behave unilaterally in this way.·Does this not represent just as slippery a slope as any threat to national independence?
And what would the rest of the world think in terms of the credibility of the Olympic tournament? "It would be very disappointing if all the players were English and could only be English,"·said Hunt. "I really think this is a time when we need to put football politics aside and think about the athletes."
His words, ultimately, could fall on deaf ears. British entry into the Olympic football competition has long been a source of rancour, with the four constituent footballing nations competing as separate entities in every other tournament.·Indeed, there has been no men's British football team at the Olympics since 1960. But that doesn't mean we should deny one now. If the three non-English federations remain as intransigent as they are, the most likely outcome will be an England team rebadged as Great Britain. What a cop-out that would be.
Andrew Warshaw is a former sports editor of The European, the newspaper that broke the Bosman story in the 1990s, the most significant issue to shape professional football as we know it today. Before that, he worked for the Associated Press for 13 years in Geneva and London. He is now the chief football reporter for insideworldfootball