January 15 – Nike is the most influential sports brand in China, followed by the Chinese Basketball league and football's Chinese Super league in third position. Sports leisure brands Adidas and New Balance occupy fourth and fifth positions.
The ranking of brands was produced by business-to-business website dongshiju.com and the China Data Center.
According to Yutang sports, the top 50 brands were ranked according to brand awareness, reputation, consumer preference, market share and other indexes related to brand influence.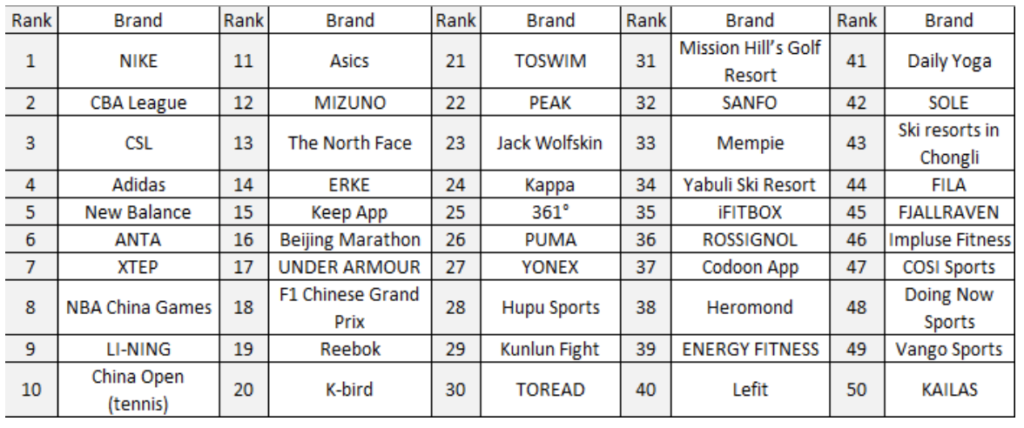 The 2017 ranking is the third edition of the Top 50 brands list and includes sports leagues in the methodology for the first time. Nike topped the 2016 ranking followed by Converse who do not appear in the 2017 ranking.
Nike, with a dominating presence in basketball, is supported by a strong showing for basketball generally in the country. While the CBA League beats football's CSL, the NBA China Games also rank high at 8th position. Despite the frenetic rush to China of Europe's top clubs and leagues, as well as FIFA's chase for China's sponsorship cash, none of their brands make it into the top 50.
What is noticeable between the 2016 and 2017 lists is the number of appareil firms in 2016 who have dropped out of the 2017 Top 50. They appear to have been replaced by a move towards events and venues in the Chinese psyche.
 2016 Top 50 influential brands: 
1 Nike, US
2 Converse, US
3 Anta, China
4 Adidas, Germany
5 Reebok, US
6 Peak, China
7 Puma, Germany
8 Li-Ning, China
9 Yonex, Japan
10 NewBalance, US
11 Mizuno, Japan
12 Kappa, China
13 Umbro, UK
14 Spalding, US
15 Met-Rx, US
16 Double Fish, China
17 Decathlon, France
18 DHS, China
19 LeSports, China
20 Butterfly, Japan
21 Head, Austria
22 Flex, UK
23 Keep, China
24 Kawasaki, Japan
25 TheJoyRun, China
26 Domyos, France
27 FEIERDUN, China
28 Hupu, China
29 JoinFit, China
30 JLSports, China
31 Toread, China
32 Kansa, China
33 ZJStar, China
34 ShuHua, China
35 Impulse, China
36 XingDong, China
37 Victor, China
38 Vango Sports, China
39 ToSwim, China
40 KaiKang, China
41 TaiShan, China
42 Speedo, Australia
43 Oxelo, France
44 Intersport, China
45 Ruosai, US
46 Quechua, France
47 Oceans, China
48 Snode, US
49 Cougar, China
50 Bestray, China
Source: dongshiju.com
Contact the writer of this story at moc.l1656730333labto1656730333ofdlr1656730333owedi1656730333sni@n1656730333osloh1656730333cin.l1656730333uap1656730333