Is there anybody at FIFA minding the shop? Sepp Blatter, the President, clearly does not give the impression he is.
He may strut about as if he is the head of a unique Vatican-style sporting state, no territory or army, but through football, as the Vatican does through religion, reaching out to places no politician can. But the FIFA corruption crisis has exposed the fact that while Blatter is a master tactician who can turn almost every short term situation to his advantage, he is not a strategist.
Blatter desperately needs to have a strategy to cope with the FIFA corruption crisis, the worst in the organisation's history. But not only is there no evidence Blatter has a strategy, he does not even seem to appreciate the need to develop one. At every step he has given the impression of reacting to events, rather than being in charge.
This has marked everything Blatter has done since the FIFA crisis broke last October when the Sunday Times investigation started the corruption story rolling. That had led to two Executive members, Amos Adamu and Reynald Temarii being suspended, but in the sort of short term gesture that Blatter loves, the paper was criticised for its journalism, to the fury of the journalists concerned. They felt they had gone out of their way to help FIFA and instead of being thanked, were kicked for their efforts.
The result was, despite the action FIFA took, it still gave the impression it had much to hide and did not like outsiders telling it what it should do. This was further reinforced when the Sunday Times produced a whistle blower who claimed to have further evidence of corruption. His allegations were not even examined.
Perhaps the most damaging evidence of Blatter's short-termism came in relation to the evidence Lord Triesman gave to the House of Commons Select Committee about the alleged favours he was asked by four members of the FIFA exco – Jack Warner, Nicolás Leoz, Worawi Makudi and Ricardo Teixeira. The Committee wrote to FIFA and this was followed by the Football Association sending FIFA the report James Dingemans QC had produced on the Triesman allegations.
Dingemans made it clear he was not conducting an inquiry. To quote his words: "It should be noted that it was no part of the terms of reference to determine whether the allegations made by Lord Triesman were well founded or not. Indeed, it would have been wrong and unfair to do so because it is fundamental to any system of justice that a person against whom an allegation has been made is given an opportunity to answer the allegations before adverse findings are made. The FA does not have jurisdiction to require answers from the Four Executive Committee Members who were the subject of Lord Triesman's evidence to the Select Committee. As between FIFA and the FA, FIFA is the relevant body for those purposes."
His inquiry, conducted in little over a week, was limited to people in Britain involved in the bid who could throw some light on what Triesman said. He could not get quite to the bottom of everything Triesman told the MPs, but found some of what he had said stacked up. What he was doing was making sure that before the FA passed Triesman's ball to FIFA, it was filled with more than just one man's word. But the intention was clearly for FIFA to carry on running with the ball and conduct a proper inquiry.
And to help FIFA, Dingemans concluded FIFA's World Cup bidding rules needed to be more transparent to help generate more confidence in the bidding system. Also, "There is a need for an updated and detailed Code of Ethics which deals with both lawful and unlawful approaches to and from members of the FIFA Executive Committee. There is need for a system where by the relevant rules can be seen to be imposed in a transparently independent manner".
However, Blatter immediately dropped the ball, making the extraordinary claim that Dingemans had cleared all four executive members, when the QC had not even inquired into their alleged actions. In Blatter's words: "We were happy that there are no elements in this report which would prompt any proceedings." The impression created was this stance was necessary as this report had come just days before the Presidential election and the FA were arguing the election should be postponed. It was hard to argue with the conclusion, this was a whitewash, one that suited Blatter as he was seeking re-election.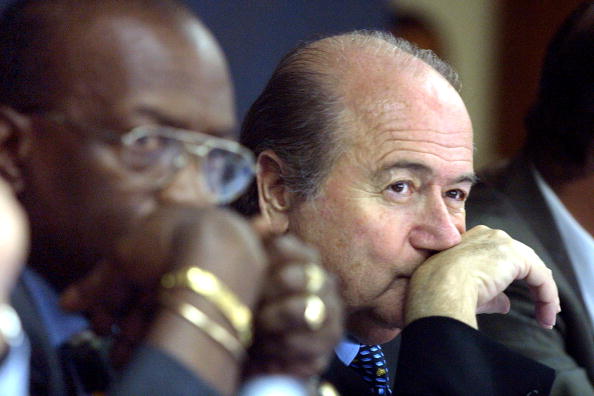 Blatter and his supporters could argue that FIFA did act when members of the beloved FIFA family, in this case the Caribbean Football Union (CFU), presented evidence of wrongdoing. True, the Ethics Committee was on to it like a flash as soon as these family insiders, turned whistleblowers, claimed they had been offered bribes by Mohammed Bin Hammam at a special CFU meeting in Trinidad organised by Jack Warner. And since then its mills have been rolling slowly but relentlessly. The result is Warner has resigned and Bin Hammam, who is suspended, is reported to be facing a possible ban when the ethics committee report is published in July.
But observe how this process has been going on. Warner resigns and the FIFA website puts up a message of thanks to him, as if a great man of football has reluctantly had to step down with no stain on his character. Then within days, the Ethics Committee report is leaked and this says, "The FIFA Ethics Committee is of the primary opinion that the accused [Warner] had knowledge of the respective payments and condoned them. It seems quite likely that the accused [Warner] contributed himself to the relevant actions, thereby acting as an accessory to corruption."
All this does is increase cynicism about FIFA. It does nothing to stop the drip, drip, drip corrosive effect of the never ending story of corruption. And as FIFA is a body with world events always being held, like the Women's World Cup in Germany now and the 2014 World Cup Draw next month in Brazil, there are always opportunities for the further drip, drip, drip of corruption allegations and stories to surface. Indeed, next week when the Commons Select publish their special report on World Cup bids, there will be another turn of the FIFA corruption story, this time the British MPs take on it.
What must worry Blatter is the way the Ethics Committee has begun to leak. This gives the impression that there are FIFA insiders not at all happy with the way the corruption story is being handled. FIFA has not leaked like this since back in 2001-2002. Back then, UEFA and Michel Zen-Ruffinen, Blatter's own general secretary, were against him. Those leaks, following the crash of FIFA's marketing company ISL, were part of an intense civil war. Blatter won that war with magnificent short term strategy. But that does not work now and the leakers seem to be telling him that.
So also are the new lot who control UEFA, not best pleased to be associated with an organisation which the world sees as filled with people who are always on the take. Indeed, Blatter is on what amounts to a warning by UEFA that he needs to show he has a strategy to deal with corruption and clean FIFA up. That runs out in September.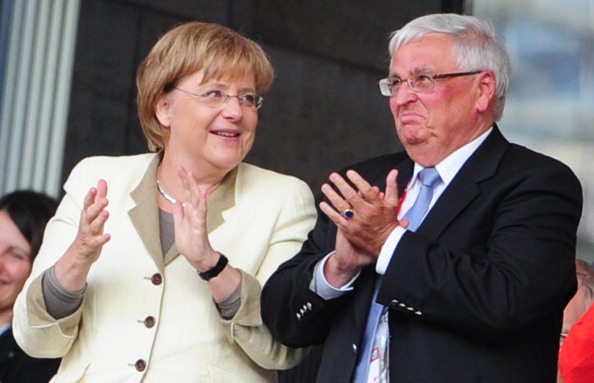 The new FIFA Executive member from Germany, Theo Zwanziger (pictured with German Chancellor Angela Merkel), who even asked for Qatar winning the 2022 World Cup to be reopened, gives every impression of being the sort of man Dingemans may have had in mind when he spoke of the good men of FIFA. In a little noticed para in his report he said, "It is apparent from the materials I have read that there are members of the FIFA executive committee who enjoy worldwide respect and against whom no allegations have ever been made. These realities are obscured because of the persistence of rumours and lack of transparency."
If Blatter did not read this part of the report, he would do well to do so. Now that he has been re-elected and this is his last term, he does not have to worry about seeking allies, however dubious, to remain in power. But for the short term tactician to develop a long term strategy is like asking a defender to become a centre forward. It is not very likely.
More likely is Blatter remaining football's version of Harold Wilson, the former British Prime Minister. Wilson was famous for short term tactical victories but never developed any long term vision and in the end it proved Wilson's undoing. Blatter has a long way to go before he can prove he is not another Wilson.
Mihir Bose is one of the world's most astute observers on politics in sport and, particularly, football. He formerly wrote for The Sunday Times and The Daily Telegraph and was formerly the BBC's head sports editor.