The conventional view in English football is that the Football Association, in going for Roy Hodgson as the next England manager, has made the safe choice. The argument is the people's favourite, Harry Redknapp, would have been the bold move.
How utterly absurd. Redknapp (pictured below, on left alongside Hodgson) would have been the easy choice, hailed by the media and the supporters. It is Hodgson who is the brave, unconventional appointment, and the FA ought to be congratulated.
I am not saying this because Harry, according to his court testimony, does not read or write much, whereas in Hodgson the FA will be getting something of an intellectual.

On one occasion when I met him, he had just seen the opera Turandot. He was then reading Philip Roth's The Great American Novel, listed John Updike, Milan Kundera and Richard Yates as his favourite authors, and after Sky's Monday Night Football liked to switch over to Sky Indie and watch foreign films. Indeed, when we met he was still enthusing about the "the outstandingly good" French film The Singer, starring Gérard Depardieu. What is more, Hodgson did not need subtitles for the film.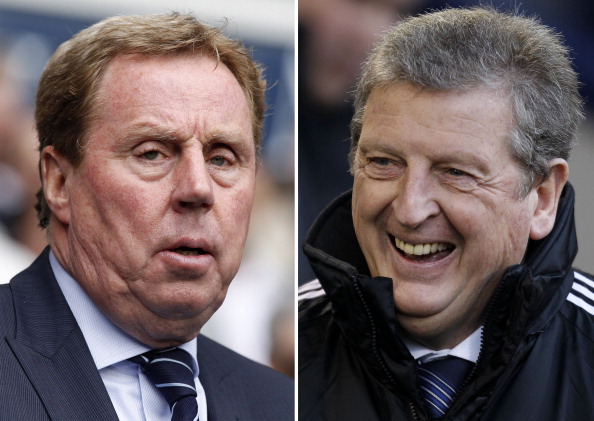 No, what makes Hodgson really interesting, and a truly bold choice, is here is an Englishman who was willing to use foreign expertise to advance his career at a time when this was almost unknown in English football. This is a man who defied English stereotypes – and this is what England needs to do if the country's football team is to progress. So, back in 1976, aged 29, he went abroad to manage Halmstads BK in Sweden. As he told me: "Quite simply, I was not well enough known as a player (he did not make the Crystal Palace first team) and I did not have contacts. It wasn't a question of coaching the Arsenal Reserves or Birmingham Reserves, it was to continue playing non-league football or go to Halmstads."
And by taking Halmstads, always a relegation candidate, to the Swedish championship crown in 1976 and again in 1979, Hodgson showed his management capability. This was recognised abroad where he steered the Swiss national team to USA 94, its first World Cup finals since 1966 – a World Cup, let us remind ourselves, England did not qualify for. He also made sure the Swiss got to Euro 96 before moving to Inter Milan.
His English experiences have been more mixed: success with clubs like Fulham and now West Bromwich Albion. At Fulham he was such a success that Hugh Grant famously joked "I want to sleep with Roy Hodgson." Even as Hodgson laughed at the thought, he showed how different he was to almost any other English manager. He referred to Grant as "our sort of Cary Grant" in a way which demonstrated his familiarity with the world outside football.
Critics will point to his failure at Blackburn Rovers and, more recently, Liverpool. But, here again, Hodgson has shown he can learn from his failures. Lured from Inter Milan to manage Blackburn in 1997, just two years after Jack Walker's millions had helped to win the Premiership, he was sacked a year later and admitted: "I did a very foolish, bit of an arrogant thing: I went back to Inter and worked with them for three months. What happened at Blackburn was not because I was no good – had I stayed on in the English radar, accepted six months or a year out of work, it might have led to a so-called bigger club." So, after the Liverpool debacle, he stayed – and now the biggest 'club' of all for an Englishman has come calling.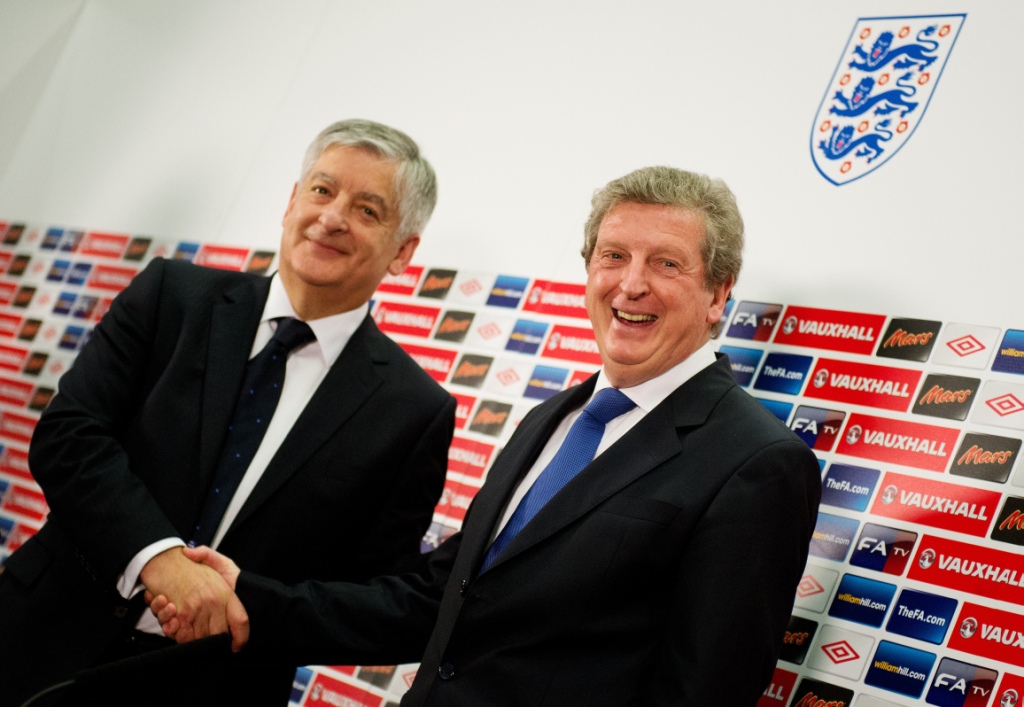 Hodgson (pictured above, right with FA chairman David Bernstein) has always wanted this top job in English football. As he told me when he was at Fulham, at a time when pre-World Cup Capello was riding high: "If the day ever came and I was asked, and I have never been asked, I would be very happy to accept. It is not an ambition, it is not a hope, but in football you never know what is round the corner. I have had such a varied and interesting life, never been out of work for more than a month or two since January 1976. I have been very lucky. I am fatalistic. So many things happen in football that, if you have a long career like I have, they are going to happen to you sometime."
And, what is more, he has long worked out how he sees the job. In another chat we had he provided a perspective on the job that I have not heard expressed by many managers. "What is English football? Is English football the next result when England plays Bulgaria? And if it is Bulgaria 1, England 5 then English football is fantastic. If it is Bulgaria 1, England 0 then English football is nothing at all. English football's health is judged on five results a year. It has got to be more important than that. The Football Association has to ask what we can do to push our football forward: investing in various aspects of the game, having better coaching, what we are putting into our youth teams, how the academies are being run. The English national team winning or losing is crucial but, whether the team wins or loses, the work underneath still has to go on."
I am sure that with English football at last getting a national centre of the sort most major footballing nations have long had, this wider vision has attracted the FA.
Hodgson will have to cope with carrying the baggage of his Liverpool failure. He might have gone to that job, as he told me, with his eyes open, aware his situation was not strong, the club was about to be sold and the fans wanted Kenny Dalglish. Nevertheless, the results were not good and he did not last. And, on top of the bruising he received at the hands of the Liverpool fans, there was also much questioning about the coaching methods he had developed over four decades.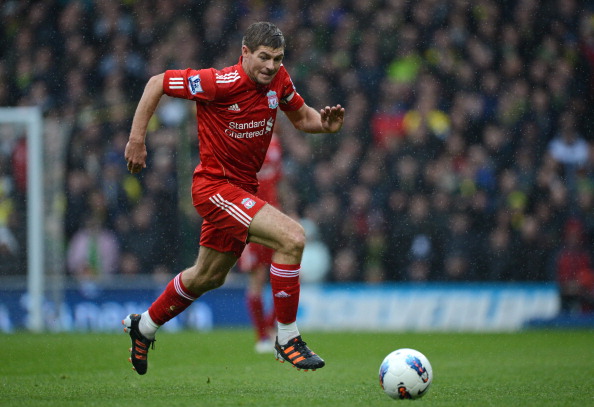 But it is interesting to note that while he accepts results made his position difficult, he has seen no reason to change what has been seen as a regimented coaching style. As he told me: "I do not think the criticisms came from [Steven] Gerrard (pictured above), [Fernando] Torres and [Jamie] Carragher. That would bother me. I am sure there were players at the club who did not feel they were getting a fair chance under me who had plenty to say. What Gerrard, Torres and Carragher said was very positive."
Hodgson will bring this positive thinking to the England job, yet he is very aware that the mass media can make or break managers. In his words, "When the appointment is made, mass media have a large influence. They also have a large influence in getting the manager kicked out."
What makes it worse is that mass media is shaped by social media, which Hodgson does not feel always reflects the view of the football world: "I am not convinced the internet is a true reflection of what people in general think of anything, least of all in football clubs. In the past, newspapers were reliant on their sources within the football club. Now what you read in the newspapers just comes from people sifting through the internet. But there is a large body of people out there who care about football and their club. They are much more fair-minded, but their opinions don't get canvassed because they do not broadcast them."
Hodgson must hope that this uncanvassed opinion is for him. This brave, very decent, man will need their support – all the more so as he has beaten the favourite for this most difficult of football jobs.
Mihir Bose is one of the world's most astute observers on politics in sport, particularly football. He wrote formerly for The Sunday Times and the Daily Telegraph, and was the BBC's head sports editor. Follow Mihir on Twitter.