July 22 – Globalisation and digital media have rapidly changed the market for top tier football sponsorship. That market is now being challenged again by the coronavirus pandemic.
A report by the KPMG Football Benchmark examines the marketplace for top-tier club sponsorship and found that while sponsors may have examined the cost saving opportunity of pulling out of football, very few have done it.
"If they had (pulled out), it would have been an extremely short-sighted view and one that would have probably caused greater brand equity and value damage compared to the cost-saving over the short term. A sponsor pulling out of a deal would likely live long in the memory of club fans and possibly nonfans, much to the brand's detriment," said the KPMG report.
However the football business does face the danger of most sponsor deals being short term and with many industries under major pressure from the pandemic "brands could think twice before committing to a major sponsorship deal, particularly if one considers that the airlines, automotive and retail sectors are such strong investors into world football."
Looking at the numbers, the top five global football leagues dominate the sponsorship value far in excess of other leagues internationally "due to their superior global appeal". KPMG Football Benchmark, reckons that within the top five leagues, the Premier League generates annually €832 million in front-of-shirt and kit sponsorship income, almost double its nearest rival LaLiga at €436 million p/a.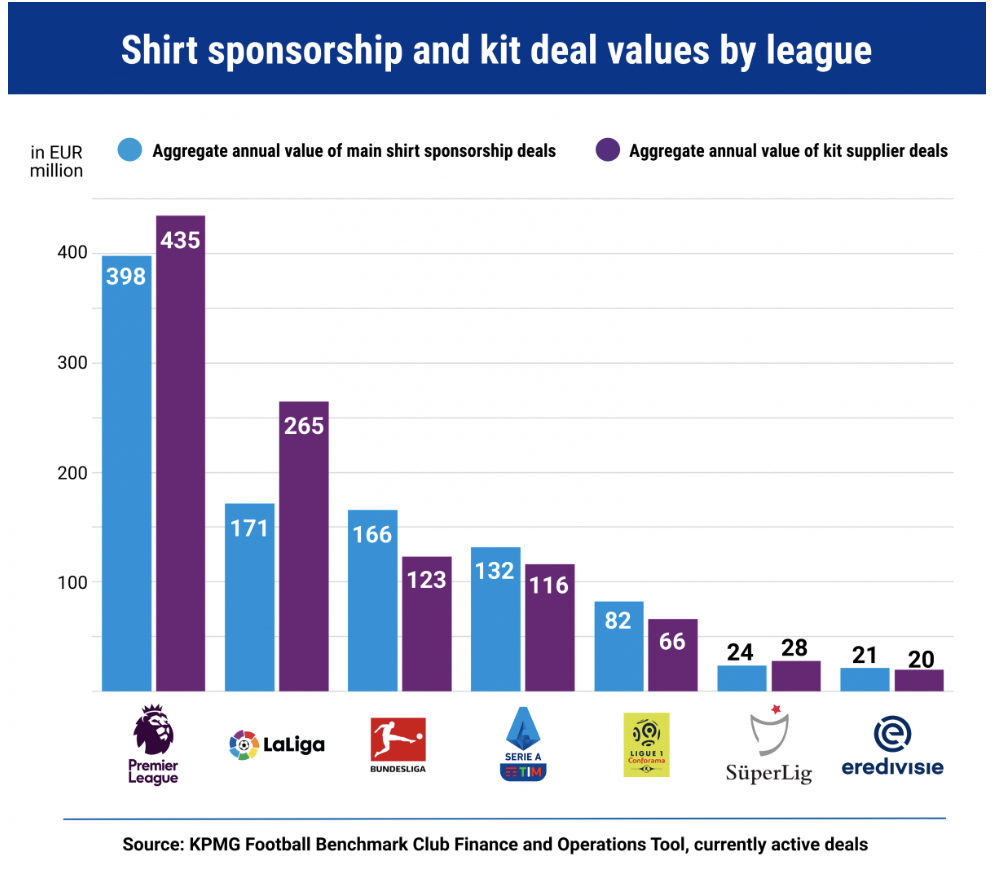 And within the Premier League, the big six clubs account for 83% of the total annual shirt and kit sponsorship value captured across the league while in Spain, Barcelona and Real Madrid collectively account for 80% of the total shirt and kit value generated across LaLiga.
KPMG point to a series of emerging trends within the football business that are driving the sponsorship market. These include the transition of professional football into becoming a global entertainment industry, and it increasingly attracting lifestyle and luxury brand components. PSG and its Nike/Air Jordan deal are highlighted as an example of this.
KPMG also point towards the growth of women's football globally and the investment in women's teams by leading football clubs, and the now dominating importance of social media numbers and the demographic they deliver to certain categories of sponsor.
See the full report at https://footballbenchmark.com/library/the_changing_face_of_football_sponsorship_key_trends
Contact the writer of this story at moc.l1656926508labto1656926508ofdlr1656926508owedi1656926508sni@n1656926508osloh1656926508cin.l1656926508uap1656926508