An emotional Sepp Blatter's first task after being re-elected FIFA President by a landslide will be to restore his battered reputation.
Despite his final four-year mandate being a foregone conclusion, Blatter looked genuinely moved as he re-entered the Congress hall clutching a bunch of flowers and hugging members of his family after sweeping to victory with 186 votes.
It was widely anticipated that supporters of Mohamed Bin Hammam, the Asian football chief who was Blatter's challenger until pulling out of the race on Sunday, would close ranks and abstain, following the lead of England and Scotland.
Instead, it was clear that most, if not all, of Bin Hammam's inner circle switched allegiance to Blatter since only 17 of the available votes failed to go Blatter's way.
Don't expect Blatter to rest on his laurels, however. He will know better than anyone that the eyes of the world will be on him, both in the short and long term, as he completes his final term of office which will end just short of his 80th birthday.
Earlier in the day, in his address to Congress, Blatter announced what everyone had been clamouring for: that World Cups will now be decided by FIFA's full membership rather than the all-powerful executive committee.
Likewise that all the federations, big and small, would select the members of FIFA's Ethics Committee, the body that has come in for such criticism in the wake of bin Hammam's and Jack Warner's suspension over the most explosive bribery scandal in FIFA history.
Blatter may have run FIFA since 1998 and led it through a period of unprecedented prosperity. But in recent years, the organisation's name – and Blatter's too – has been dragged through the mud after a spate of corruption allegations, the suspension of four senior FIFA officials in the past seven months – including the recent temporary bans of Warner and Bin Hammam – and persistent rumours that Qatar bought the 2022 World Cup, which the Gulf state has strenuously denied.
"I thank you from the bottom of my heart," told Blatter as he ended one of the most tension-filled Congresses of recent years, even without Bin Hammam's appearance. "We will put the ship back on the right course. We will need some time, but we shall do it."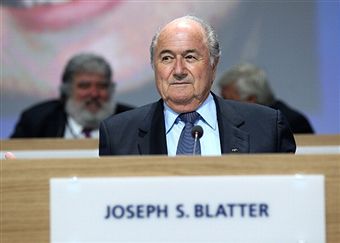 Easier said than done. The one thing Blatter can't do is hire and fire his own Executive Committee, the very people who have caused such turmoil in recent months, highlighted by the ongoing bribery scandal in which inducements were allegedly offered to Caribbean members of FIFA.
ExCo members are elected by their individual Congresses and the sniping and backbiting, spiteful email exchanges and finger-pointing cliques that have pervaded Zurich over the last three days are indicative of just how deep some of the divisions lie.
With official after official describing June 1, 2011, as a watershed in FIFA's troubled history, pulling together the various warring factions will be no easy task. In one sense Blatter has nothing to lose but in another he has everything to lose.
After being pummelled from pillar to post, metaphorically speaking, he has no choice but to try and leaving a legacy of reform rather than revolt. "I am a happy man after these very hard weeks," he said as he closed the Congress.
"I am here to take all the criticism but we are here to go forward in transparency. We must put this ship back on course and for this we need a leader. I am willing to do this."
The question is, how far will he go to clean up a body that has plummeted to an all-time low? The next few months should provide some kind of answer.
Andrew Warshaw is a former sports editor of The European, the newspaper that broke the Bosman story in the 1990s, the most significant issue to shape professional football as we know it today. Before that, he worked for the Associated Press for 13 years in Geneva and London. He is now the chief football reporter for insideworldfootball