By Paul Nicholson
April 8 – The Gold Cup will open in Miami July 2 with a series of knockout rounds to qualify the final three teams for the 16-team Gold Cup that kicks off July 10.
The play-offs, centralised at MLS' Inter Miami CF Stadium, will see 12 Concacaf teams in action battling for the final three group places. Six of the teams – Bermuda, Cuba,Haiti, Guatemala, Guyana, and Trinidad and Tobago – played at the expanded 16-team Gold Cup in 2019.
"Centralising the play-offs was realistically the only way we were going to qualify teams for the Gold Cup via a meaningful series of play-offs. It also has the significant advantage of giving all the teams a Gold Cup experience," said Concacaf President and FIFA Vice President Victor Montagliani.
"The qualifiers are very much an extension of the finals competition and an opportunity to involve more of our nations,"
Miami has the advantage of being close to Concacaf's headquarters and key Gold Cup organisational capabilities. "Of course this helps us get the Gold Cup kick started. Incorporating a play-off series is new and with the covid protocols on top we are in a good place for making sure this happens as it should," said Montagliani.
As an appetizer to the Gold Cup proper, the preliminaries have similarly given Concacaf a greater commercial opportunity to share with their commercial partners. It is proving a useful addition of inventory and leverage.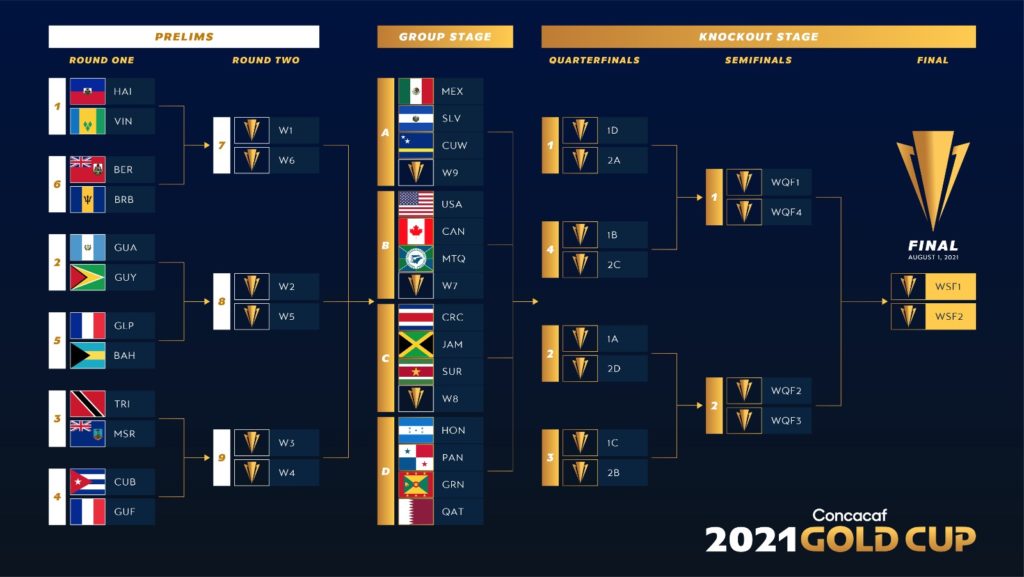 "We are expecting fans in stadiums," said Montagliani. "The US are advancing quickly on their vaccine roll out and are confident that stadia will be open. Whether it will be 10, 20, 50 or more per cent of stadium capacities we don't know yet."
All of the preliminary knock-out matches will be played at the 18,000-capacity Inter Miami CF Stadium which opened last year. The stadium is adjacent to a 50,000-square-foot training center with seven pitches spanning 34-acres, keeping travel to a minimum and helping maintain a safe environment for players, officials, staff, and fans.
The 12 competing nations in Miami have qualified through their performances in the Concacaf Nations League (Autumn 2019 group stages).
For Round One of the Prelims, the teams were drawn into six matchups and will play as follows:
Round One – July 2 and 3
Matchup #1: Haiti vs St. Vincent and the Grenadines
Matchup #2: Guatemala vs Guyana
Matchup #3: Trinidad and Tobago vs Monserrat
Matchup #4: Cuba vs French Guiana
Matchup #5: Guadeloupe vs Bahamas
Matchup #6: Bermuda vs Barbados
The six Round One winners will qualify for the second round and will play as follows:
Round Two – July 6
Matchup #7: Winner Matchup #1 vs Winner Matchup #6
Matchup #8: Winner Matchup #2 vs Winner Matchup #5
Matchup #9: Winner Matchup #3 vs Winner Matchup #4
"The past year has been very challenging in our region and our thoughts are with all the communities that have suffered. We hope the opportunity to watch the best men's national teams in Concacaf compete in our flagship tournament can provide fans with some hope and enjoyment," said Montagliani.
"All 12 of the competing nations in the Prelims will get a full Gold Cup experience at the excellent Inter Miami facilities and we look forward to a great set of games."
The winning nation in each of the three Round Two matchups will advance to the Group Stage of the 2021 Concacaf Gold Cup, where they were drawn into Group A, B and C as follows:
Group A: Mexico, El Salvador, Curacao, and Winner Prelims 9
Group B: USA, Canada, Martinique, and Winner Prelims 7
Group C: Costa Rica, Jamaica, Suriname, and Winner Prelims 8
Group D: Honduras, Panama, Grenada, and Qatar.
Group stage venues are still to be announced.
Contact the writer if this story at moc.l1702147377labto1702147377ofdlr1702147377owedi1702147377sni@n1702147377osloh1702147377cin.l1702147377uap1702147377