April 23 –Concacaf has released detail of the nine stadia that will host Gold Cup group stages and knock-out rounds this summer with a focus on centralising matches around city hubs to reduce team travel.
The major concentration of matches will be in Texas where six of the nine venues are located around Dallas and Houston. The 20,500 capacity Q2 stadium in Austin which opens this season will be one of the venue.
Florida has a second venue with the Exploria Stadium in Orlando becoming a first-time Gold Cup host. The DRV PNK Stadium in Fort Lauderdale, Florida, has already been announced as the venue for the Gold Cup Prelims (July 2-6) that will qualify the final three teams for the 16-nation competition.
The four groups have yet to be allocated to venues. Group stages kick of July 10 with the final being played in Las Vegas at the Allegiant Stadium on August 1.
"The announcement of these outstanding venues moves us a step closer to what is sure to be a great Gold Cup this summer," said Concacaf President and FIFA Vice President Victor Montagliani. "It is fitting that in our 60th anniversary year we will use a number of stadiums with a rich history of hosting Concacaf football, while also making history with new venues that will host Gold Cup matches for the very first time."
Stadiums to be used are:
AT&T Stadium, Arlington, TX (2009, 2011, 2013, and 2017)
BBVA Stadium, Houston, TX (2013, 2015, 2017, and 2019)
Children's Mercy Park, Kansas City, KS (2011, 2015, 2019)
Cotton Bowl, Dallas, TX (1993)
Exploria Stadium, Orlando, FL (first-time host)
NRG Stadium, Houston, TX (2005, 2007, 2009, 2011, 2019)
Q2 Stadium, Austin, TX (first-time host)
State Farm Stadium, Glendale, AZ (2009, 2015, 2017, 2019)
Toyota Stadium, Frisco, TX (2015, 2017, and 2019)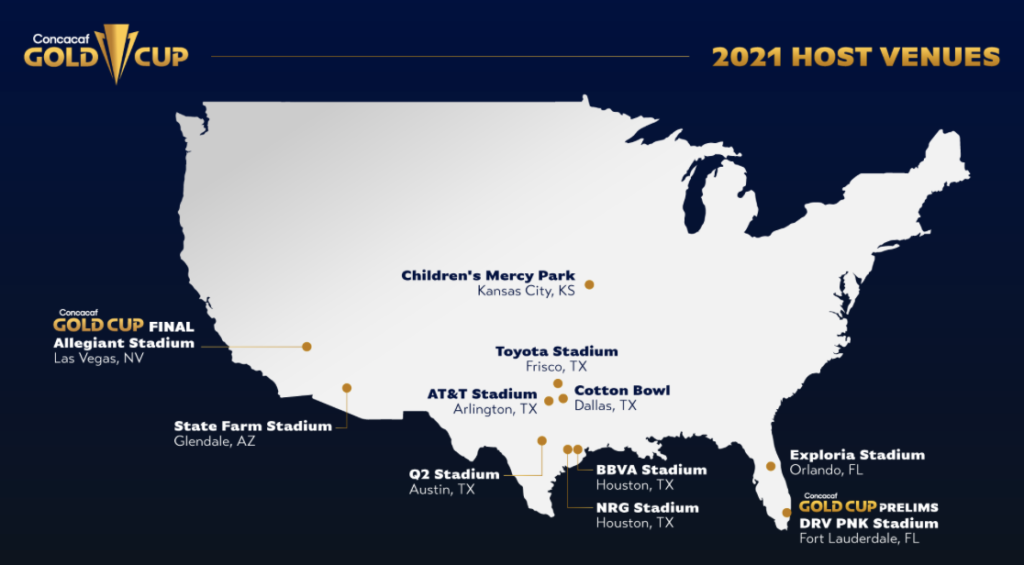 The 16thedition of the Gold Cup is adapting its format from previous editions. While the prelims are an addition that gives a further 12 nations a Gold Cup experience, the final group stage games will be played simultaneously for the first time, adding to the competitive integrity of the competition.
In the knockout rounds Concacaf has introduced the possibility of teams on opposite sides of the bracket meet from the quarterfinals onwards. Effectively this ends the seeding of previous competitions that would keep the regions two biggest teams – Mexico and the US – apart theoretically until they both reached the final.
"I am also extremely pleased that we have enhanced the Gold Cup format so that all the final group stage games will be played simultaneously. This will add to the competitive intensity of the tournament and provide an even more compelling spectacle for fans. Alongside the introduction of a first ever Gold Cup Prelims and a new format in the knockout stage this is another example of our football first approach at Concacaf," said Montagliani.
Group stage and knock-out draw:
Group A: Mexico, El Salvador, Curacao and Winner Prelims 9
Group B: USA, Canada, Martinique and Winner Prelims 7
Group C: Costa Rica, Jamaica, Suriname and Winner Prelims 8
Group D: Honduras, Panama, Grenada and Qatar.
Quarterfinal #1: Winner Group D vs Second Place Group A
Quarterfinal #4: Winner Group B vs Second Place Group C
Quarterfinal #2: Winner Group A vs Second Place Group D
Quarterfinal #3: Winner Group C vs Second Place Group B
Semifinal #1: Winner Quarterfinal #1 vs Winner Quarterfinal #4
Semifinal #2: Winner Quarterfinal #2 vs Winner Quarterfinal #3
Final: Winner Semifinal #1 vs Winner SF #2
Contact the writer of this story at moc.l1701315651labto1701315651ofdlr1701315651owedi1701315651sni@n1701315651osloh1701315651cin.l1701315651uap1701315651