Quarter final: Qatar 3 El Salvador 2
July 25 – If the football world wasn't paying attention when Qatar won the Asian Cup in 2019, it will be now. Even so, Qatar showed two sides of their football personality to beat El Salvador 3-2 at the State Farm Stadium in Glendale, Arizona, to set up a semi-final clash with either the USA or Jamaica in Austin, Texas, on Thursday.
It was a game of two halves. In the first Qatar put on the style in devastating fashion. Slicing through El Salvador's defense they impressed with their speed and first touch, and the ability to switch the play from side to side at pace. They could have gone in at half time four up, instead of just 2-0 ahead.
In contrast, they finished the second half clinging on to a one-goal lead and having lost their defensive shape in front of a goalkeeper who wobbled and wobbled.
If the good Qatar is the team that turns up then Qatar isn't just a nation that is hosting a World Cup, it is one that has a competitive team to go with it as it showcases itself to the world in 2022. If the bad Qatar turns up then it will be a shame.
Qatar had played El Salvador in a pre-tournament friendly three weeks ago, winning 1-0. The were a goal ahead in first of the Gold Cup quarter finals within two minutes and were lording it. A clumsy piece of control by Ronald Gomez in the centre of El Salvador's defence allowed Qatar to steal. Some fast footwork saw Akram Afif feed Almoez Ali who fired in.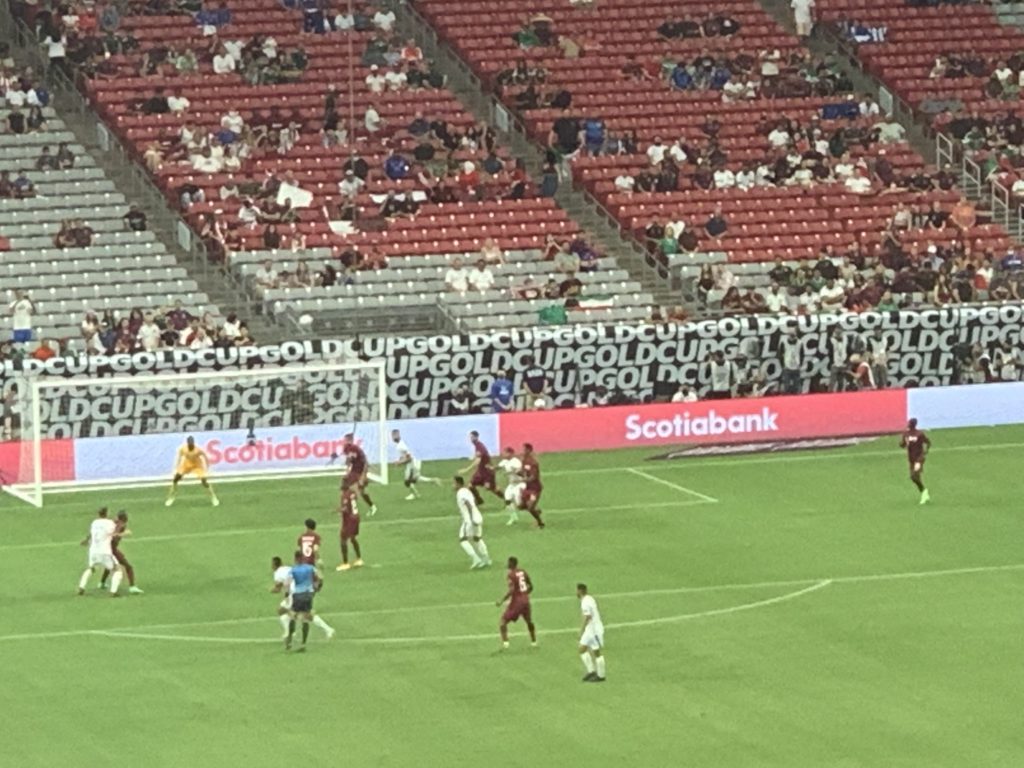 In the eight minute Qatar had doubled their lead. Abdelaziz Hatim collected the ball just outside the box, made space for himself on his right and fired into to the top right hand corner of Mario Gonzalez's goal.
El Salvador were struggling to impose themselves on the ball as the Qataris closed them down in possession and tore through their midfield at pace. As in group games, Afif was at the centre of everything going forward for Qatar, alternately playing as a target with his running mate Almoez feeding off touches, only then to drop deeper or to the wing to open up gaps in the El Salvador defence.
Qatar could easily have been four ahead within half an hour. Right back Pedro Miguel twice shot across the face of the goal, the second time skimming the post. Hatim, emboldened by his goal from distance, twice fired over.
El Salvador's best chance came on 27 minutes, with Qatari keeper Meeshal Barsham over-committed and off his line, Jairo Henriquez slid the ball to the non-stop midfielder Amando Moreno who poked the ball towards goal, only for it to be saved off the line by Abdelkarim Hassan.
El Salvador closed out the half in possession and could have pulled a goal back through Moreno again. Almoez should have made scored a second but headed lamely past the post.
Qatar opened the second half confident and with control of possession. On 52 minutes an Almoez shot into a crowded goal area saw the ball hit the outstretched arm of El Salvador captain Darwen Ceren. A quick check with VAR confirmed the handball and Almoez scored the penalty spot – his second of the match and making him the tournament's top scorer with four from four games.
If Qatar had thought the game was over at that point – and to all intents and purposes it looked like it was – no-one had told El Salvador.
In the 63rdminute El Salvador gave their fans something to shout about. An attack through the middle saw Moreno find Joaquin Rivas who drove the ball under Barsham's body.
Two minutes they were screaming for more as Rivas grabbed a second. A flying challenge from Bryan Tamacas on the right took the ball away from Khouki Boualem in Qatar's defence. With Barsham stranded in goalkeeper's nomansland, Tamacas squared to Rivas who fired into an open net from 8m. 3-2 to Qatar.
On 72 minutes Rivas looked to have his hat trick and to have squared the match, only to be ruled offside. A furious El Salvador claim for a handball was turned down without even a trip to the VAR – infuriating the El Salvador bench even more.
Qatar had gone from imperious to hesitant.
Qatar coach Felix Sanchez made three substitutions, including taking off the mercurial Afif, as he tried to re-inject urgency into the Qatar game. Pedro drove down the right and into the box. A call for a penalty was turned down.
But it was El Salvador who were now dominating. On 90 minutes Rivas had another chance to level the match only to hammer his shot into and advancing Barsham.
The El Salvador comeback was not going to be completed. Qatar ran the clock down in the eight added minutes of extra time to move to the semi-finals and keep alive the opportunity of being the champions of two confederation competitions.
If they are to do that they will need to find a maintain their intensity for 90 minutes, otherwise they may find they have built a house on sand.
Contact the writer of this story at moc.l1700715319labto1700715319ofdlr1700715319owedi1700715319sni@o1700715319fni1700715319