Gold Cup Final: USA 1 Mexico 0 (AET)
August 2 – They say that lightening doesn't strike twice but in Concacaf it does. Having lost the Nations League final to the US in early June by a goal scored in extra time, Mexico relinquished their Gold Cup title by a goal in extra time scored by Miles Robinson with just three minutes left on the clock.
It was the fifth win by a US team that won five of their six game 1-0 and conceded just once in the tournament.
Mexico will go home wondering where they went wrong, especially in the first half where they should have gone in a couple of goals up but wasted chance after chance.
The final delivered a dramatic end and was a tribute to a Gold Cup that had provided end to end excitement from the 14 round penalty shoot out in qualifiers between Guatemala and Guadeloupe in early June, to the Qatar vs Panama and Qatar vs Honduras thrillers in Houston, and on to two action packed semi finals that could easily have thrown up a Canada vs Qatar final.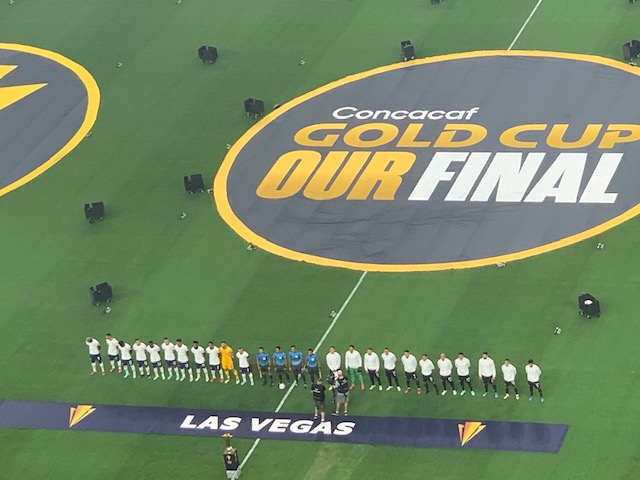 Ultimately it was Concacaf's old guard that made it through to the final and a US team that was built on a solid rearguard that took the title away from Mexico.
Before this game Mexico and the US have met six times in Gold Cup finals, Mexico had won five.
If it wasn't a necessarily a surprise win, it was certainly one that took observers by surprise with Mexico seeming to have hit their stride after a slow start and the US having hung on to leads to get this far.
Both teams had conceded just one goal en route to the final. Mexico's goal had rarely been troubled until it came to their semi-final against Canada, while US keeper Matt Turner had kept his country in the tournament with a series of game saving performances, not least against Qatar in the semi-final.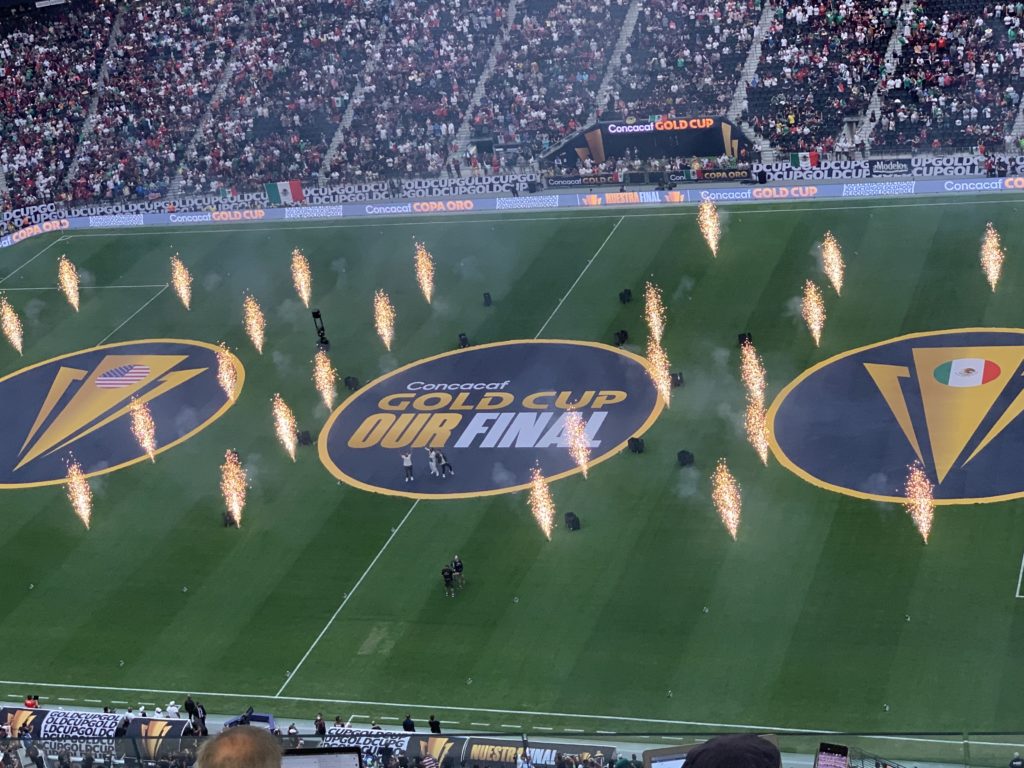 Of their five games to get to this stage of the competition the US had won four of them 1-0. That became five out of six games for the tournament.
US coach Gregg Berhalter made two changes to his starting line-up bringing fresh legs in after the semi-finals that were played last Thursday. It paid off. "When you look at the game today it was non-stop. We were relentless," said Berhalter. "We went into the final with just a short rest and we needed fresh legs. We have confidence in every man on the roster. It is about putting the team in a position to win the game…This player pool has matued and been battle tested. Now we move on to World Cup qualifying."
Mexico coach Gerardo Martino said it was "a painful defeat". "In the first half and the start of the second we moved the ball well and we had good chances. They pressured and because of all our possession we began to get tired and they took the advantage. We were thinking of penalties at the end and that lack of concentration cost us the game."
It was the succession of missed chances that gave this game to the US who played their best football in the last 75 minutes of the last game of the competition.
But at the start the US once again had Turner to thank for keeping them in the competition.  He was called into action within two minutes to keep out a Rogellio Funes Mori half chance. Two minutes later at the other end Eryk Williamson received a long ball from the left but shot tamely wide.
It was Mexico who rapidly took a grip of the possession and could have been ahead on 11 minutes but for another outstretched save low to his left by Turner. In contrast Funes Mori looked to be lacking the punch to create a real goal threat. On 20 minutes a call for a penalty was dismissed by the referee, Funes Mori had gone to ground far too easily.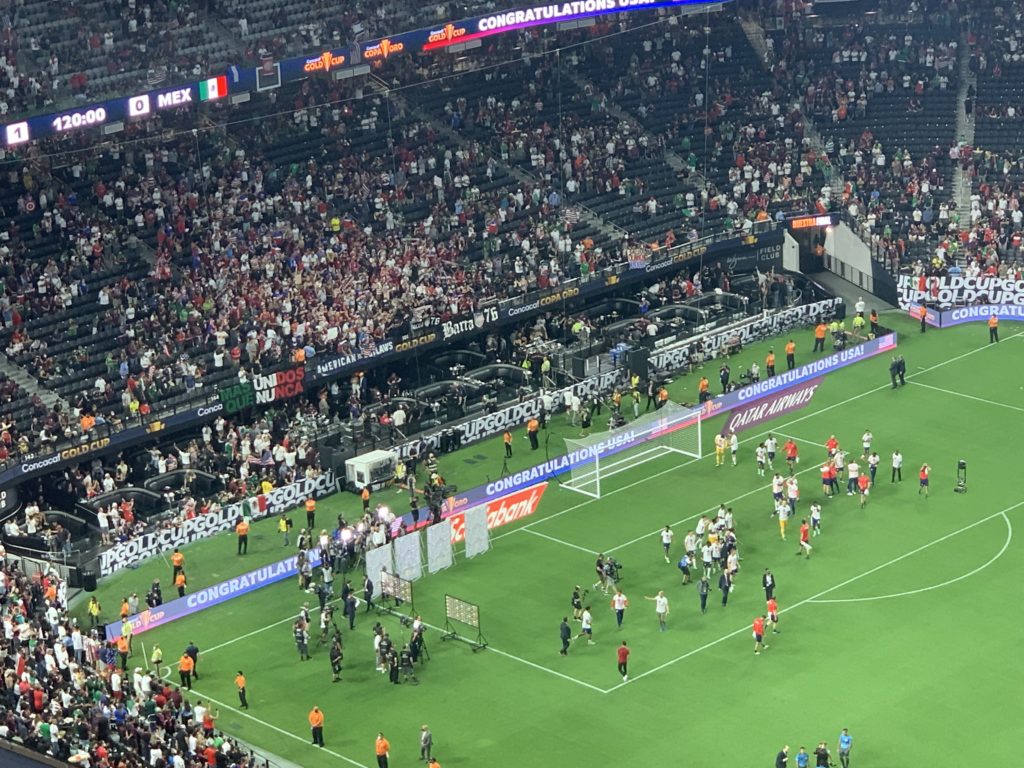 The US set up in a narrow 4-4-2 but were always dangerous on the counter. In the 26thminute Mexico lost the ball in front of their own goal. The ball fell to Paul Arriola who slammed it into the post. It was a let off for Mexico.
Minutes later Funes Mori was missing chances again, taking the ball down on the turn only to fire into Turner's legs. Funes Mori missed again on 33 minutes and on 38, Turner more than equal to anything he had. Mexico should keep him out of the Vegas casinos tonight with the luck he was having.
With Mexico missing chances it was inevitable that the US breakaway would create chances of its own. FC Schalke's Matthew Hoppe, one of the finds of the tournament for coach Berhalter, headed inches wide in the 43rdminute and pulled another shot wide minutes later.
Mexico went in at half time having had 67% of the possession and 12 shots against the USA's four. It was a stat that could come to haunt them.
The second half started as the first had finished but this time it was Orbelin Pineda's turn to miss a gilt-edged chance, shooting wide from 8m in the centre of goal – it was a horrible miss. But not as horrible as the one from Gyasi Zardes on 59 minutes who through on goal with only Alfredo Talavera to beat pushed his shot wide.
The US for the first time in the match created some sustained pressure in the Mexican half. Hoppe had shots deflected for corners on 64 and 70 minutes. In the 74tha free kick saw Zardes unable to bring the ball under control as it fell to an incoming Arriola who hit it into a sprawling Talavera.
Suddenly US fans started to be heard in a packed out stadium that had up to that point been all Mexico.
With the clock counting down Gianluca Busio, on as a sub, fired over the bar.
The match moved into extra time and within three minutes the hapless Funes Mori blew yet another chance. With just Turner to beat he lofted the ball over him and the bar.
But the US kept pressing. On 103 minutes Hoppe had another shot go over. On 106 minutes Zardes shot into Talavera.
And then the killer blow. On 117 minutes and with just three minutes left before penalties a Kellyn Acosta free kick found the head of central defender Miles Robinson who headed the US home.
It was an exhausting finish to an exhausting tournament.
In four weeks time it all starts again with World Cup 2022 qualifying. That promises to be another Concacaf nailbiter.
Contact the writer of this story at moc.l1699726339labto1699726339ofdlr1699726339owedi1699726339sni@o1699726339fni1699726339