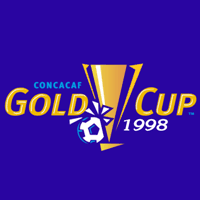 Winner – Mexico
Runner up – USA
Third – Brazil (as guests)
Fourth – Jamaica
The 1998 Concacaf Gold Cup took place on the eve of the World Cup in France and would serve as an indicator as to where the qualified Concacaf nations would be ahead of that Summer.
The finals tournament would, again, be held in the USA, with the Los Angeles Memorial Coliseum the showpiece venue for the Semi-finals and Final. Other tournament games would be played, for the first time, at the Oakland-Alameda Country Coliseum in Oakland and the Orange Bowl in Miami.
The tournament entrants increased from nine in 1996 to 10 this time around, with an extra place given to the Central American Zone. Two places would remain for the Caribbean nations, while Brazil were again invited to compete as a guest and the three North American nations were given automatic qualification.
A change came, however, on the eve of the tournament as Canada announced that they would be withdrawing from the tournament. The official line from the Canadian Association was that they were being good neighbours to Jamaica, who had qualified for the World Cup, by giving them their place in order to give them vital tournament experience, although there were unsubstantiated rumours of financial constraints and difficulty with securing the foreign-based players for a tournament held in January.
That Jamaica were given this route into the tournament was a stroke of luck for them after their failure to win the 1997 Caribbean Cup. The qualifying places had also changed for the Caribbean Zone, with only the winner getting an automatic place in the Gold Cup. The other place would come from a play-off between the 1996 runners up Cuba and the runners up of the upcoming tournament.
Caribbean Qualifying
Qualifying for the tournament being co-hosted by Antigua and Barbuda and Saint Kitts and Nevis was a messy affair, with games not being played and teams withdrawing, but eventually six teams found their way to the finals tournament, after it started with five groups and would finish with two playoff games and one of the group winners getting an automatic bye to the finals tournament.
Martinique won Group 1 with two winners, the first after edging out Saint Lucia 1-0, the second a 7-1 thrashing of Saint Vincent and the Grenadines, while Jamaica beat Bermuda 4-2 on aggregate in a Group 2 affected by the withdrawals of Cayman Islands and Puerto Rico.
In Group 3, Guyana won a preliminary round tie 4-2 against French Guiana, but their progress ended once the second round started. Grenada made their way through on goal difference, ahead of Barbados, after a 5-1 win against Guyana gave them a cushion that Barbados couldn't get back.
Group 4 was won with relative ease by Dominica, who won all three games and scored 12 goals against Sint Maarten, British Virgin Islands and Anguilla, while Aruba's 2-1 win over Netherlands Antilles was the only game in Group 5 after Haiti and Dominica Republic pulled out and the return game was never played.
The Qualifying play-offs were not close games, with Martinique beating Dominica 9-1 on aggregate and Jamaica's 6-0 win in Aruba proving enough as Aruba declined to travel to Jamaica for the return leg. Grenada were the recipients of the automatic bye to the finals tournament.
At the finals tournament, Group A was hosted by Antigua and Barbuda and saw the hosts bow out with two defeats, while Grenada won the group on goal difference ahead of Jamaica, with their 3-1 win over Antigua the decisive factor.
In Group B, held in Saint Kitts and Nevis, it was more dramatic and less certain who would qualify. It started with a surprise when a Mondenstti goal three minutes from time gave Martinique a 2-1 win over tournament holders Trinidad and Tobago. Their tournament was to end following a 2-0 defeat by Saint Kitts as although Saint Kitts then lost 3-0 to Trinidad to finish with the same points, goal difference and goals scored as Martinique, they went through as group runners up based on the result against Martinique.
As the Semi-finals approached, it saw two of the regions top teams face off in the first Semi-final and two underdogs compete in the other. Trinidad and Tobago took on Jamaica in the first Semi-final and the holders managed to get through to another final, but only after a thrilling 1-1 draw and a 4-2 penalty shootout win.
The other Semi-final was just as dramatic, with Saint Kitts and Nevis making their first Caribbean Cup final after Keith Gumbs first equalised with five minutes to go after a Patrick Modeste goal had put Grenada ahead, then scored a penalty deep into extra time to put the hosts through.
It was in the final, however, that the fairy-tale ended, as Trinidad and Tobago won another Caribbean Cup with a dominant 4-0 win. It would get worse for Saint Kitts and Nevis, as they would then lose the Gold Cup playoff 2-0 against Cuba, allowing the Cubans to qualify for their first Gold Cup.
Central American Qualifying
In the 1997 UNCAF Nations Cup, a preliminary playoff between the two lowest ranked nations saw Panama beat Belize 2-1 on aggregate and the Panamanians were drawn into Group B against El Salvador and Honduras.
In Group A, Guatemala and Costa Rica made serene progress through to the final Round-Robin stage, playing out a 1-1 draw at the start of the group. Costa Rica then beat Nicaragua 5-1, while Guatemala topped that with a 6-1 win against the hapless Nicaraguans.
Group B was won by Honduras after they won both group games, scoring eight goals and conceding none, while El Salvador finished as runners-up after a 2-0 win against Panama.
This meant the four Gold Cup places were now decided, but the four teams were now focussed on winning the Nations Cup. Costa Rica ended the tournament as the champions, winning the group on goal difference after a 4-0 win over Honduras proved the deciding factor.
Finals Tournament
With qualification completed, the 10 teams made their way to the Deep South of the USA for the fourth edition of the Gold Cup, being split into three groups, one group of four and two groups of three.
In Group A, with two qualifying places at stake, Jamaica caused a surprise by topping the group ahead of World Champions Brazil. They began with a 0-0 draw against Brazil, then beat Guatemala 3-2 in a game postponed by two days due to heavy rain and El Salvador 2-0 a day later to win the group, while Brazil were left thankful for a 4-0 win against El Salvador after Guatemala caused a huge shock when Juan Carlos Plata equalised in the last minute for a 1-1 draw with the Brazilians.
In Group B, Mexico showed why they were the team to beat with two dominant performances, first with a 4-2 win against Trinidad and Tobago, then a Cuauhtemoc Blanco inspired 2-0 win against Honduras. The Trinidadians had shown promise with a 3-1 win over Honduras, but they were left wanting by a very strong Mexico team.
Group C had an edge to it as historical rivals the USA and Cuba were drawn into the group with Costa Rica and would play each other for the first time in 49 years.
It was a historic occasion in Oakland, but not a close game as after a scoreless first half, a Roy Wegerle goal set the wheels in motion for a 3-0 win. The Cubans had been well beaten in the end and their tournament ended with a 7-2 defeat against Costa Rica, with Paulo Wanchope scoring four goals, with only goals by Luis Marten and Eduardo Sebrango as consolation.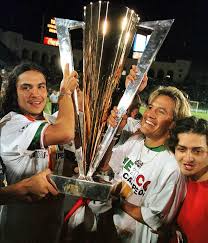 Costa Rica and the USA met three days later for a group decider that lived up to the billing, with Eddie Pope scoring early, only for Allan Oviedo to equalise as the second half started. With qualification in the balance, Preki found space from long range to put the USA through to the Semi-finals as they held on for a 2-1 win.
This took the Americans through to a huge Semi-final with Brazil, a game that they were not favoured to win.
Knockout football can always cause surprises, however, and so it proved on a damp evening in Los Angeles as, after being space to control the ball, Preki repeated his heroics from the Costa Rica game with a long-range goal that shocked the Brazilians and gave the USA a famous 1-0 win.
The other Semi-final pitched a powerful Mexico side against a vastly improved Jamaica side bolstered by Premier League talent. Jamaica had already played three games in eight days and it showed as they were on the back foot for most of the game against a Mexican attack that found space time and again.
Despite this, Mexico were having serious problems breaking down the Jamaican defence, with Blanco and Luis Hernandez both wasting good chances during the game, and it was goalless at the end of 90 minutes.
Something had to give in golden goal extra time and Mexico finally found their way into the showpiece final with the USA when Hernandez beat Jamaica's offside trap to head home a Blanco cross and win the game for Mexico.
This brought them back three days later to the Memorial Coliseum for the final against the hosts, played after Brazil had secured 3rd place with a Romario goal for a 1-0 win over Jamaica.
It was a spiky and tense game between two teams who had built up a real rivalry over the last decade. Both teams made early chances, with Eddie Pope heading over with a free header from a corner, while Blanco was denied a goal after a late off-side flag.
One goal might prove enough in a game like this and it came just before half-time when Hernandez stole in to head home from a Medina cross. It was his fourth goal of the tournament and the goal the game needed and the second half was a much more open affair, with chances on both sides.
However, Luis Hernandez and Mexico were able to hang on and celebrate their third Gold Cup in succession, leaving them in good stead ahead of the World Cup.