BBVA Compass Stadium, Houston, Texas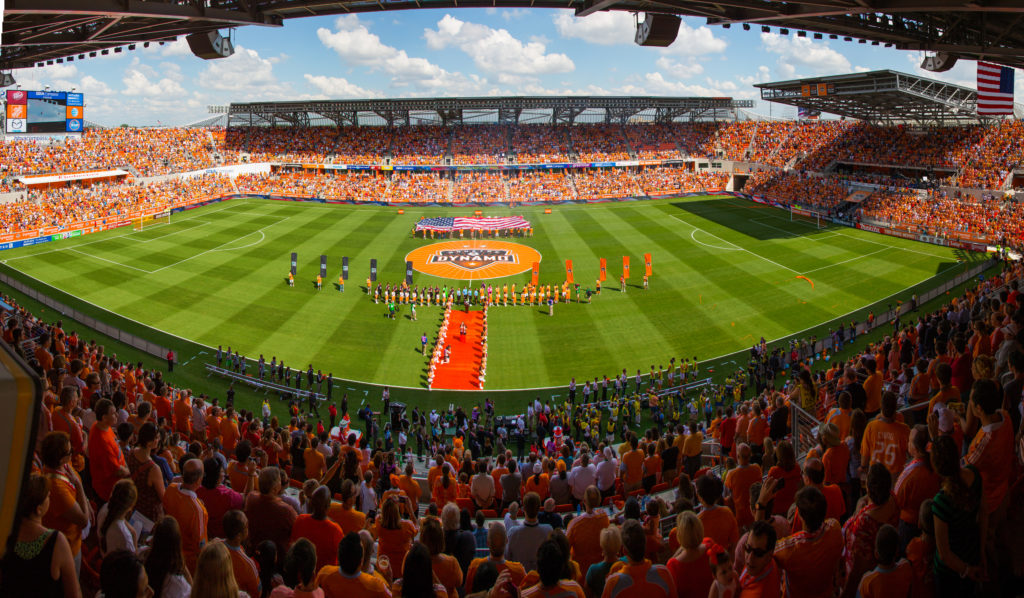 Home to MLS side the Houston Dynamo and the Houston Dash in the National Women's Soccer League, the 22,039-capacity BBVA Compass Stadium was built with soccer in mind but has been used for lacrosse, rugby, and concerts.
Architecturally, the stadium features a faceted facade of expanded metal mesh with orange polycarbonate enclosed entrances and spectator facilities that reflects the industrial heritage of the East Downtown location.
The stadium is the result of combined commitments of $35.5 million from the city of Houston and $60 million from the Houston Dynamo. Harris County agreed to pay for half of the land in exchange for the ability to jointly own the stadium after its completion date in May 2012.
At $95 million the stadium construction cost makes the BBVA Compass Stadium the most cost-effective of modern soccer-specific stadiums.
The stadium has hosted several international fixtures, the being between New Zealand and El Salvador in May 2012. In 2012 Mexico beat Guyana 5-0 in a World Cup qualification match.
The US women's national team made their debut in the stadium in December 2012 against China, while the US men's team made their debut there in 2013 against Canada.
The stadium will host El Salvador vs Jamaica and Honduras vs Curacao in the second round of Group B fixtures in the 2019 Gold Cup, June 21.