Soldier Field, Chicago, Illinois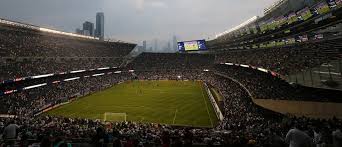 The 61,500 capacity Soldier Field in Chicago will host the final of the 2019 Gold Cup, July 7.
The home of NFL team Chicago Bears, Soldier Field is remarkably the third smallest stadium in the NFL.
It is also the home of MLS team Chicago Fire.
Designed in 1919 and opened on October 9, 1924, as Municipal Grant Park Stadium, the name was changed to Soldier Field on November 11, 1925, as a memorial to US soldiers who had died in combat.
In its earliest configuration, Soldier Field was capable of seating 74,280 spectators and was in the shape of a U. Additional seating could be added along the interior field, upper promenades and on the large, open field and terrace beyond the north endzone bringing the capacity  to over 100,000. However various renovations and the introduction of corporate facilities have reduced the capacity.
Soldier Field was a venue both for the 1994 men's World Cup and the 1999 Women's World Cup in the US.
It has also been a Gold Cup venue every iteration of the event since 2002 (though not in 2017) and has hosted the final twice. 2019 will be the third time.
A regular host of matches of Europe's elite teams in pre-season, as well as both the men's and women's national teams, Soldier Field is a candidate venue for 2026 World Cup hosting.