How they qualified
They qualified for the 2019 Gold Cup with three wins and one defeat in CONCACAF Nations League qualification, only losing 2-1 to 1st placed Haiti after three wins without conceding, including an 11-0 win against Turks and Caicos Islands in Matchday 1.
Tournament record
Their tournament record is a very patchy one, having won just three matches in the eight Gold Cups they have qualified for and suffering some very heavy defeats along the way, with their 2011 tournament a major low point after 5-0 defeats against Costa Rica and Mexico and 6-1 against El Salvador. They have also been severely blown-out in all three Quarter-finals they have played in and have suffered from player defections during the tournament, with four leaving during the 2015 tournament.
Star men
They go into the Gold Cup in a difficult group with former winners Canada and Mexico and their Caribbean rivals Martinique and will look to their youthful strike force of Luis Paradela (pictured) and Maikel Reyes. Paradela plays his club football in Guatemala and already has an impressive tally of five goals in six games for Cuba.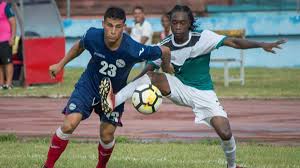 Manager
Their coach Raul Mederos has been in charge since the team exited 2018 World Cup qualification and has worked to build a stronger national side. The team missed out on qualification for the 2017 Gold Cup, but Mederos has been given time by the Cuban Federation to build a competitive side.
What can we expect?
Cuba are a team that have the potential to deliver on the big stage, having won the Caribbean Cup in 2012 and being in the top four from 1999 to 2014, and they have qualified for all but two of the Gold Cups in the last 20 years.
Success for Cuba would be to get a win in Group A, although this will be a tough ask with three teams with higher CONCACAF rankings than them in the group. They start against Mexico in the Pasadena Rose Bowl, a tough test for any team, so their forward progress could be determined by how they do against the tournament favourites.
Schedule
15 June  – Cuba v Mexico
Venue: Rose Bowl, Pasadena
19 June– Cuba v Martinique
Venue: Broncos Mile High Stadium, Denver
23 June – Canada v Cuba
Venue: Bank of America Stadium, Los Angeles
---
SQUAD
Nelson Johnston                     25-02-1990     Santiago de Cuba
Elier Pozo                                28-01-1995     Pinar del Rio
Sandy Sánchez                        24-05-1994     Jarabacoa FC
DEFENDERS
Karel Espino                           27-10-2001     Artemisa
Yasmani López                       11-10-1987     FC Ciego de Avila
Lionis Martí­nez                       03-02-1989     Santiago de Cuba
Dariel Morejón                        21-12-1998     FC Villa Clara
Yosel Piedra                            27-03-1994     Universidad SC
Erick Rizo                               07-03-1991     Santiago de Cuba
MIDFIELDERS
Rolando Abreu                        15-05-1992     Santiago de Cuba
Aní­bal Álvarez                        25-05-1995     FC Ciego de Avila
Andy Baquero                         17-08-1994     Delfines
Roberney Caballero                 02-11-1995     FC Villa Clara
Aricheell Hernández                20-09-1993     CAI
Jorge Kindelan                        12-04-1986     Santiago de Cuba
Daniel Luis                              11-05-1994     Delfines
Luismel Morris                       14-12-1997     FC Camaguey
Luis Paradela                           21-01-1997     Universidad SC
Reynaldo Pérez                       22-01-1994     Delfines
Alejandro Portal                      21-10-1995FC            Mayabeque
Jean Rodríguez                        7-05-1999       FC Pinar del Rio
Yordan Santa Cruz                  07-10-1993     Jarabacoa FC
STRIKERS
Maykel Reyes                         04-03-1993     Pinar del Rio