Winner – USA
Runner-up – Mexico
12 team tournament
The 2007 Gold Cup saw another change to the entrants in the tournament as the practice of inviting teams from outside the confederation to compete ended. Instead, an extra place was given to the 4th place team in the Caribbean Cup and the 5th place team in the UNCAF Nations Cup, giving more nations the chance to qualify for CONCACAF's premier international tournament.
As usual, the North American zone countries qualified automatically, with the USA again acting as the hosts and six stadiums hosting tournament matches, with Chicago's Soldier Field playing host to the final.
Caribbean Qualifying
The 2007 Caribbean Cup was hosted by Trinidad and Tobago, who qualified automatically, so seven places were left available for the 24 countries who entered. Qualification would take the form of a first qualifying round where the top two teams would qualify for a second qualifying round.
This first round produced a number of shocks as some big names went out and some unfancied nations progressed through.
South American neighbours Suriname and Guyana qualified from group A in the Netherland Antilles. Guyana had begun their qualifying campaign with a 5-0 win against Suriname, then beat the hosts by the same score before a routine 1-0 win against Grenada put them through to the second round, with Suriname recovering to record two 1-0 wins and progress through.
Group B was won by Barbados, with the hosts Antigua and Barbuda finishing second. Barbados started with a 1-1 draw against Saint Kitts and Nevis, then beat the hosts 3-1 before smashing Anguilla 7-1. Antigua secured second place with a 1-0 win against Saint Kitts, with Anguilla a long way behind at the bottom of the table.
Group C was reduced to three teams by the withdrawal of the British Virgin Islands, so it was possible for an unfancied team to qualify in the US Virgin Islands. It was Bermuda who won the group, beating the hosts 6-0 and Dominican Republic 3-1, with the Dominicans finishing second after a 6-1 win against US Virgin Islands.
Group D produced the biggest shock of the whole tournament when hosts Jamaica finished third in the group behind Haiti and Saint Vincent and the Grenadines on goals scored. It seemed like a simple group to get out of for the defending Caribbean Cup champions and they started with a 4-0 win against Saint Lucia, but they then fell to a shock 2-1 defeat to the Saint Vincentians.
It left Jamaica needing a 3-0 win over Haiti to qualify, but despite scoring two goals in 30 minutes, they could not find the extra goal they needed and Haiti held on to only lost 2-0 and top the group, with Saint Vincent joining them after an 8-0 win over Saint Lucia.
In group E, the hosts Cuba were the dominant force and won the group easily, beating Turks and Caicos Islands and the Bahamas 6-0 and the Cayman Islands 7-0. The Bahamas were the best of the rest, with a final game 3-2 win against the Turks and Caicos Islands securing second spot.
Group F was won by Guadeloupe, who won all three games, beating Saint-Martin and Dominica 1-0, then putting four goals past Martinique. Martinique had already secured qualification with a 4-0 win against Dominica and a 1-0 win over Saint-Martin, so the 4-0 defeat to Guadeloupe mattered little.
The Second Qualifying round saw the qualified teams divided into three groups of four teams. The top two teams would qualify for the finals tournament, with the three third placed teams playing off in a final group for the last place.
Group G was hosted by Barbados and it was they who won the group, securing qualification with a 2-1 win against the Bahamas and a clinical 3-0 win over Saint Vincent and the Grenadines, then playing out a 1-1 draw with Bermuda to finish unbeaten. The Saint Vincentians were able to recover that three-goal drubbing by Barbados to secure qualification with a 3-2 win against the Bahamas, with Bermuda making it into the third placed team tournament after a 4-0 win over Bahamas.
Guyana hosted and won Group H with three wins from three games, hitting Antigua and Barbuda for six, holding off a late Guadeloupe comeback to win 3-2, then emphatically securing qualification with a 4-0 win over Dominican Republic. Guadeloupe secured second place with a 3-0 win against Dominican Republic and a 3-1 win against Dominican Republic, who came third after beating Antigua and Barbuda 2-0
Group I was hosted by Martinique and they qualified for another Caribbean Cup alongside Cuba, as both teams beat Haiti and Suriname, then played out a 0-0 draw at the end of the group. Haiti managed to finish third and stumble into the third placed team tournament on goal difference, having conceded one less goal than Suriname.
The three-team tournament between the third placed teams became a simple two-legged playoff after the Dominican Republic withdrew, with Haiti taking full advantage against Bermuda to qualify for the Caribbean Cup after a 5-0 aggregate win.
This saw Haiti become the final qualifiers and they took their place in the Sedley Joseph group (both groups were named after former Trinidad and Tobago players) alongside the hosts, Martinique and Barbados.
Trinidad and Tobago started slowly, drawing 1-1 with Barbados, but they got into their stride quickly and won the group with a 5-1 demolition of Martinique, then a 3-1 win over Haiti. The Haitians had done enough to qualify after beating Martinique 1-0 and Barbados 2-0, with Martinique's 3-2 win against Barbados merely a consolation victory.
In the Bobby Sookram group, qualification went down to the final group games after each team recorded one win and one defeat. Guadeloupe beat the Cubans 2-1, but then suffered a surprising 4-3 defeat to Guyana, who had lost 2-0 to Saint Vincent and the Grenadines who, in turn, had been turned over 3-0 by Cuba.
It was Guadeloupe who would win the group after a nervy 1-0 win against Saint Vincent and the Grenadines, while Cuba would sneak through in second on goal difference after a 0-0 draw against the unfortunate Guyanese team.
All four teams in the Semi-finals had now qualified for the Gold Cup, with Guadeloupe qualifying for the first time. Their Caribbean Cup adventure ended with a 3-1 defeat to Haiti, who were starting to pick up their form, and the Haitians would face the hosts in the final after Trinidad and Tobago beat Cuba by the same score.
Cuba claimed 3rd place with a 2-1 win in the 3rd place playoff, before Trinidad and Tobago and the outsiders Haiti took to the field for the final. There was high expectation from the home fans for another Trinidadian success in the Caribbean Cup, but they were to be left disappointed as Haiti scored early, then added a second just after the break for a lead which, despite a Nigel Daniel goal that reduced the arrears, they managed to hold onto to win 2-1 and claim their first Caribbean Cup triumph.
Central American Qualifying
In Central America, the seven UNCAF members convened in El Salvador for the UNCAF Nations Cup.
Qualification for the Gold Cup would come from the top two teams in each group, plus the winner of a playoff between the two third placed teams.
In Group A, the hosts and Guatemala made relatively easy progress through to the Semi-finals, El Salvador beating Belize and Nicaragua 2-1 and Guatemala beating the same teams 1-0. A goalless draw between the two teams saw El Salvador win the group, while Nicaragua won 4-2 against Belize to secure third place and a playoff spot.
In Group B, Panama surprised many by winning the group after a 1-1 draw with Honduras and a late Blanco goal for a 1-0 win against Costa Rica. The Costa Ricans were left thankful for their 3-1 win over Honduras for keeping them in the tournament, while Honduras were left facing off against Nicaragua for the fifth Gold Cup space.
Sadly for Nicaragua, it was never a contest and after conceding two goals in the opening six minutes, the floodgates opened and Honduras cruised into the Gold Cup after a 9-1 win.
In the Semi-finals, the two Group A qualifiers both fell to 2-0 defeats against their Group B opponents, Panama making their first UNCAF Nations Cup final after beating Guatemala and Costa Rica getting their tournament form back with a win against El Salvador.
Guatemala then won the 3rd place playoff before Panama and Costa Rica played out a final in the Salvadorian national stadium that produced a close and tense game, with Panama scoring first and looking like they had done enough, only for Costa Rica to equalise with five minutes left.
No more goals came in normal or extra time, so the UNCAF Nations Cup would be decided on penalties. Panama had lost on penalties in the 2005 Gold Cup and their penalty jinx struck again as Felipe Baloy and Victor Herrera both missed, while Costa Rica scored all four of their penalties to win 4-1 in the shootout and win their sixth Nations Cup.
Finals Tournament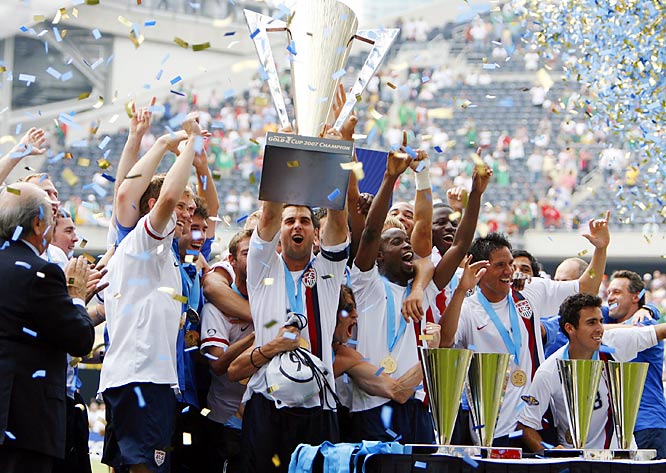 The teams and their supporters then descended on Miami, Carson, Foxborough, East Rutherford, Houston and Chicago for the 2007 Gold Cup, again being drawn into three groups with the top two teams and two best 3rd placed teams qualifying for the quarter finals.
Group A brought four of the best matched teams together and left qualification up for grabs up to the final group games. Canada kicked off their tournament with a surprising come-from-behind victory over Costa Rica, with Julian de Guzman scoring twice to beat the UNCAF Champions. Guadeloupe then drew 1-1 with Haiti before causing a surprise of their own with a Jocelyn Angloma inspired 2-1 win over Canada.
With Haiti and Costa Rica drawing 1-1, it left each team with a chance to progress. Costa Rica secured qualification with a 1-0 win over Guadeloupe that left them ahead of the Islanders owing to that win. Canada then won the group after two Dwayne De Rosario goals helped them beat Haiti 2-0, putting the Haitians out and leaving Guadeloupe awaiting results from other groups to see if they would progress in 3rd place.
Group B saw the hosts in imperious form as they won all three games without conceding a goal. Their goal tallies doubled as the games went on, as they beat Guatemala 1-0, beat the Trinidadians 2-0, then ended El Salvador's hopes with a 4-0 thrashing. Guatemala rebounded from their opening game loss to the Americans to beat their Central American rivals 1-0, with a 1-1 draw against Trinidad and Tobago proving enough to finish second in the group, a result that helped end a disappointing tournament for the Trinidadians.
In Group C, qualification went down to the wire between three sides, with each taking a win away from each other. Panama beating Honduras 3-2 and Mexico beat Cuba 2-1 in the opening round of games, but Honduras got their tournament back on track with a Carlos Costly double, including a last-minute goal, beating the Mexicans 2-1.
Panama had managed to secure their qualification before their final group game, but they were left in third place and a more difficult Quarter-final after a 1-0 defeat to Mexico that sent the Mexicans through in second place after Carlos Pavon hit four goals in a 5-0 win over Cuba to help Honduras win the group. The Cubans had had a difficult tournament, not helped by Lester More and Osvaldo Alonso defecting to the USA after a shopping trip in East Rutherford.
All three North American teams were successful in the Quarter-finals as Canada hit three goals in the first half to end the game with Guatemala by half-time, with the Canadians winning 3-0, two goals in two minutes left Panama with too much to do as the USA won 2-1 in their Quarter-final in Foxborough and Mexico edged past Costa Rica with a Jared Borgetti goal in extra time for a 1-0 win after three Costa Rican players had been sent off during the course of the game.
The other Quarter-final produced a massive surprise as former France international Jocelyn Angloma inspired his Guadeloupe team by scoring the opening goal and setting up a Scorier goal just three minutes later to give them a two-goal lead against Honduras. Carlos Pavon hit his fifth goal of the tournament to make it 2-1, but the French territory held on to make the Semi-finals in their first Gold Cup.
Neighbours Canada and USA clashed in the first Semi-final at Soldier Field and produced a game full of controversy and drama as Frankie Hedjuk opened the scoring, then Landon Donovan doubled the lead with a penalty just before Half-time.
Iain Hume got one back for the Canadians with 15 minutes left then, not long after Michael Bradley had been sent off for the USA, it looked like Atiba Hutchinson had levelled the scores, only to be flagged offside when replays showed that he has been onside and, in fact, had been played the ball by American defender Oguchi Onyewu. It was a controversial moment, but the Americans didn't care as they held on to a 2-1 win and another Gold Cup final.
The other Semi-final brought a David vs Goliath battle as Mexico took on tournament newcomers Guadeloupe. The game was a lot closer and more defensive than the previous Semi-final and it looked like it would take something special to win the game, which happened when Pavel Pardo took aim from 30 yards out and fired a long-range stunner into the top corner of the goal.
It put Mexico through to the final in Chicago against their old rivals the USA. 60,000 people took their seats for an eagerly anticipated clash that lived up to expectations.
Both teams had excellent early chances, but it was Mexico who took the lead when Castillo broke down the right, beat two USA defenders and sent over a low cross that Joe Andres Guardado met to lift into the American net, giving Tim Howard no chance.
Despite this setback, the USA picked themselves up and, roared on by their supporters, began to fire shot after shot at the Mexican goal, with Oswaldo Sanchez working hard to keep them out. All the pressure told and Landon Donovan fired home a well taken penalty following a foul on Brian Ching by Jose Magallon on the hour.
The momentum was with the Americans and they took the lead on 73 minutes when a Donovan corner was cleared into the path of Benny Feilhaber, whose volley rocketed into the top corner of the net.
It was a goal that deserved to win a game of this magnitude and despite the best efforts of the Mexicans to find an equaliser, the USA held on to win 2-1 and secure their fourth Gold Cup and second in succession.