National Stadium, Kingston, Jamaica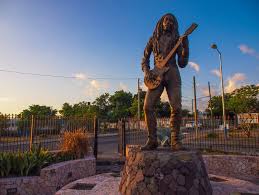 The National Stadium in Kingston, Jamaica is the main venue in the Independence Park sports and cultural complex. A statue of Bob Marley stands at the entrance to the park and a statue of Don Quarrie at the entrance to the stadium.
Built for the 1962 Central American and Caribbean games, it also hosted the 1966 Commonwealth Games.
It has a capacity of 35,000 and is principally the home stadium for the Jamaican national football teams.
Match Day 3 (June 17) of the Gold Cup will be the first time the tournament has been played in the country and only the second time outside of North America (the first time being the day before in Costa Rica).
Jamaica will Honduras while El Salvador will play Curacao in the first round of Group C games.