Winner – Mexico
Runner-up – USA
12 team tournament
The 2009 Gold Cup saw some new names qualify for the tournament, but not much else changed in the 10th edition of the Gold Cup, with the same format and number of qualifiers for each zone from the 2007 Gold Cup, although there were now 13 stadiums all across the United States that would host games.
As usual, Canada, Mexico and the USA from the North American zone qualified automatically, which left places for the top four nations from the Caribbean Cup and the top five nations from the UNCAF Nations Cup.
The Caribbean qualifiers came from the 2008 Caribbean Championship (formerly the Caribbean Cup), held in Jamaica, who qualified automatically alongside the defending champions Haiti. The rest of the region were invited to compete in the qualification tournament, starting with a preliminary round of five groups, where the top five group winners and four best second-placed teams would join 2007 Semi-finalists Guadeloupe, Cuba and Trinidad and Tobago in the final qualifying round.
There was a reduced number of teams from the last tournament as nine teams declined to enter the competition, leaving some groups with only three teams and making the progression through a bit easier for some teams.
Caribbean Qualifying
Group A saw Netherland Antilles win the group undefeated after a 0-0 draw with Aruba and a 2-0 win over Grenada, with the Grenadians qualifying for the next round with a 3-1 win over Aruba.
Group B was in Guyana and saw the hosts and Suriname qualify for the next stage after both teams beat Dominica, Guyana by 3-0 and Suriname by 3-1, and Guyana topped the group after a last-minute Dwight Peters goal earned them a 1-1 draw with their South American neighbours.
Group C had a full contingent of four teams in the Cayman Islands, with the hosts managing to secure second place and qualification after beating Saint-Martin 3-0 and drawing with Antigua and Barbuda and Bermuda. The Antiguans won the group after wins against Bermuda and Saint-Martin.
Group D was a three-team group and Barbados won the group with ease after a 2-1 win over British Virgin Islands and 3-1 over Saint Kitts and Nevis, with the Saint Kittians qualifying in second thanks to their 4-0 win over British Virgin Islands.
Group E was the one group with just a sole qualifier as Saint Vincent and the Grenadines paid the price for a 3-0 defeat against Martinique and conceding a goal against Anguilla in a 3-1 win as goal difference sent them out in second place behind Martinique, who beat Anguilla 3-1 for two wins from two.
In the final qualifying round, Guadeloupe hosted and won Group F, thrashing Cayman Islands 7-1, before beating Grenada 2-1 and securing three wins from three with a 3-1 win over Martinique. The Grenadians secured second place and a place in the finals tournament on goal difference after a 4-2 over Cayman Islands.
Group G was hosted by Cuba and they stormed into the finals tournament, winning 7-1 against Netherlands Antilles and 6-0 against Suriname to qualify top ahead of Barbados, who held Cuba to a 1-1 draw and beat Suriname 3-2 thanks to an eight-minute hat-trick by Norman Forde and a 2-1 win over Netherlands Antilles.
Finally, Group H was hosted by and won by Trinidad and Tobago after they won their first two games 3-2 against Antigua and Barbuda and 3-1 against Saint Kitts and Nevis before a 1-1 draw with Guyana that helped them finish on top spot, ahead of the Antiguans who bounced back from their defeat by Trinidad and Tobago to beat Guyana 2-1, then won a thrilling 4-3 game against Saint Kitts and Nevis to secure qualification.
The finals tournament in Jamaica saw some real surprises and provided one team with their greatest achievement to date.
Group I saw Haiti enter the tournament as defending Champions and they started out with a 1-1 draw against Antigua and Barbuda, while Cuba won 2-1 against Guadeloupe.
The Cubans then put the Antiguans to the sword with a 3-0 win that secured their place in the Semi-finals and the 2009 Gold Cup, while Guadeloupe revived their tournament hopes when after throwing away a two-goal lead against Haiti, Jean-Luc Lambourde scored the winner deep into injury time.
That late goal was to prove vital as although they drew 2-2 with the Antiguans and Haiti managed to beat Cuba 1-0, Guadeloupe finished second in the group on goals scored, sending them to their second Gold Cup in succession and eliminating Haiti from the tournament.
Group J started with a shock as Grenada beat the multiple time Caribbean Champions Trinidad and Tobago 2-1, with Ricky Charles the hero after his goal in injury time won the game.
The Grenadians were thumped 4-0 by Jamaica in the next game, who secured their qualification for the Semi-finals and Gold Cup with that win and a 2-1 win over Barbados.
Jamaica faced Trinidad and Tobago with the Trinidadians needing to win to have any hope of qualifying for the Semi-finals. Sadly, this proved too much for Trinidad and Tobago as they drew 1-1 with Jamaica and were subsequently eliminated in 3rd place after Grenada beat Barbados 4-2 to finish second in the group and not only make the Semi-finals, but also qualify for the Gold Cup for the first time.
This meant that Grenada would face the Cubans in the Semi-finals, while Jamaica would take on Guadeloupe.
The first Semi-final was a back-and-forth battle, with Grenada taking the lead through a Ricky Charles penalty, only for Yoel Colome to equalise two minutes later. Roberto Linares then gave the Cubans the lead on 33 minutes and it looked like a Cuban victory all the way, but Kitson Bain equalised with just 10 minutes to go to take the game to extra time. No more goals came, so a penalty contest would settle matters, with Grenada winning in sudden death to make their first Caribbean Cup final 6-5 on penalties.
The Jamaica vs Guadeloupe Semi-final was more of a formality, the hosts demonstrating why they were the team to beat with a clinical 2-0 win that sent Guadeloupe into the 3rd place playoff with Cuba. A dull game with few chances went the distance with no goals and Guadeloupe won 5-4 on penalties to secure 3rd place.
With that, Jamaica took the field against the fairy-tale story of Grenada, who had not got this far before and were not fancied, especially after losing 4-0 to the Jamaicans earlier in the tournament.
In the end, the game wasn't a close one and Jamaica cruised to their fourth Caribbean Championship triumph with two Luton Shelton penalties enough to win the final 2-0.
One postscript to this tournament was the withdrawal from the Gold Cup of Cuba, who sited issues relating to player development and the ability to field a competitive team as reasons for their withdrawal. It was decided by the Caribbean Football Union to hold a draw for the vacant Gold Cup spot, with the two group 3rd placed teams Haiti and Trinidad and Tobago entered. It was Haiti who benefitted from Cuba's withdrawal as they won the draw to qualify for the 2009 Gold Cup.
Central American Qualifying
The 2009 UNCAF Nations Cup was scheduled to take place in Panama, but after the Panamanians could not guarantee an adequate stadium would be available for the tournament, the hosting rights went to Honduras, with the hosts and defending Champions Costa Rica as the seeded teams for each group.
As with the previous tournament, the top two teams in each group would qualify automatically for the Gold Cup, as well as the tournament Semi-finals, with the two 3rd place teams playing off for the final Gold Cup spot.
Group A saw Nicaragua surprise many when Marlon Medina scored to seal a 1-1 draw with El Salvador, while Honduras started their tournament off on the right foot with a 2-1 win over Belize. The Hondurans then secured their Gold Cup qualification and a Semi-final spot with a 4-1 win over Nicaragua, with El Salvador giving themselves an improved chance of qualification with a 4-1 win over Nicaragua. The final group games saw Nicaragua and Belize draw 1-1 to put Nicaragua into the 5th place playoff, while Honduras beat El Salvador 2-0 to secure top spot, while El Salvador finished in second despite this defeat.
Group B was a lot more straight forward, with defending Champions Costa Rica demonstrating why they were the team to beat with a 3-0 win over Panama and a 3-1 win against Guatemala that secured top spot and another Gold Cup place, with Panama joining them in the Semi-finals after a 1-0 win over Guatemala, a defeat that sent Guatemala into the 5th place playoff.
At the previous Nations Cup, Nicaragua had been thrashed 9-1 by Honduras. This time around, they caused a surprise and qualified for their first ever Gold Cup with two Samuel Wilson goals securing a 2-0 win against a lacklustre Guatemala side.
The first Semi-final started out as a competitive contest with both Costa Rica and El Salvador creating chances, with Andy Furtado taking one to put Costa Rica 1-0 up, not long after Alexander Escobar had been sent off.
El Salvador were then reduced to nine men after Eliseo Quintanilla was sent off for a second yellow card after 25 minutes, and their day was to get much worse. All three substitutes had been used by the 46th minute and they then suffered further injuries to Deris Umanzor, Rodolfo Zelaya and Juan Jose Gomez which, with all substitutions exhausted, left El Salvador with just six players on the pitch, leaving the referee with no choice but to abandon the game. Costa Rica were later awarded the Semi-final 3-0 and advanced to another Nations Cup final.
The other Semi-final was a lot less chaotic as Panama made their way to their second successive Nations Cup final with a Ricardo Phillips goal on 40 minutes securing a 1-0 win over Honduras.
Honduras secured 3rd place with a routine 1-0 win over a depleted El Salvador side, then Costa Rica and Panama came out to face off for the second tournament in a row in the final, following a 3-0 win by Costa Rica in the Group stages.
The final in 2007 had been a tense and tight game that went to extra and time and penalties and so it proved this time again in 2009, this time going the full 120 minutes with no goals scored.
Panama had suffered a heart-breaking loss on penalties in 2007, but this time around, the luck was with them and went against Costa Rica as Paolo Jimenez missed the third penalty, while Panama scored all five of theirs, with Amilcar Henriquez slotting home the penalty that secured Panama's first UNCAF Nations Cup.
Finals Tournament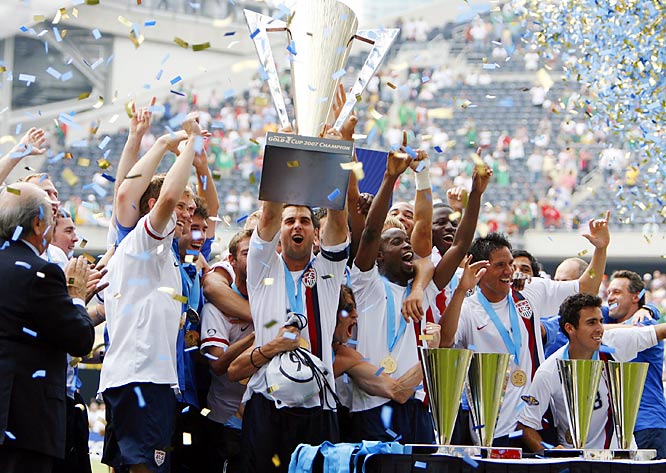 The teams, regular qualifiers and newcomers alike, convened in the USA in July 2009 for three weeks of high-quality Football with some memorable encounters.
Group A saw the games split amongst some of the Major League Soccer venues in Carson, Columbus and Miami. Canada kicked off the tournament at the Home Depot Centre in Carson with a 1-0 win over Caribbean champions Jamaica, while El Salvador made up for the embarrassment of their UNCAF Nations Cup Semi-final abandonment when two Osael Romero goals gave the Salvadorians an unlikely 2-1 win over Costa Rica.
Costa Rica then revived their tournament hopes in Columbus with a 1-0 win against Jamaica, a defeat that virtually ended Jamaica's tournament hopes, while Canada secured their own qualification with another 1-0 win, this time against El Salvador.
They then clinched top spot with a 1-1 draw with Costa Rica in Miami, a result which left El Salvador's fate in their own hands if they could beat Jamaica. Unfortunately for El Salvador, they fell to a late Omar Cummings goal that gave Jamaica a 1-0 win and put El Salvador bottom of the group.
Group B saw the longest distances to travel to games, with games going from Seattle to Washington to Foxborough. It also brought together one of the region's leading lights against a newcomer to the Gold Cup when the USA faced Grenada after Honduras had beaten Haiti 1-0.
The Grenadians had exceeded expectations by qualifying for the Gold Cup, but they were found wanting by a vastly more experienced American side who went 1-0 up early through Freddie Adu, then dominated proceedings, adding three more goals to win 4-0.
They then secured their progress through in the nation's capital with a 2-0 win against Honduras, while Haiti won the battle of the Caribbean nations with a 2-0 win over Grenada, before they were unlucky to only draw 2-2 with the USA in Foxborough, having led 2-1 up until the 92nd minute. This meant 3rd place behind the USA and Honduras, who beat Grenada 4-0 to send them home pointless, but with qualification as one of the best two 3rd placed teams.
Group C saw another tournament debutant go up against a former champion as Nicaragua faced Mexico in Oakland. The omens for a shock were there, but Mexico were in no mood to be surprised and cruised to a 2-0 win, joining Guadeloupe at the top of the table after their 2-1 win against Panama.
Guadeloupe then secured qualification for the Quarter-finals in Houston by beating the Nicaraguans 2-0, while Panama left themselves with a mountain to climb after a 1-1 draw with Mexico left them on one point from two games.
They managed to secure 3rd place and qualification for the Quarter-finals when they won 4-0 against Nicaragua, sending their Central American rivals home with zero points, while Mexico won the group with a professional and clinical 2-0 win against Guadeloupe in Glendale.
The Quarter-finals brought big crowds to Philadelphia and Cowboys Stadium in Arlington, with 85,000 people present for the two games.
Canada faced Honduras in the first Quarter-final and the two sides battled hard, producing a tense, tight and dour battle that was settled by just one goal, scored by Walter Martinez in the 36th minute, and putting Honduras into a Semi-final against the winner of the next game at Lincoln Financial Field between the USA and Panama.
This game proved to be more open than the previous game, with plenty of chances and a lot of tension, shown when the Goalkeeping coach Zak Abedel was sent off while protesting Blas Perez's opening goal for Panama.
Despite this, the hosts fed on the support from the crowd and Kyle Beckerman equalised just after extra time, a goal that sent the game into extra time. A moment of madness by Roman Torres was the deciding factor when his high kick into the chest of Kenny Cooper gave the USA a penalty that Cooper picked himself up to score. Panama tried to respond, but ultimately lost their heads and ended the game with nine men after Felipe Baloy and Luis Tajeda were sent off following a scuffle, with the USA winning 2-1.
The two Quarter-finals in Cowboy Stadium in Arlington were much less dramatic affairs as, first, Costa Rica secured a Semi-final place when, after Celso Borges scored after just three minutes, Costa Rica dominated proceedings all the way through the game, sending Guadeloupe home with a 5-1 win.
Then, Mexico showed their tournament pedigree with a brutal demolition of Haiti, who had ridden their luck to qualify for the tournament and then progress to the knockout stages, but whose luck ran out after Miguel Sabah opened the scoring after 23 minutes for Mexico. The Mexicans added three more to win the game 4-0 and progress to another Gold Cup Semi-final.
Soldier Field in Chicago played host to the Semi-finals, which brought the best in North America up against the Central American hopefuls as the USA faced Honduras, then Mexico took on Costa Rica.
The first game saw the USA continue their pursuit of a hat-trick of Gold Cup titles with a 2-0 win against Honduras, with goals coming on the stroke of both half-time and the end of the game putting them through to the final in East Rutherford.
The other game was a lot tighter and more dramatic, albeit only after 88 minutes of turgid, defensive Football. On the 88th minute, Guillermo Franco scored what looked like being the winning goal, only for Froylan Ledezma to equaliser in the third minute of stoppage time for Costa Rica.
This took the game to extra time, but with both sides wary of conceding a late goal, the game went to penalties.
Costa Rica had lost the UNCAF Nations Cup final 5-3 on penalties and history was to repeat itself, with Ledezma going from hero to villain as his missed penalty proved fatal to Costa Rica's hopes as Carlos Vela slotted home the winning penalty for Mexico's 5-3 victory.
This took Mexico to a repeat of the 2007 final against the USA in Giants Stadium in East Rutherford. Two years previously, the USA had come from behind to win a thrilling game 2-1. This time around, Mexico were in no mood to be merciful and, after a scoreless first half, finally took the lead with Gerardo Torrado penalty that sapped the morale of the Americans and set Mexico loose, with Giovani Dos Santos, Carlos Vela, Jose Castro and Guillermo Franco all helping themselves to a goal as Mexico recorded the biggest win in a final of a Gold Cup and won their fifth Gold Cup with a 5-0 win.